Key events
64 min Mitrovic wants a penalty after the slightest of touches from Schär, who thinks about pulling him back but, in the end, barely brushes his shoulder. Unsurprisingly, there's nothing doing.
60 min Switzerland fail to clear their lines and the ball falls for Tadic, but he blazes over the crossbar.
56 min Big miss! Freuler plays the free kick short to Manuel Akanji. He crosses to the far post and the ball ends up with Embolo, who blazes over from barely five yards. The flag goes up for offside, but still.
55 min Pavlovic is booked for catching Embolo slightly late with a high boot. He fouls Freuler moments later to give away a free kick in a dangerous position.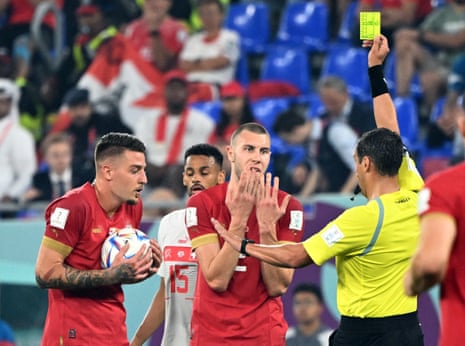 54 min Dragan Stojkovic, the Serbia manager, makes a double change, Vlahovic and Milos Veljkovic swapping out for Luka Jovic and Nemanja Gudelj.
53 min The two sides exchange fouls in midfield, Xhaka avoiding a booking after clattering into Tadic.
Mary Waltz writes in. "Game Three in the group stage has produced amazing drama and tension. Who is the genius at Fifa who decided the four-team format was no longer fit for purpose?"
GOAL! Serbia 2-3 Switzerland (Freuler 48)
Freuler makes up for his earlier error, rounding off a wonderful team move to put Switzerland back in front. Embolo holds up the ball before teeing up Shaqiri on the edge of the area. He clips a ball over the top to Vargas, who flicks it on to Freuler for a deceptively straightforward finish.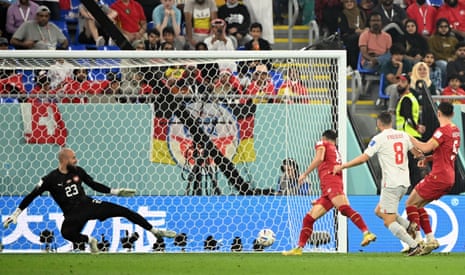 46 min Sergej Milinkovic-Savic picks up Serbia's first caution after crunching into Xhaka in midfield.
We're back in action at Stadium 974.
The players are back out on the pitch. Who's ready for another 45 minutes (plus 15 minutes of added time) of chaos?
Here's a fun stat from Opta. Shaqiri is one of three players to score at each of the last three World Cup tournaments, along with Cristiano Ronaldo and Lionel Messi. Not too shabby, that.
Loving these reader contributions, keep 'em coming. Next up, Kari Tulinius. "This match has been entertaining enough that I may finally be able to forgive Switzerland for their part in the most awful game of football I've ever seen, their [last 16] World Cup match against Ukraine in 2006. I realise it's been a minute since then, but that was such a boring spectacle that time stopped passing and those of us who watched are still stuck there like astronauts in a black hole."
Another email has landed, this time from Joe Harvey. "You will not see two better examples of movement and patience creating goals than the Mitrovic and Embolo goals. Really nice from both of them."
Richard Hurst has shared some thoughts via email. "As a Fulham supporter I am utterly conflicted. On the one hand I want Serbia to go through so that Mitro is happy, scoring goals etc. On the other hand I want Serbia to go out so that Mitro comes back to Fulham uninjured, has a rest etc. As the Stones said, what can a poor boy do?"
Brazil are drawing 0-0 with Cameroon in the other game in Group G which means, as things stand, Switzerland will go through as runners-up. Nonetheless, on the evidence of the first half, it's far too early to write off Serbia. While the Swiss made a fast start, their opponents wrested control of the match and Embolo's equaliser arguably came against the run of play.
GOAL! Serbia 2-2 Switzerland (Embolo 44)
They may have been sloppy in possession, but Switzerland are back on level terms. Sow picks out Widmer on the overlap and he thrashes the ball across the face of goal, with Embolo waiting to apply a simple finish at the far post.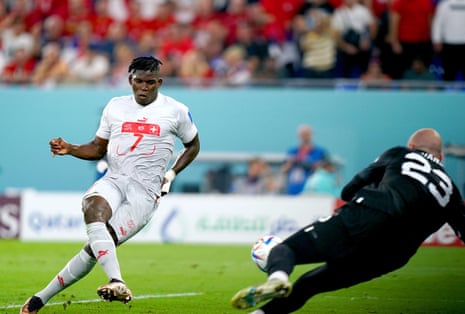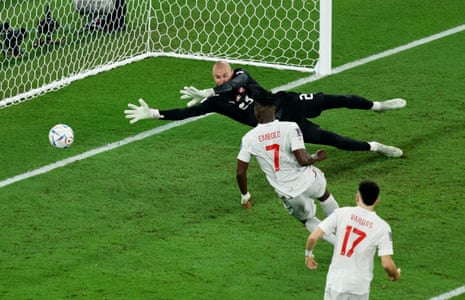 42 min Switzerland have been really, really sloppy in possession. Rodríguez is the latest player to lose the ball in the middle of the park, heading straight to a cluster of red shirts.
Jeff Sachs writes in. "… yes, France will win …" Why the cryptic punctuation, Jeff? And can we all stop talking about France, please? There's a football match going on here.
38 min Rodríguez gets to the byline and cuts the ball back for Vargas, whose shot is blocked.
GOAL! Serbia 2-1 Switzerland (Vlahovic 35)
That's a lovely finish. Switzerland lose the ball in midfield and Tadic dances forwards. He slips a delicious through ball to Dusan Vlahovic, but Remo Freuler gets there first. In a head-in-hands moment, Freuler can only poke it back into Vlahovic's path. The Juventus forward thanks him kindly by stroking the ball into the back of the net.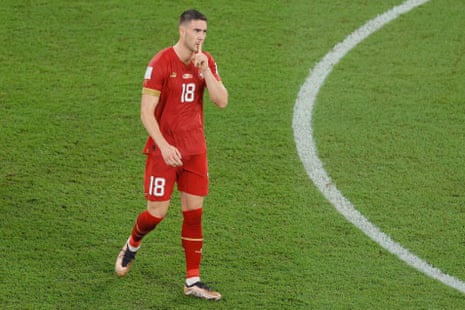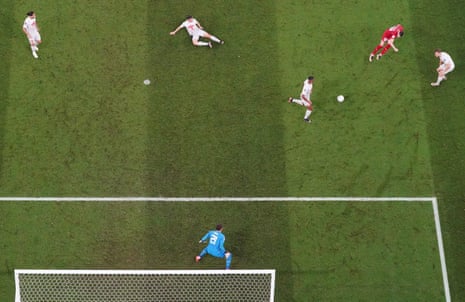 33 min It's getting a little spicy now. Vargas is booked for chopping down Zivkovic.
Aditi Modi writes in. "Shaqiri scoring against Serbia is one blast from the 2018 past. Along with Germany getting eliminated at the group stage, does that mean France win the whole thing again?"
29 min Shaqiri is inches away from scoring a second! A beautiful long ball from Ricardo Rodríguez falls nicely for the little winger, but a last-ditch challenge from Strahinja Pavlovic is enough to force his shot narrowly wide.
GOAL! Serbia 1-1 Switzerland (Mitrovic 26)
Given a second chance thanks to Switzerland's lax defending, Tadic produces a near-identical ball into the box. This time, Mitrovic meets it and sends a header looping past Kobel and into the far corner.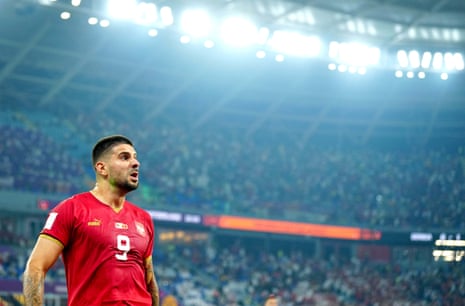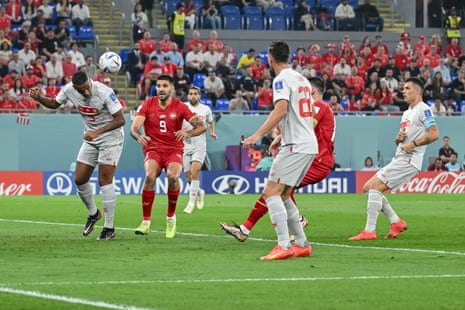 24 min Dusan Tadic makes a yard of space with a clever turn in midfield and dinks an inviting ball into the area, but it's cleared.
GOAL! Serbia 0-1 Switzerland (Shaqiri 20)
Shaqiri who, along with Xhaka, has perhaps the biggest personal investment in this fixture, has been whistled relentlessly by the Serbia fans for the first 20 minutes. Unfortunately for them, he's just scored the opener. A routine ball into the box is cleared as far as Djibril Sow, who tees up Shaqiri to his right. He lashes past Vanja Milinkovic-Savic before charging off towards the corner flag with his finger held firmly to his lips.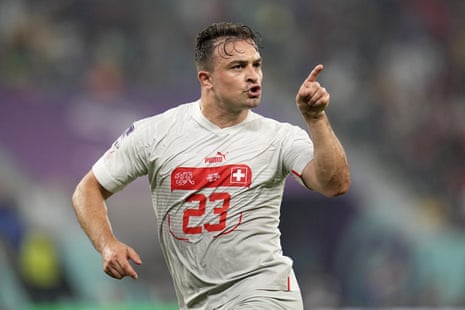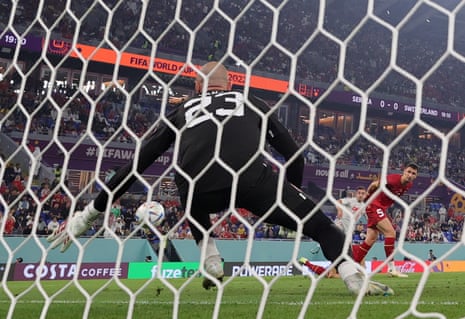 17 min Embolo bursts forwards from deep once again, but is stopped abruptly by a tackle from Sergej Milinkovic-Savic. The Switzerland forward goes tumbling to the turf, but no foul is forthcoming.
14 min Silvan Widmer gets the first booking of the evening after hauling down Filip Kostic out wide.
11 min Embolo powers forwards from deep and releases Ruben Vargas to his left. He cuts the ball back to Xhaka, whose shot is blocked.
10 min Serbia hit the post! Andrija Zivkovic gallops into space and unleashes a shot from distance which rattles the upright. The rebound falls for Aleksandar Mitrovic, but he can only guide the ball into Kobel's arms at close range.
4 min Serbia win the first corner of the game and Nikola Milenkovic gets a free header, but fails to direct it on target.
1 min We're not even 30 seconds into the match and Vanja Milinkovic-Savic has been called upon to make a double save. Xherdan Shaqiri latches onto a loose ball and dinks a pass over the top to Breel Embolo, who is denied at close range. Granit Xhaka has a go on the rebound, but Milinkovic-Savic throws his body in the way once again.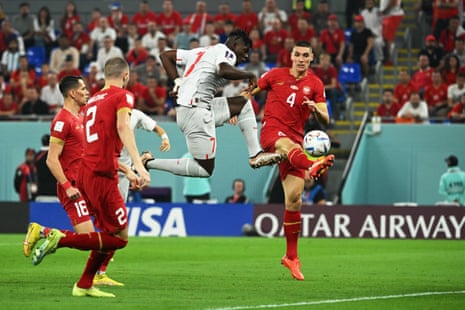 We're under way in Ras Abu Aboud. Switzerland get things started.
The national anthems are over and done with. The giant Serbian and Swiss flags have been folded up. The tracksuits are off. The ball is on the centre circle. These are all unmistakable signs that a football match is about to begin.
The teams are in the tunnel. We've got a little over five minutes until kick off.
Jim Fullton writes in, effortlessly showing off his linguistic prowess. "Hopp Schwiiz. Allez la Suisse. Avanti Svizzera."
Switzerland have given an update on Yann Sommer and Nico Elvedi, neither of whom are in the squad tonight despite having started the last two games. There's a simple explanation, namely that they are both ill. Gregor Kobel, the Borussia Dortmund goalkeeper, and Fabian Schär, the Newcastle United centre-back, will stand in for them.
We have our first bit of email correspondence. Hello, Matt Burtz! "As someone who may or may not have placed a wager on Switzerland to advance from this group, I would like to see them win today. Also, I have a season ticket to the Chicago Fire, and I can report that even though MLS is not of the quality of many European leagues, Xherdan Shaqiri still has it at the relatively young age of 31. Watching him in person allows you to see the way he always tries to make himself available for a pass, and he always has his head up looking to distribute. It's really quite enjoyable (even if the team itself isn't especially potent)."
Here's some more background on the human cost of this World Cup, courtesy of Pete Pattisson.
… and here's the Swiss starting XI.
The team sheets are in and here's how Serbia line up.
As Qatar's PR machine clunks along in the background, the stories of those who have suffered to make this tournament happen remain as important as ever. Here's some pre-match reading.
Deep within the nightmarish fever dream of this World Cup, another football match is taking shape. After a 2-0 defeat to Brazil and a chaotic 3-3 draw with Cameroon, Serbia arrive at Stadium 974 knowing they can only salvage their campaign with a win combined with a draw or defeat for the Cameroonians against Brazil. For Switzerland, who are on three points with one win and one loss, a draw will be enough to finish as runners-up as long as Cameroon don't cause an upset. As if this tournament needed another point of contention, there are political tensions bubbling beneath the surface of this fixture: several Switzerland players have Albanian or Bosnian heritage which, given the bitter legacy of the Yugoslav Wars, means a game against Serbia has the potential for acrimony.