Key events
Elsewhere in Group H: It's Uruguay 2-0 Ghana at half-time and any hopes the African side have of exacting revenge for that Suarez handball in 2010 are fading quickly. As things stand, Portugal and Urguay are going through but a South Korea win would put the cat among the pigeons.
They'd be level on points with Uruguay and it would go to goal difference. They're currently one goal worse off than the South American side, but obviously that deficit will be cancelled out if they get the goal they need to win this game.
Half-time: South Korea 1-1 Portugal
Peep! It's all square at the break, with South Korea having mounted a stirring comeback after going behind to a very early strike from Ricardo Horta. Kim Young-gwan scrambled the ball home from a corner after Portugal had failed to learn their lesson on the back of a let-off in very similar circumstances a few minutes previously.
45 min: South Korea get an excellent cross into the Portugal box from the left. Lee Kang-in leaps but can't get his head to it and it bounces through to the far post, where CHo stretches but can't quite reach it either. Both players are left holding their heads in their hands.
43 min: With his back to goal, RIcardo Horta receives a pass on the edge of the South Korea penalty area. He shoots on the turn but his effort is fairly weak and straight at the goalkeeper.
42 min: "Portugal are playing every pub pundits favourite rant tactic, zonal marking at set pieces," writes Hugh Molloy. "South Korea constantly have someone free for the second ball/knockdown."
It's interesting because South Korea took a dozen or more corners against Ghana and each and every one they took was terrible, barely making it to, let alone clearing the near post area. It was a stark contrast to today, when their goal and the disallowed effort from earlier both came from corners.
40 min: Son gets the ball on to his left foot and shoots through a thicket of bodies from outside the Portugal penalty area. Diogo Costa sees the ball late but it's straight at him. He saves comfortably.
38 min: Lee Kang-in gets booked for a rather robust challenge on Vitinha that sends the Portuguese midfielder flying acrobatically through the air.
34 min: Portugal goalkeeper Diogo Costa gets the ball launched for Diogo Dalot to chase. The full-back gets the better of Jin-su Kim again, cuts inside and unleashes a rasping shot from distance. Kim Seung-gyu gets down low to his right to save.
33 min: Looking at the South Korea equaliser again, it's difficult to figure out what exactly Ronaldo was trying to do when the ball bounced off his back. Several defenders in front of him misjudged the flight of the ball as it came in and it just ricocheted off his back. He appeared to be bending over, so perhaps he was tying his laces or lookjing for a contact lense?!?!?!?
32 min: Almost at the exact same moment South Korea equalised, Uruguay went a goal up against Ghana and they have since doubled their lead. It's good news for the Asian side, although they don't want Uruguay to win by too much.
31 min: Ronaldo is put through in a one-on-one with South Korea goalkeeper Kim Seung-Gyu and looks a certainty to score. He is denied by an excellent save.
29 min: South Korea had a corner and swung the ball into the mixer. Portugal failed to clear it properly at the near post, the ball hits Ronaldo's back and breaks kindly for Kim, who poked it home.
GOAL! South Korea 1-1 Portugal (Kim Young-gwon)
South Korea equalise! It's a scrappy goal but they'll take it!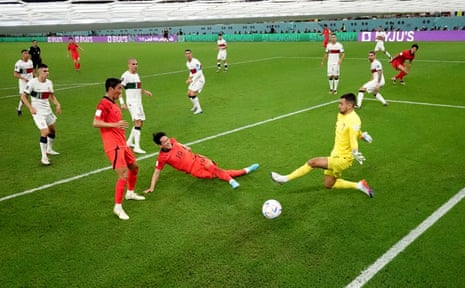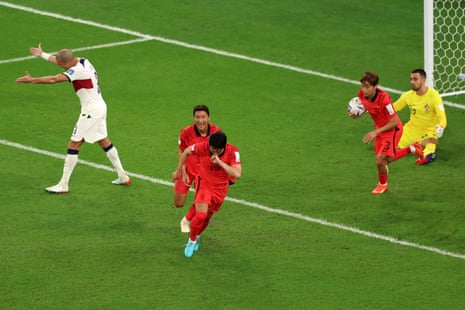 25 min: Matheus Nunes barges Lee Kang-in off the ball and South Korea win a free-kick about 40 yards from the Portugal goal. The ball in towards Cho Gue-sung is a good one but Pep heads it out for a corner.
23 min: Back in the game I'm actually supposed to be covering, Matheus Nunes sends an excellent cross into the South Korea penalty area, trying to pick out Ronaldo. Facing his own goal, Kyung-won Kwon stretches to hack the ball clear before it reaches its intended target. Good defending.
22 min: If you don't want to follow that one with Rob Smyth, I can tell you that Andre Ayew has just struck one of the worst penalties I've ever seen and had his effort saved.
20 min: Elsewhere in Group H, Ghana have been awarded a penalty against Uruguay, whose players are protesting furiously. You can follow the action from that game with Rob Smyth …
16 min: South Korea corner. They play is short and Son sends a cross fizzing in. The Ball's flicked goalwards off a South Korean head and Diogo Costa saves brilliantly. Jin-su Kim knocks in the rebound from close range but is correctly flagged for offside. That's a fantastic save from Costa.
14 min: Another long ball from Portugal and this time it's the South Korean right-back, Kim Moon-hwan, who is targetted. Joao Cancelo cuts inside him, sells him a dummy and shoots from a tight angle. South Korea goalkeeper Kim Seung-gyu saves.
12 min: South Korea are dominating possession but haven't presented anything in the way of a goal threat yet. As things stand, Portugal will be going through as Group H winners with Ghana in second place. It's currently scoreless between the African side and Uruguay.
10 min: South Korea advance upfield but Joao Cancelo intercepts a rogue crossfield pass and plays the ball forward for Portugal.
7 min: It was a poor goal for South Korea to concede. Pep played a long diagonal ball from deep down the right channel for Diogo Dalot to chase. He controlled it with a lovely touch, cut inside South Korea's left-back Jim-su Kim and scampered along the touchline. His pull-back to the near post was precise and the incoming Horta volleyed home from six or seven yards. An already difficult task for South Korea has just got a lot more challenging.
GOAL! South Korea 0-1 Portugal (Horta 6)
Portugal lead! Ricardo Horta fires his side in front with a fine volley from close range.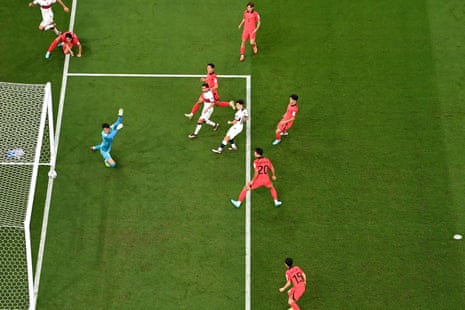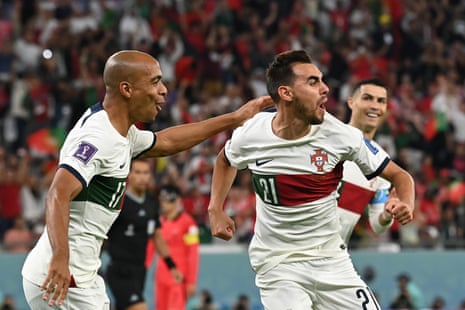 3 min: With Paulo Bento serving a touchline ban, his assistant Sergio Costa is standing, pointing and waving in the Portugal technical area this afternoon.
2 min: An early South Korea attack comes to an abrupt halt when Joao Cancelo is fouled just outside his own penalty area and wins a free-kick.
South Korea v Portugal is go …
1 min: South Korea get the ball rolling, their players wearing red shirts, shorts and socks. The players of Portugal are a vision in white. South Korea skipper Heung-min Son is still wearing his Zorro mask in the interests of face protection.
Not long now: Out march the teams led by Argentinian referee Facundo Tello and his team of match officials. The last of the pre-match formalities and fripperies are about to get under way. South Korea's national anthem will be followed by that of Portugal and kick-off is just a few minutes away.
An email: "Now in the stadium and we are being treated to a CR7 video montage of his greatest moments and constant Ronaldo hype from the MC," writes Hugh Molloy. "This is game No8 for me and it has not happened for any other player. They seem to have missed off the bit about him failing this season, criticising his team mates/manager/club and currently being unemployed!"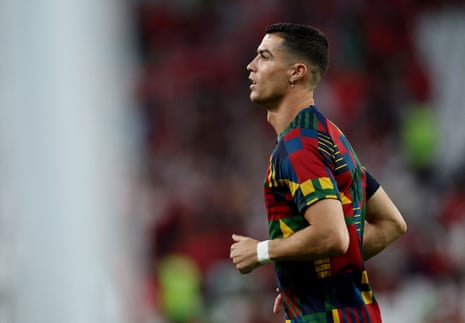 Those teams: Cristiano Ronaldo leads Portugal's attack but Fernando Santos makes six changes to the side that beat Uruguay on Monday. Diogo Dalot and Antonio Silva into Portugal's defence, while Matheus Nunes, Vitinha and Joao Mario come into the midfield in place of Bernardo Silva, William Carvalho and Bruno Fernandes. Ricardo Horta replaces Joao Felix up front.
Paulo Bento leaves out central defender Kim Min-jae, who has been struggling with injury. Gamba Osako defender Kwon Kyung-won comes in for the Napoli man, while Lee Jae-sung and Lee Kang-in start in midfield.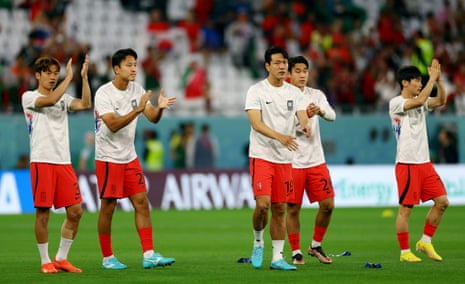 An email: "On the Metro on the way to the stadium and I can confirm the crowd is 40% Portugal, 10% South Korea but 50% (already annoying) Ronaldo fans shouting, 'Siuuu!!!'," writes Hugh Molloy.
South Korea v Portugal line-ups
South Korea: Kim Seung-gyu, Kim Moon-hwan, Kwon Kyung-won, Kim Young-gwon, Kim Jin-su, Lee Jae-sung, Lee Kang-in, Jeong Woo-yeong, Hwang In-beom, Son Heung-min, Cho Gue-sung.
Subs: Yoon, Min-Jae Kim, Paik, Hee-Chan Hwang, Bum-Keun Song, Jun-Ho Son, Hong, Eui-Jo Hwang, Na, Jo, Chang-Hoon Kwon, Tae-Hwan Kim, Yu-Min Cho, Jeong, Min-Kyu Song.
Portugal: Diogo Costa, Diogo Dalot, Pepe, Antonio Silva, Joao Cancelo, Matheus Nunes, Ruben Neves, Vitinha, Joao Mario, Cristiano Ronaldo, Ricardo Horta.
Subs: Rui Patricio, Dias, Guerreiro, Joao Palhinha, Bruno Fernandes, Andre Silva, Bernardo Silva, Joao Felix, Jose Sa, William Carvalho, Leao, Goncalo Ramos.
Paulo Bento: South Korea's manager will send his team out to beat the country of his birth today but will be absent from the dug-out after being shown a red card for dissent following the defeat at the hands of Ghana.
"They make most of the choices, they suggest them to me," he said of the coaching staff who will be on the touchline. "It's not going to be a problem. This time they will be on their own but it won't change much." Bento also said he will happily sing both nations' national anthems from his seat in the stands.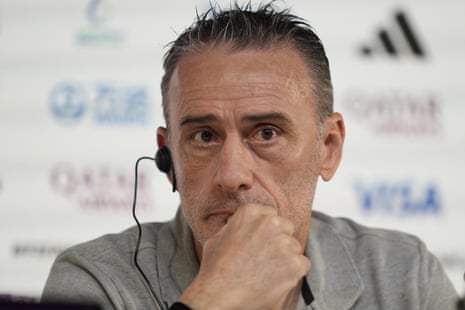 Fernando Santos: "If we had to face each other, it would be a game between two great teams," said Portugal coach Fernando Santos of the prospect of his team facing Brazil if they finish second in Group H. "But our wish, and Brazil's, is that we meet later on."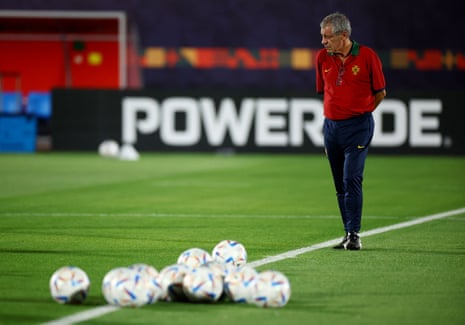 Today's match officials
Referee: Facundo Tello

Assistant referees: Ezequiel Braislovsky and Gabriel Chade

Fourth official: Maguette N'Diaye

Video Assistant Referee: Nicolas Gallo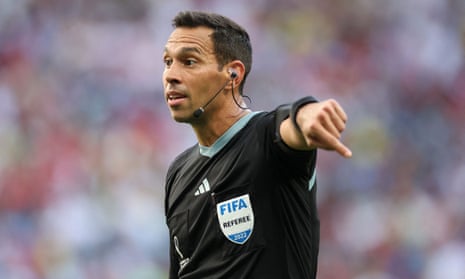 Early team news
Sidelined with a hamstring injury, Wolves striker Hwang Hee-chan has yet to feature for South Korea in this tournament and is a major doubt for this game. Son Heung-min will lead the line on his 107th appearance for his country.
Cristiano Ronaldo missed training yesterday and his participation in this game is in doubt, while Portugal are definitely without left-back Nuno Mendes, who has been ruled out for the rest of the tournament after being forced off against Uruguay. Defensive midfielder Danilo and right-sided midfielder Otavio are also expected to sit out today's game.
Those Group H permutations in full*
Portugal have qualified. A point will guarantee they win the group.
Ghana: A win against Uruguay will put Ghana through. A draw will be enough unless South Korea beat Portugal, in which case Ghana must hope South Korea pull off only a one goal victory, otherwise the Asian side will pip them on goal difference.
South Korea: They must beat Portugal, and hope that Ghana do not win. If Ghana draw then their hopes depend on their goal difference compared to Ghana. If Ghana lose, then South Korean hopes depend on their goal difference compared to Uruguay.
Uruguay: Uruguay must win, and hope that South Korea do not win against Portugal. If both Uruguay and South Korea win, then their relative goal differences will decide who qualifies. Uruguay start with a goal difference one worse than South Korea, so would have to beat Ghana by more than South Korea beat Portugal.
* Shamelessly plundered from Martin Belam's World Cup live blog.
Group H: South Korea v Portugal
With apologies to any German readers, now that the rest of us have calmed down yesterday's excitement it's time for the four teams in Group H to take up the cudgels. A certain Luis Suarez and his role in the high profile grudge match between Ghana and Uruguay have dominated the headlines in the build-up to today's action but there's plenty riding on the game between South Korea and Portugal too.
While Portugal have already booked their berth in the last 16, a draw or win today will guarantee them top spot. South Korea, by contrast, have to win today and even then their passage to the knockout stages is not secured. As well as winning their own game, they need Uruguay to do them a favour by getting at least a point against Ghana. Kick off at the Education Stadium is at 3pm (GMT) but stay tuned in the meantime for team news and build-up.