STRICTLY SCHEDULING SHENANIGANS
The timings for Strictly are being properly messed around with for the next couple of weeks (because of the football thing), so here's confirmation of the dates and times for all the remaining shows. It's a hot mess, so put them in your calendar!
Week 10 Results show – tomorrow 6pm
Week 11 Live show – FRIDAY 2ND DEC 8pm
Week 11 Results show – SATURDAY 3RD DEC 5.40pm
Week 12 Live Show – SUNDAY 11TH DEC 7.15pm
Week 12 Results Show – MONDAY 12TH DEC 8.15pm
GRAND FINAL – SATURDAY 17/12 time TBC
Key events
Helen looks amazing and thirsty Gorka's got his chest out. All is well. God, I love the Samba, and this is VERY much my cup of tea.
I'm not really watching Helen if I'm honest, but the bits where I'm not transfixed by Gorka's bum look AMAZING. My dance of the night.
And finally tonight it's Helen and Gorka!
This week they're dancing the Samba to 'Eso Beso', originally by Paul Anka but this is the Emma Bunton version. We've seen some brilliant Sambas this season – and earlier in the season I'd have been a bit worried about Helen letting her hair down for this. She's come a very long way, confidence-wise – is she ready to give it Samba welly?
Scores: 7,10,10,9 – a total of 37 for Hamza and Jowita. Sorry, but the scoring this week is UNHINGED.
Shirley tells Jowita how great a dancer she is, and that's because Hamza leads it all. I'm not sure that's how it works, Shirley – isn't Jowita's decades of training what makes her a great dancer?
Anton loved how strong and commanding the top half was, but the bottom half looked like Hamza played centre half for Bradford City. Craig totally agrees – the footwork was extremely messy. Motsi doesn't agree – Hamza was grounded, and made Jowita looked amazing.
I'm with Craig and Anton on this one, sorry.
They've got busy with the CGI this evening, why is everyone on top of tall buildings? Hamza's feet are turned in, which is a problem he's had all series, and this doesn't have the precision and sharpness in the footwork it needs to feel like an Argentine. Jowita did a LOT of the work there, if you ask me. But what do I know?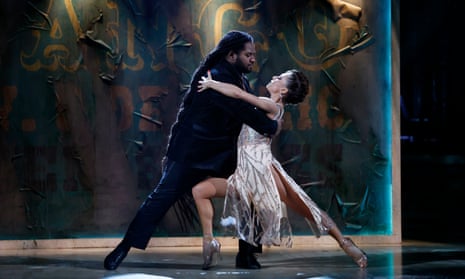 It's time for Hamza and Jowita!
This week they're dancing the Argentine Tango to 'Libertango' by Bond – this track has been used loads of times on Strictly, most recently by Karim and Amy in 2019. I feel like this dance is going to be VERY interesting – Hamza is naturally a very loose and relaxed dancer and we've never seen him dance this kind of sharp, staccato routine. Am really looking forward to seeing what he does with it.
Scores: 8,9,9,9 – a total of 35 for Fleur and Vito.
More heart hands, but mini ones this time. Still no.
Motsi loved how technical it was and loved the connection between Fleur and Vito, but Fleur needed to breathe. Shirley thought it was extremely passionate and loved the leg action, but it needed more rotation and exhalation. Anton loved the control, but Craig thought Fleur was holding back – that said, the loved the connection and the storytelling.
OK how incredible does Fleur look? So much intensity, and the hip action in her Rumba walks is outstanding. I didn't imagine that anyone would do a better Rumba than Molly and Carlos, but this is FILTH and I'm very here for it.
'They have very good chemistry' says Newton. AGREED.
Who's next? It's Fleur and Vito!
This week they're dancing the Rumba to 'Too Lost In You' by Sugababes. I always associate this song with the film Love Actually, which officially makes it a Christmas song. It's also a bit sexy so I'm hoping this Rumba is going to be FIRE.
Scores: 5,7,6, 7 – a total of 35 for Ellie and Johannes.
Craig thought it lacked punch and precision – it was lacklustre. Motsi wanted it to be lighter in the suspension, but it had the taste of a Jive. I'm not sure that's a huge compliment, Mots. Shirley thought the technique missed completely, and at Week 10 she wants more technique. Anton thought the performance was great, and it had characterisation.
I've just seen some in the comment box saying Motsi looks like Bagpuss, which made me snort a prawn.