Key events
25 min: Roberts gifts the ball to Wilson, who tears off down the inside-right channel before gliding infield and passing a shot towards the bottom right. Too tame, and easy for Patterson. He should have leathered it in the 1930s style. Meanwhile Richard Hirst is back: "Objectively you are right, Mary Waltz, but subjectively … I'm a Fulham supporter and with that comes a certain pessimism, especially after two successive one-season relegations. If/when we get to 40 points I might relax!"
23 min: Sunderland keep the ball awhile. They don't really go anywhere. Suddenly they ship possession and Fulham break through Solomon, who dribbles in the old-school busy style down the left wing. He enters the box, shifting this way and that in the hope of making space for a shot. He can't quite do it, and eventually opts to cross. An easy claim for Patterson.
21 min: That was better from Sunderland, who crackled in attack for the first time this evening. "Regarding Richard Hirst's pre-match question about why Saša Lukić isn't playing, he can't (and neither can Cedric Soares)," reports John Foster. "Players aren't eligible for an FA Cup replay if they weren't registered for the first leg. Yes, I learned this fact this week."
19 min: Ba makes a determined run down the middle of the park and slips Diallo into the box on the right. Diallo cuts back for Roberts, whose shot is easily blocked by Palhinha.
18 min: Kurzawa sticks out a leg to bring down Diallo, who was in the process of turning him inside out on the right touchline. Cynical, and he's fortunate not to go into the book.
17 min: Tosin, Fulham's last man, batters a clearance straight at Diallo, but gets away with it, the rebound pinging back to him rather than allowing the Sunderland forward to run at goal. The visitors got away with one there.
15 min: Mary Waltz sends in an email "with the utmost respect towards Mr Hirst regarding Fulham's tactics. They have had an outstanding rebound from the Championship. They are secure from relegation. They are too far out for Champions League. The chance for a FA Cup trophy after promotion would be a stunning achievement. I would go for it." And they do indeed seem to be going for it. They've been on the front foot since the get-go and look dangerous every time they cross the halfway line. Sunderland need to hold firm here and limit the damage.
13 min: Diallo falls over in the Fulham box and makes a half-hearted claim for a penalty kick. There was little or no contact, and the referee shows no interest. The home fans don't really push the point too much either.
11 min: Ah, but they're soon up as one to applaud the memory of Sunderland supporter Chris Collier, a retired Parachute Regiment captain and admin for a fans' forum who recently passed. A touching moment.
10 min: That's taken a bit of the air out of the Stadium of Light. The home fans roar defiantly for a few seconds, but soon drop their energy again.
GOAL! Sunderland 0-1 Fulham (Wilson 8)
Tete swings a cross in from the right. Ballard heads the ball straight up in the air. Vinicius makes a nuisance of himself and tees up Wilson on the penalty spot. Wilson steers a shot towards the bottom right. Patterson should tip around the post, but his hand is weak, and the ball squirts into the corner. Fulham lead!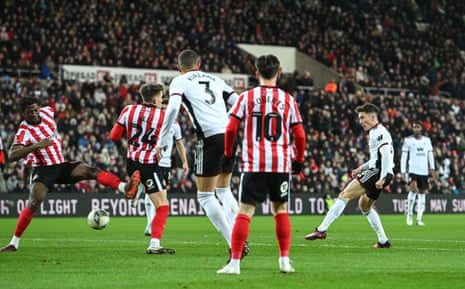 8 min: A free kick for Fulham out on the right. The ball's rolled to the flank for Wilson, who tees up Cairney infield. Cairney has a whack but Ballard charges him down. Blocked and cleared. However, Fulham come again, and …
6 min: Duffy pearls a glorious long pass down the inside-left channel for Solomon, who attempts to shoot from a tight angle but is forced to settle for a corner. It leads to nothing. What a pass from deep, though!
5 min: Kurzawa, Solomon and Vinicius combine well as Fulham shift the ball in from the left flank. Vinicius shapes to shoot but is closed down before he can let fly.
3 min: Clarke runs with purpose down the left before shuttling the ball over towards Diallo on the other flank. Diallo runs down a cul-de-sac and the impetus is gone.
2 min: Roberts is soon up again. No lounging around on the turf. It's very cold tonight.
Fulham get the ball rolling. The game's soon stopped as Roberts takes an accidental whack in the mush, courtesy of Kurzawa.
The teams are out! A freezing night on Wearside. Sunderland wear their red and white stripes, while Fulham sport their first-choice white. A fine FA Cup atmosphere at the Stadium of Light, but also plenty of pre-match nerves. "Much as I love Marco Silva I can't understand why he is playing Palhinha tonight, rather than giving Lukic an introduction to English football," writes Richard Hirst. "Palhinha is a fantastic tackler but his preferred technique of sliding in from 30 yards away to win the ball is great to watch but is only a millisecond's mistiming away from a yellow card or worse. We need him for the Premier League rather than the luxury of the Cup." We'll be off in a second or three.
Marco Silva – who will be watching from the stands tonight after picking up a fourth yellow card of the season at Chelsea last Friday – talks to the Beeb. "It will be different and strange [to watch from the stand] … everything will be the same until kick-off and half-time will be the same as well, I will be with the players … our job is to prepare well … the feedback normally they receive from the bench they will receive as always … I will be in a different spot but with a better view to analyse!"
Tony Mowbray speaks to the BBC and is asked about the potential of a repeat of the 1973 FA Cup final in the next round. "I don't think we'll get dragged into the next round, let's deal with this one … we had an amazing game at Fulham … we asked the team to challenge themselves against Premier League players … we asked them to express themselves and compete and that's what we're asking them to do tonight, to test their talent, drive and ambition … sometimes when you play against a top team there's fear … but we're going to try to play on the front foot like we did at Craven Cottage and hopefully it'll make for another good game."
Why do we put ourselves through it? This is why we put ourselves through it.
Sunderland boss Tony Mowbray makes one change to the starting XI sent out at Craven Cottage last week. Abdoullah Ba replaces the Achilles-stricken Ross Stewart.
Fulham coach Marco Silva makes two changes of his own from that match. Shane Duffy and Luke Harris replace Issa Diop and Andreas Pereira, who drop to the bench.
Sunderland: Patterson, Hume, Batth, Ballard, Alese, Neil, Michut, Roberts, Ba, Clarke, Amad.
Subs: Bass, O'Nien, Bennette, Pritchard, Rigg, Kelly, Ekwah, Johnson, Watson.
Fulham: Rodak, Tete, Tosin, Duffy, Kurzawa, Palhinha, Cairney, Harris, Wilson, Vinicius, Solomon.
Subs: Leno, Robinson, Diop, Reed, Pereira, James, Decordova-Reid, Willian, Mitrovic.
A couple of weekends ago, this happened …
… and so to the Stadium of Light we go. The winners of this replay will host Leeds United in the fifth round, so a potential re-run of the 1973 final is a live possibility, fifty years down the line. Can Fulham nix that narrative? We'll find out tonight, even if it takes extra time and penalties. Kick off is at 7.45pm GMT. It's on!