Share and Follow
Unlike Bogotá's graffiti artists, who use hoodies and the cover of night to hide themselves from the authorities, Francisco de Nicolás can be seen wandering the city centre in broad daylight, spray can in hand, as he seeks his next target.
He's on the lookout for loose paving slabs that could soak or trip unsuspecting pedestrians. When he finds them, he casually highlights them in hot pink spray paint, chatting jovially to passersby and handing out business cards.
"They call us the Colombian Minesweepers," the 35-year-old says with a grin, embellishing a concrete slab with a black cross. "This is our form of protest."
Colombia's paving rebellion began when an elderly woman fell over after treading on a loose tile in Nicolás's neighbourhood, breaking her wrist.
Soon afterwards, Nicolás started marking loose tiles with a black cross to help prevent others from getting injured on Bogotá's broken streets.
Now the action has morphed into a movement, Empecemos – or Let's Begin – and Nicolas and friends are not just making Bogotá's street hazards visible to pedestrians but hoping to shame local authorities into fixing them.
"We have grown into a whole group of city activists," he says.
Anyone who has spent time in the Colombian capital will have experienced the perils of the city's loose paving slabs – especially when it rains.
Water accumulates with grit and mud underneath loose slabs where it lies dormant until an off-guard pedestrian treads on it, sending streams of brown sludge in every direction.
"Oh yeah, who hasn't been screwed by one of those?" said Andrea Patiño, a 22-year-old student, dodging some of the freshly painted tiles. "I was rushing to university when I got absolutely soaked through."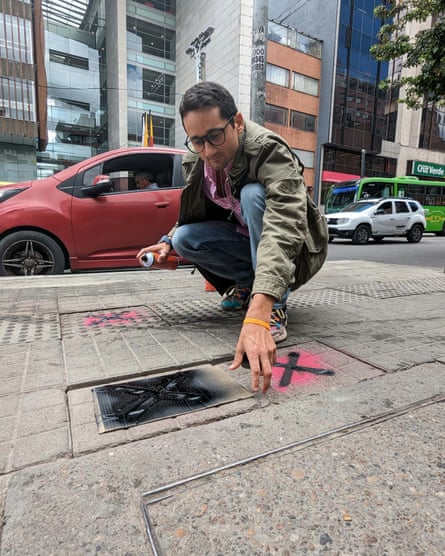 Julián Pinto, a 38-year-old systems engineer, recalled unleashing the wrath of a "spitting tile" while on his way out one evening dressed up in a pair of new white trainers.
"It puts you in a pretty bad mood … Especially when you're supposedly paying taxes to maintain this!" he said.
"The cracks, the uneven pavement stones, the corrupt building work combined with dog shit and human shit … It's a bloody minefield," says Robin Davies, an English teacher from London who has taught in the capital for 10 years.
For the elderly such hazards can be a more serious affair than just a pair of stained jeans, a ruined date or some tears.
"My 70-year-old grandmother spent two weeks in hospital. She had to get her knee drained after she fell on a loose tile," Patiño says.
Nicolás says his own 90-year-old grandma fell and broke her nose.
The Minesweepers have painted 11,000 slabs so far, making them popular with the elderly though they also have young admirers who comment on their social media posts, suggesting their next targets.
One goal is to protect people – particularly the old and poorly sighted who do not see street hazards as easily.
Such civic intervention is not uncommon in Bogotá's public spaces: 8ft-wide craters in the road may be marked by a tree trunk placed there to warn drivers, or an exposed manhole could be blocked with a car tyre, both comical but ultimately kind acts that could save a life or a leg until the local authorities come – if they do.
Eventually Nicolás and friends want to pressure the mayoralty into regularly fixing the streets – not just when elections come around.
"Public spaces in Bogotá are totally neglected which is why citizens have to organise themselves in an artistic way," says another volunteer, Giovanni Acevedo.
The Minesweepers are already expanding their horizons, moving on from loose slabs to tag all kinds of hazards, from deadly street hatches to missing drain covers and protruding strands of jagged metal wire.
A growing number of volunteers are joining in and the group is planning to crowdfund enough money to tag a million slabs.
So far, however, local officials have yet to respond to the campaign. "We are still waiting on a call from the mayor's office," said Nicolás.
Share and Follow