Key events
70 mins: Maaloul sends in a poor corner to the front post, which is knocked behind by Jebali. Oh well.
News on our pitch invader.
68 mins: Jebali writhes around in pain after being caught on the ankle. I am not sure how injured he is or if he is just wasting time.
There is a pitch invader, who the MSM will not show!
66 mins: Mbappe's first involvement is to be caught offside. "He is the best play on the planet, he doesn't need to," bemoans Keown.
"I got bored enough earlier to look up the etymology of Tunisia." I am trying my best Kári Tulinius. "Apparently it ultimately derives from a Berber verb meaning "to lie down" or "to encamp". As things stand now, nominative determinism is favouring the latter meaning. Hopefully the game picks up now."
64 mins: Australia are leading against Denmark, which means Tunisia would still go out even if they win.
Triple change for France, Varane, Coman and Veretout off, Mbappe, Saliba and Rabiot on.
62 mins: Disasi nudges Ben Romdhane over, leaving the Tunisian on the deck clutching his face. The referee does not care for a while but eventually blows up.
Most of France's performance has been in slow motion.
60 mins: Khazri departs and is replaced by Jebali. What a way to depart.
France have been utterly crap.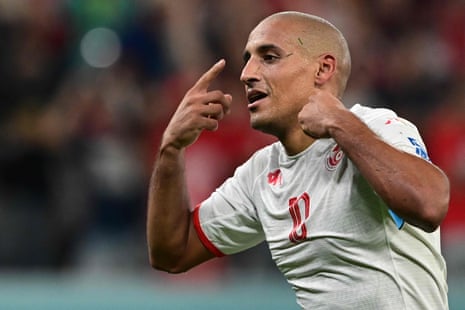 58 mins: The first Tunisia arrives after Fofana loses the ball in midfield. The ball goes forward to Khazri 30 yards from goal, he gets it out of his feet and dribbles into the box almost unchallenged, before slipping the ball past Mandanda.
GOAL! Tunisia 1-0 France (Khazri, 58)
The moment Tunisia have been waiting for!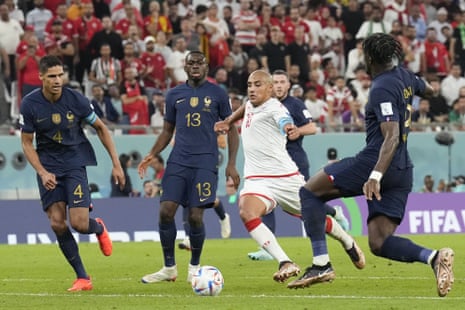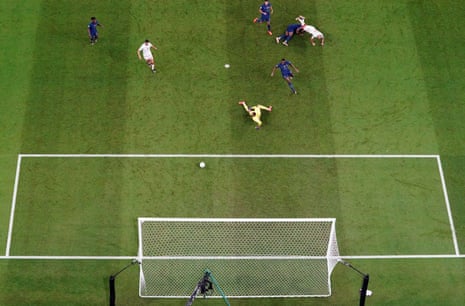 57 mins: A Tunisia cross comes in from the right but it goes straight to Disasi. The France defender fails to control the ball but Mandanda sweeps down to collect.
55 mins: If Tunisia had a Premier League quality striker, they would be out of sight in this match but they do not possess anyone with conviction of movement or finishing.
53 mins: Fofana tries to shepherd the ball out of play from about 15 yards from the touchline. He goes down under pressure from Laidouni. It does not look like there is much in it and the Tunisian takes the ball away but his shot is always rising over the bar.
51 mins: Coman spins Talbi with ease to lead a France breakout but no one can keep up with him and he is forced to check his run.
The cameras find Gianni Infantino in the stands. He does not look happy, which is a shame.
49 mins: There is a little battle for possession 35 yards from the Tunisia goal. It ends with Veretout on the floor in pain. It is a scrappy start to the half.
47 mins: Kharzi flicks the ball over for Skhiri, it looks like the ball is controlled on his arm but France clear anyway and the referee allows play to continue.
Tchouaméni slides in on Khazri in the box. He gets a touch on the ball but Khazri wants a penalty, not that the referee cares.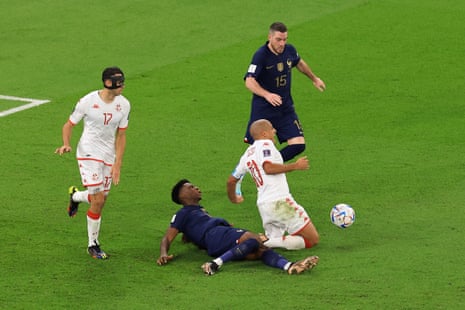 Here we go again!
It is 0-0 in Australia v Denmark, too.
Jason Geer defends France: "I think when you consider some of these French players are 5th or 6th choice at their position (no Pogba, Kante, Benzema, Nkunku, Hernandez, Kimpembe), it's quite impressive they can step in today and potentially earn points in a World Cup match. What other nation besides Brazil is this deep?"
Either way, no one for France – except Konate – is performing to the best of their ability.
Half time: Tunisia 0-0 France
Tunisia have been the better team by a mile, while France have played some ludicrously low-quality and disjointed stuff. If there is any justice, Tunisia will win this match.
45 mins: Two minutes added on.
44 mins: Andy 'not that one' Flintoff emails: "Re France's XI being their first team's tribute act, are they singing the same tunes, just in the Vic Reeves' club-singer stylee."
Yeah, that's about the level.
42 mins: Guendouzi has the ball 35 yards from goal, tries to find Camavinga on the left but just passing it out of play. That sums up the opening 42 minutes for France. I don't think Deschamps will have too many selection headaches for their last-16 game.
40 mins: Tunisia are also impressive in defence. They have only conceded one in the tournament after all but the World Cup is a competition of fine margins.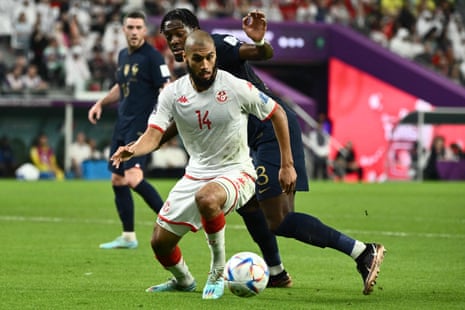 38 mins: France are currently playing like a tribute act to the normal starting XI. Very much the Friday night at a working men's club version of Mbappe et al. I am not sure you could charge entry.
36 mins: Varane half clears a ball straight to Khazri, he takes a touch and whacks a vicious volley at goal. It is straight at Mandanda who gets down well to hold.
34 mins: Maaloul swings in a cracking cross from the left to the back post but Camavinga reads it and knocks the ball behind for a corner, which is, unsurprisingly, hit to the fronts post for the France left-back to head clear.
32 mins: Another Tunisia corner is whipped into the box from the right but only reaches the front post where Camavinga is waiting to head clear. A second corner is sent in to the front post but, again, straight at Camavinga. I think Tunisia might need a plan B for corners.
30 mins: Khazri sends a dangerous cross into the box but Konate is there to clear. The ball is sent back in moments later for Ben Slimane to attack at the back post; he steers a head at goal but it is deflected into Mandanda's arms.
28 mins: Khazri is certainly ball of energy; he is always offering for the ball and willing to chase anything.
Kechrida goes into the book for a pointlessly late challenge on Camavinga from behind.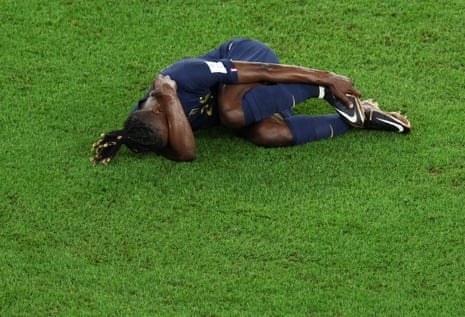 26 mins: France rush down the other end. Fofana plays a pass through to Coman inside the area in space but he takes a dreadful touch and follows it up with a slice wide.
24 mins: France enjoy a spell of position but it comes to an end with Kolo Muani going to ground under pressure from a defender and getting nothing from the referee.
Tunisia turn the France defence with a ball over the top. Kechrida chases the pass and reaches it inside the box but after a battle with Konate, sends the ball behind for a goal-kick.
22 mins: There is a big Tunisia following inside the stadium and they are having a great time. Mbappe is shown, sat on the bench, laughing and joke. What fun to be a sub for a team that has already qualified for the knockout stages.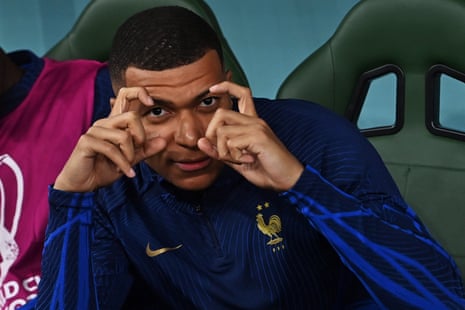 20 mins: If you like disjointed football teams, France are the team for you. The four-man midfield do not seem to know their own roles.
18 mins: Tunisia are causing plenty of problems for the French defence. Ben Slimane gets hold of the bold in the box and spins Varane but Konate comes in to stop him getting any further.
16 mins: Tunisia have the chance to send another free-kick into the box Maaloul swings his cross straight into the arms of Mandanda.
France have a couple of corners in quick succession but they come to nothing.
Laidouni makes Camavinga look silly on the left touchline with some skills and a nutmeg, so the France defender takes him down.
"Given the number of goals that have been disallowed this tournament," says Radhika Menon, "I'm surprised that players still celebrate without waiting for the referee's nod!"
You have to try and enjoy the moment.
14 mins: Khazri gets into the box and tries to earn a penalty by throwing himself at Konate. It is, frankly, a pitifully shit dive and he should be ashamed.
12 mins: Camavinga pings the 25 yards inside but straight to a Tunisian. They push back at France and earn a corner after Disasi turns a cross behind. Khazri shoots from the corner but it foes straight over. Optimistic but I appreciate the idea.
10 mins: It is certainly a warning to France who have barely been involved in this game. I guess that is what making nine changes does to a side.
8 mins: NO GOAL! Tchouaméni bundles over Ben Romdhane on the left flank. Khazri swings in the free-kick for Ghandri who flicks the ball beyond Mandanda but the Tunisia is a long way offside.
Kolo Muani was on holiday in Japan when he got the late call-up to the World Cup. Upon being told this Martin Keown says "eating sushi" because that is everything he knows about Japan.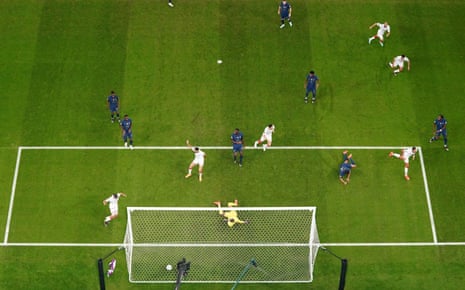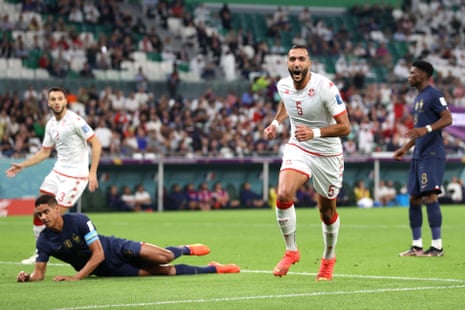 6 mins: It's been all Tunisia thus far. They have a corner on the right. It is curled into the six-yard box where Varane is waiting to whack it clear.
"Who controls the TV cameras at the World Cup?" asks Kurt Perleberg.
My understanding is the host broadcaster controls the pictures. Fifa usually hires directors for this and they pump out the feed worldwide.
4 mins: Camavinga's first involvement at left-back is to take a poor touch and follow it up by clashing knees with Khazri.
2 mins: Tunisia start on the front foot, making it into the France box in the opening few seconds but Mandanda comes out to claim. Tunisia need to show some intent, that's for sure.
Peep! Peep! Peep! Here we go!
The players are on the pitch, readying themselves for the anthems in front of absolutely MASSIVE flags.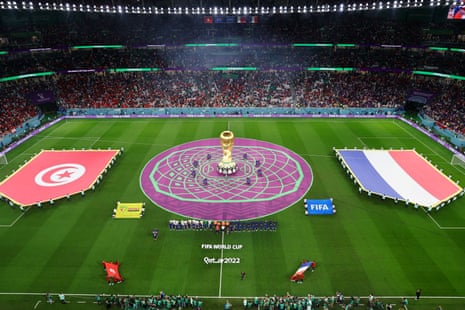 Later on …
Tunisia are yet to score in this tournament, so have turned to former Sunderland forward Wahbi Khazri. He scored three goals in 38 games during his spell in England. He does, however, have 24 in 73 for his country.
Camavinga at left back seems the interesting one to watch. Can Tunisia make the most of the central midfielder playing out of position?
Elsewhere … you can join Scott Murray for Australia v Denmark. I'd probably just open two tabs.
Get stuck into The Knowledge.
Tunisia boss Jalel Kadri has previously said he would resign if he fails to get the team out of the group. Will he be a man of his word?
"Let's wait for the result of the match and we will see. We are people who bear responsibility and hopefully I will be able to answer your question after the match."
As we suspected, France have made a plethora of changes (nine to be precise). It is nice that the players are getting the chance to play in a World Cup but Denmark and Australia will be fuming if Tunisia make it through.
Tunisia (3-4-3): Dahmen; Ghandri, Talbi, Meriah; Kechrida, Maaloul, Skhiri, Laidouni; Ben Slimane, Ben Romdhane, Khazri.
France (4-4-2): Mandanda; Disasi, Varane, Konaté, Camavinga; Guendouzi, Tchouaméni, Fofana, Veretout; Kolo Muani, Coman.
As previously mentioned, 10 of the Tunisia squad were born in France. Montassar Talbi will be putting his emotions to one side for the match.
"I was born in France, I have a lot of friends in France, but it's still a football match at the end of the day," the Lorient defender said. "Even the players born in France, we are wearing the Tunisia shirt and we will give our all.
"It is a special match for our families in France but as a player you always want to play as well as you can and represent your country."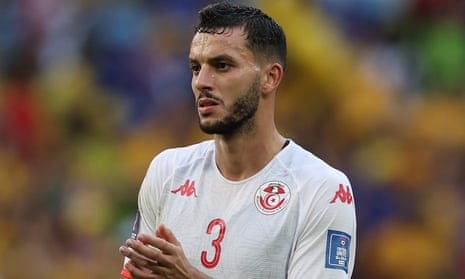 Didier Deschamps says he is willing to rest Kylian Mbappe for this match. Will he?
"His fitness is fine so we don't need to manage that," Deschamps said. "Perhaps then you are asking about his ego. Kylian doesn't have a big ego. Of course he's an important player, a key player, but he's a team player.
"Of course he's a star because he's such a vital player but he's not 18 anymore. He's got a bit more experience. He always wants to play but that's true of all players. Not all of them can start tomorrow. There are a lot of factors to take into account."
Prime yourself with the Football Daily …
The rather tedious news is that France are already through so could leave a few of their big names out for this match. They have earned the right to rest their star names and allow the lesser lights in the squad to get some minutes under their belt going into the knockout stages. Let's be honest, they will still be putting a decent side.
Tunisia, on the other hand, will be doing their all to make the most of their chances of progressing. They need to win and for Australia to draw with Denmark to go through to the knockout stages, which would be an incredible achievement for the country. Alternatively, if Denmark and Tunisia win, then it will goal down to goal difference, which will be fun. Even against a French second string, it is a bit of an ask for Tunisia to get the desired result.
The good news for Tunisia is they know their French football: 10 of their squad were born in France. It could give them a slight advantage, compared to another opponent.
This tournament has provided a few upsets already, maybe this could be another.
Kick-off: 3pm GMT.