Share and Follow
Officials in the province of Nova Scotia say unprecedented wildfires that have forced thousands from their homes will keep growing despite the "water, raw muscle power and air power" deployed by fire crews.
As of Wednesday, more than 20,000 hectares of the Maritime province were burning from 13 wildfires, including three fires that considered out of control. More than 18,000 people remain under evacuation order outside Halifax, the region's largest city. More than 200 structures, the majority of which are homes, have been destroyed by the fire. No fatalities have been recorded.
Hot, dry and windy conditions have seen the fire near the community of Tantallon grow to 837 hectares. Temperatures are expected to hit more than 30C this week, giving little respite to fatigued crews.
"Today could possibility be a very difficult day," David Steeves of the Nova Scotia Department of Natural Resources told reporters. "Today could be a day that is very dangerous for the folks on the ground."
Dave Meldrum, deputy chief of Halifax Regional Fire and Emergency, said exhausted crews have been using "water, raw muscle power and air power" to fight the blazes since Sunday, using three helicopters and fire fighters from the city, province and department of national defence. Even after four days, the fires remains out of control.
For a province that typically measures the total amount of the region burned in hundreds of hectares, the record-breaking Barrington Lake blaze, stretching more than 20,000 hectares and still growing, has pushed Nova Scotia's scarce resources to the brink. The largest ever fire recorded in Nova Scotia was in 1976 and measured 13,000 hectares.
"We've got more fires than we have resources to support them," Scott Tingley, manager of forest protection at Nova Scotia's Department of Natural Resources, said during a news conference, adding the province is prioritizing safety and human life ahead of infrastructure.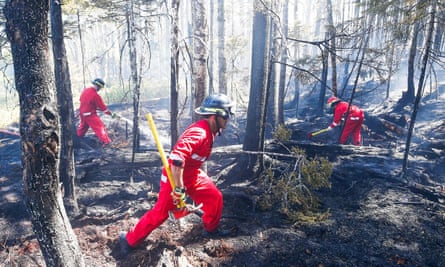 Prime minister Justin Trudeau said images of people fleeing their homes are "heartbreaking" and pledged federal assistance.
On Tuesday, Nova Scotia premier Tim Houston announced a ban on all activity in the province's forests, including hiking, camping, fishing, hunting, the use of off-highway vehicles and logging after six illegal burns were reported on Monday evening.
"For God's sake, stop burning. Stop flicking cigarette butts out of the car window. Just stop it. Our resources are stretched incredibly thin right now fighting existing fires" Houston said. "This is absolutely ridiculous with what's happening in this province … It's mind-boggling."
On Wednesday, the province's natural resources minister said the conditions Nova Scotia in are "unprecedented" and expected to worsen.
"Everything lined up for a perfect storm, if you will," Tory Rushton told the CBC. "The dry winter, dry spring, perfectly warm breeze and warm weather in the spring has certainly not helped our province at all with this fire season."
He said Barrington Lake fire had so far destroyed 40 structures, but added the size and speed of the fire made it difficult for officials to gauge the true scope of damage.
Officials are hopeful that rains forecast for the weekend will slow the largest fires and give crews a better chance at controlling the blazes.
Share and Follow