Key events
USA 1-1 Japan, bottom 2nd inning
And here comes Aaron Loup to put out the fire. Let's see how this works out.
USA 1-1 Japan, bottom 2nd inning
Catcher Yuhei Nakamura is up next. The US is starting the bullpen going early here. Aaron Loup is throwing, getting warm. On a 2-0 pitch, Kakamura hits a pitch into foul territory. 2-1. He takes a strike in the zone. 2-2. The next pitch is just inside. 3-2. And the next one just misses as well. Bases loaded, just one out and this is a chance for Japan to do some major damage.
USA 1-1 Japan, bottom 2nd inning
Sosuke Genda hits a single to left, that's two on with one out.
USA 1-1 Japan, bottom 2nd inning
Nobody out, one run in and a runner on first base. Tetsuto Yamada is up next. He gets ahead of the count 2-0 and then fouls off a pitch. 2-1. Yamada has to duck out of the way from the next pitch. 3-1. He swings and misses at the next. 3-2. He fouls the next one off. 3-2 again. He hits a flyball to Betts for the first out.
USA 1-1 Japan, bottom 2nd inning
Kazuma Okamoto singles to right. Japan is fighting back this inning.
Solo home run! (Munetaka Murakami USA 1-1 Japan)
USA 1-1 Japan, bottom 2nd inning
Well, that was fast. Munetaka Murakami, who has been having a good week, immediately hits a solo home run to tie up this game.
USA 1-0 Japan, top 2nd inning
Betts hits a flyball to left and that will do it, but the USA scores first and, to nobody's surprise, Trea Turner has drawn first blood. Just call him Rambo.
USA 1-0 Japan, top 2nd inning
Anderson hits a base hit and that's runners on first and second as the order turns over.
Once again, we're not going to see a lot of 1-2-3 innings from Team USA's lineup.
USA 1-0 Japan, top 2nd inning
Cedric Mullins is up next and he promptly strikes out. Two down, runner still on first. Tim Anderson is up next.
USA 1-0 Japan, top 2nd inning
J.T. Realmuto works a full count before hitting a base hit to left field.
Solo home run! (Trea Turner, USA 1-0 Japan)
USA 1-0 Japan, top 2nd inning
That's the reason that Trea Turner was moved up in the lineup. He hits yet another home run, this one on a 2-1 count and the US takes a swift 1-0 lead!
USA 0-0 Japan, top 2nd inning
Kyle Schwarber is up to start the second inning against Imanaga. Shwarber flies out to right for a quick out.
Email from Joe Pearson:
Have they not told us who the umpires are and where they're from, or did I miss it?
If they did, I missed it too. Honestly, not that it's something I ever pay close attention to. My ears only perk up when a legendarily bad one is on duty and Angel Hernandez is not in the building for this one to the best of my knowledge.
USA 0-0 Japan, bottom 1st inning
Recent Boston Red Sox Masataka Yoshida signing is up next with a runner on first and two out. Kelly gets ahead of him 1-2 as Yoshida keeps fouling off pitches before taking strike three.
No scoring after the first inning, this definitely feels like a different game than Saturday's.
USA 0-0 Japan, bottom 1st inning
Shohei Ohtani, the most exciting player in baseball, is up next. Kelly falls behind in the count 2-0, possibly pitching him carefully. The next pitch is also outside. 3-0. The next pitch is a strike. 3-1. The next pitch is just off the corner and Ohtani knows that it's a ball and takes his base.
USA 0-0 Japan, bottom 1st inning
Kensuke Kondoh grounds out to Trea Turner at shortstop and that's two down relatively quickly.
USA 0-0 Japan, bottom 1st inning
Lars Nootbaar flies out on one pitch. That's a nice start for Merrill Kelly.
Email from Joe Pearson in Indianapolis:
Those Japan jerseys are kind of weird. Translucent and shiny, almost like they're silk? Odd.

Joe Pearson
I dig them personally, but I have a strange fashion sense.
USA 0-0 Japan, top 1st inning
Nolan Arenado is up next with a runner on second and two outs. He grounds out to first and that's that in the top of the first. Japan's offense will get its first turn at-bat next.
USA 0-0 Japan, top 1st inning
Paul Goldschmidt, who has been absolutely on fire this tournament, is up next. He falls behind 0-2 and then strikes out swinging on a changeup. Two down.
USA 0-0 Japan, top 1st inning
Mike Trout is up next. He swings and misses at the first pitch. He then floats one into right field that just drops, he manages to just outrun it for a double.
USA 0-0 Japan, top 1st inning
Shota Imanaga's first pitch to Mookie Betts is just on the edge for a called strike and then gets him to fly out for the first out.
Okay, so I wasn't mistaken: it was thought that Yu Darvish would pitch today and instead it's Shota Imanaga. I had written my prediction beforehand giving Japan the edge in starting pitching because of Darvish but, as Ken Rosenthal points out, these US hitters have seen Darvish a lot and this might actually give Japan the edge in the early innings by having a talented pitcher who is more of an unknown quality.
As always, we'll see.
The broadcasters are speculating on whether Ohtani would be available to pitch out of the bullpen at some point during this game. While it would be an amazing thing to watch, it strikes me as a potentially risky gambit.
However, this is a championship game and a title is on the line, so one imagines that no options are fully off the table.
In honor of this momentous occasion let us all celebrate the greatest Tweet ever made about the Angels, the reason Tungsten Arm O'Doyle trends on Twitter every time the Angels lose a winnable game. (Which is a lot.)
We're getting both national anthems! I love this, even if "The Star Spangled Banner" always suffers in comparison.
Both teams' rosters are out on the field now. It looks like we're having some pregame ceremonies, as befits a championship game.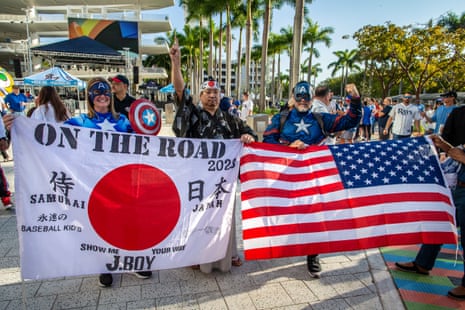 Mike Trout is extremely happy to be playing in meaningful games.
Pregame programming: Okay, so instead of watching whatever Fox Sports 1 is doing, I am watching a "Castle" rerun BUT it is actually a "Castle" episode that is about Cuban baseball players so it is technically somewhat connected to international baseball. Plus, Joe Torre made a cameo appearance, so I feel like this is technically work-related.
Predictions
This will be a tricky game to predict beforehand. The United States has a more formidable offensive lineup, as we saw when it pulverized Cuban pitching on Sunday, but one has to think that this Japan team is going to put up a stronger effort. I do not think I will be complaining that there will be no "mercy rule" in play like I did last time around.
Ultimately, if the US offense finds the weak link in Japan's bullpen, they could put up a crooked number that tilts their game in their favor. I'm saying the final will be something like USA 7-5 Japan.
Have thoughts of your own? Just send them here, either to [email protected] or to @HunterFelt and we'll post them here for all to see. If you happen to nail the results, that's major bragging rights in your favor so keep that in mind.
Randy Arozarena
While Mexico has been eliminated from the WBC, it shouldn't be ignored what a great tournament Randy Arozarena had while they were playing. This catch during yesterday's Mexico-Japan game might be one of the coolest things you'll ever see in baseball.
Japan starting lineup
1. Lars Nootbaar, CF
2. Kensuke Kondoh, RF
3. Shohei Ohtani, DH
4. Masataka Yoshida, LF
5. Munetaka Murakami, 3B
6. Kazuma Okamoto, 1B
7. Tetsuto Yamada, 2B
8. Sosuke Genda, SS
9. Yuhei Nakamura, C
Starting pitcher: Shota Imanaga
USA starting lineup
Unsurprisingly, the hot-hitting Trea Turner has been moved up the order for the US.
1. Mookie Betts, RF
2. Mike Trout, CF
3. Paul Goldschmidt, 1B
4. Nolan Areando, 3B
5. Kyle Schwarber, DH
6. Trea Turner, SS
7. J.T. Realmuto, C
8. Cedric Mullins, LF
9. Tim Anderson, 2B
Starting pitcher: Merill Kelly
Preamble
So much for those who dismissed the World Baseball Classic as exhibition games, the 2023 WBC might end up being remembered as the tournament when it officially became baseball's World Cup. Yesterday's semi-final match between Japan and Mexico was a back-and-forth affair that ended with a dramatic walk-off victory courtesy of Japan's Munetaka Murakami. It was as competitive and meaningful of a baseball game as you will ever see.
So now Japan will face a USA team that is taking the WBC seriously. If the mercy rule were still in effect in these knockout stages, the US would have made quick work of Cuba in their semi-final matchup on Sunday, demolishing them 14-2. Now, they will face a tougher opponent in this deep Japanese roster.
The main storyline from an MLB perspective is that baseball fans finally get to see the Los Angeles Angels' Mike Trout and Shohei Ohtani together playing in a big game. Ironically, they won't be on the same team, as Trout is the captain on the US side and two-way phenomenon Ohtani is hoping to lead Team Japan to a championship. Still, it's a tantalizing look at what could have been if the Angels organization were at all capable of putting together a competent team around its two stars.
Even if you haven't been following the WBC until now, this is a perfect opportunity to jump aboard and see which of these two will capture global bragging rights: the country that invented the game or the one that adopted the sport and embraced it with the passion of a convert. You can follow along with us here, and perhaps even send us your thoughts, either via email (to [email protected]) or via Twitter (to @HunterFelt). We'll include them throughout today's live blog.
It's the USA vs Japan in the 2023 World Baseball Classic final featuring the United States v Japan at Miami's LoanDepot Park. The game will be broadcast on Fox Sports 1 at 7:00 pm EST, but this blog will be back before then with starting lineups, predictions and other such stuff before then.
Hunter will be here shortly. In the meantime here's a look back at Japan's stunning come-from-behind win over Cuba on Monday night to book their spot in tonight's final.