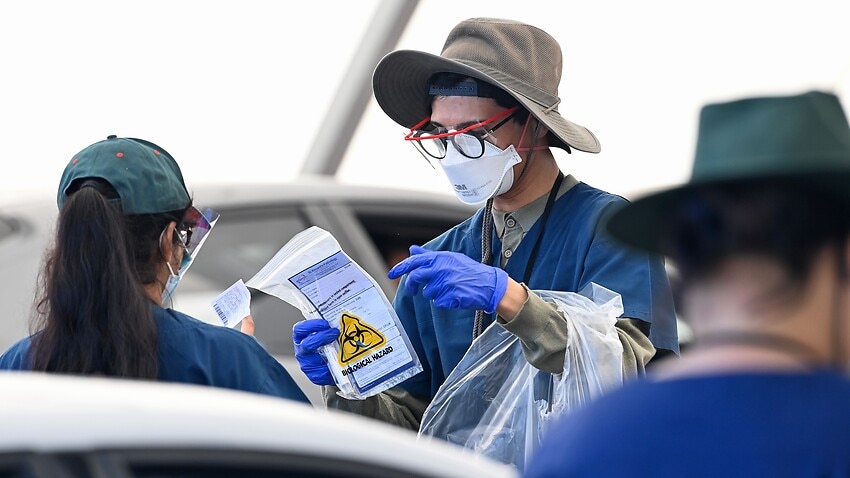 There has been a slight increase in the number of people admitted to ICU, too, with 193 patients currently requiring intensive care, up from 184 on Friday.
While more people are dying with coronavirus in NSW than at any other time during the pandemic, authorities maintain things are going better than expected and predict the outbreak will soon peak.
NSW COVID-19 update – Saturday 15 January 2022

In the 24-hour reporting period to 8pm last night:

– 95.2% of people aged 16+ have had one dose of a COVID-19 vaccine
– 93.8% of people aged 16+ have had two doses of a COVID-19 vaccine pic.twitter.com/uLxDFqCt0j
Worst-case-scenario modelling suggested 6,000 people could be in hospital at the peak of the outbreak, with 10 per cent of them in intensive care.
Even the best-case-scenario predictions paint a grimmer picture than the current reality, estimating 3,158 people would be in hospital.
Premier Dominic Perrottet on Friday said the state had "a difficult few weeks ahead" but things not currently being as bad as feared was "very reassuring and encouraging".
Opposition Leader Chris Minns criticised the government for not preparing in December for the expected surge in cases.
"Instead, we're seeing our frontline workers, who've already put in enormous amounts of effort over the last two years, go through enormous stress in the last fortnight," he told reporters.
NSW Chief Health Officer Kerry Chant warned about half the people in NSW could become infected during the Omicron wave, though some would be asymptomatic and may never even know they had contracted coronavirus.
Victoria, meanwhile, reported 23 deaths and 25,526 new cases on Saturday – 12,857 via rapid antigen tests and 12,669 through PCR tests.
Currently, there are 227,105 active cases – 1,054 in hospitals and 115 in ICU.
The number of Victorians 18 and over who have received their booster vaccine shot has risen to 22 per cent.
The figures come as private pathology labs send out more notifications to Victorians whose PCR tests have been deemed invalid because they are more than seven days old.
"Impacted patients will be notified via text message in the near future. We regret the inconvenience caused to our patients by the delay in results," Australian Clinical Labs said in an update published on Friday.
"Our laboratory staff are doing all they can in getting through the current backlog, and like all pathology companies in Victoria, we have seen an unprecedented volume of samples enter our laboratories during the latest surge."
Additional reporting by AAP.
Source: SBS