Share and Follow
Key events
39 mins: Sergis looks for an offload, but she can't control the ball and knocks on instead. Queensland get a scrum feed on the halfway line. Elliston leaves the ball behind in a tackle and the ball goes back to NSW. The game hasn't got any less messy in this second half.
37 mins: The second half is underway and Kelly won't return – she has been taken to hospital as a precaution. Robinson is on report for that elbow. Boyle starts the half with a great run and NSW set their intentions early with a strong set. Their defence is strong and disciplined to follow up.
It doesn't look like great news for Kelly, with the captain reportedly suffering a larynx injury.
Well, that was a frenetic half from both teams, but it was Queensland who were able to pull ahead and take the lead into half time. Isabelle Kelly is in some distress and has gone straight to the sheds after a raised elbow from Robinson in a tackle – we'll keep an eye on her and see if she will come back for the second half.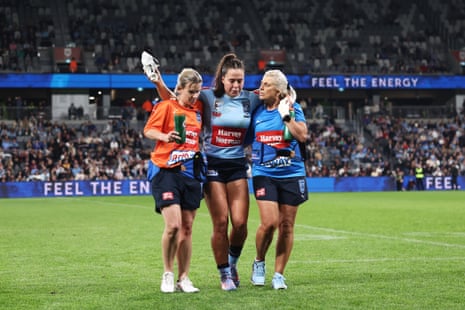 CONVERSION! NSW 6-10 Queensland
Temara knocks it over and consolidates the lead for the Maroons.
Close to the end of the first half and NSW will be ruing their errors after Queensland make them pay. Gray rolls through a few defenders and slams the ball down.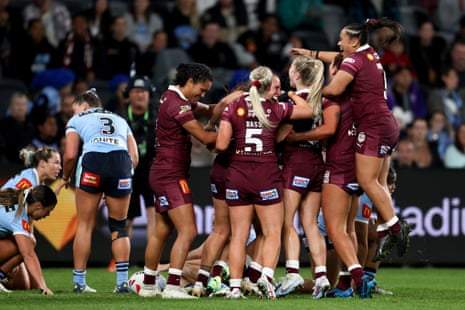 32 mins: The sets have started to settle down a bit now, the nerves have calmed and we're getting more completions. NSW give away a silly penalty – a lifted tackle from Togatuki, but Queensland can't make them pay, with an error from the restart. Then NSW make an error from the scrum feed – what was I saying about more completions?
30 mins: Phew, OK well about a thousand things happened in that two minute block. Robinson made a brilliant break off a kick receive, Shenae Ciesiolka kicked ahead for Upton, Tonegato tried to pull it in, Robinson got it again and finally knocked on. It was all very exciting, but for no scoring play.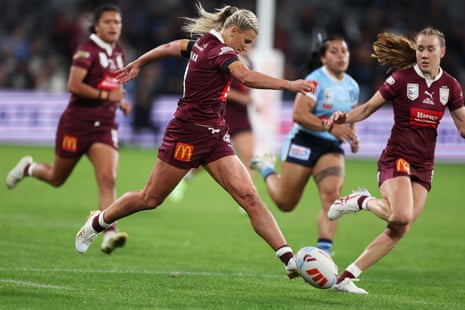 28 mins: Queensland are back in NSW's half for the first time in quite a while and they make it count by forcing back-to-back sets. Brill probably needs to ask for her money back on her jersey, she's losing her number already. Fuimaono pulls off a one-on-one strip to get the ball back for NSW.
26 mins: A really nice half break from Tonegato – she is one to watch this game, she's sure to make some magic happen at some point tonight. Another pressure release by the Blues with Pearson this time not putting up the pinpoint kick she would have hoped for to put Queensland back on the attack.
24 mins: Good pressure built from the Blues, but Southwell releases it with an inaccurate kick that heads over the sideline and goes back to Queensland deep in NSW's half. They do a good job containing Queensland and keeping them inside their own half.
22 mins: This game is swinging so wildly I can barely keep up! No sooner do Queensland have the ball, but they make an error of their own and NSW have it back. Kelly makes a nice little half break down the wing to gain some ground. Sergis finds another hole, but loses the ball on her way. Then Pelite runs past the ball and it goes to ground again to go back to NSW.
20 mins: The Maroons kick off and immediately give away another penalty. But NSW can't take advantage, knocking on in the tackle and Queensland have a scrum feed.
CONVERSION! NSW 6-4 Queensland
Southwell converts the try and NSW pull ahead.
Apps has come on to the field, got immediately into the action and Jess Sergis powers over the line carrying four Maroons with her to open NSW's scoring.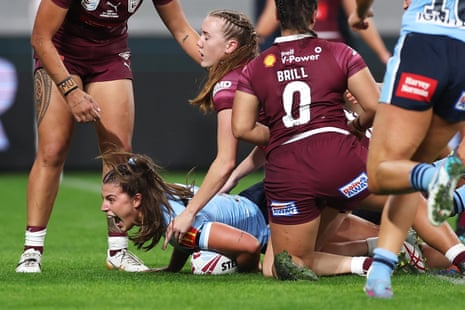 16 mins: NSW pick up a penalty straight away, getting themselves down the field and out of danger. There's a dodgy looking tackle on Boyle, but nothing is called. The Blues pick up another penalty on the fifth tackle with a marker offside.
14 mins: Aside from those first couple of minutes, it's been all Maroon so far this match. A good kick from Temara forces Tonegato to push the ball into touch in goal and they have to take a drop out and give the ball back to Queensland for another set in NSW's half. Finally NSW force an error, with Brill knocking on, and NSW finally have the ball back.
12 mins: Another penalty for the Maroons, the Blues are going to have to be careful about giving away so much ground. It seems in no time at all that Queensland are back up at the line, there's a knock on from NSW and again Queensland are on the attack with back-to-back sets.
10 mins: The conversion attempt from Temara is unsuccessful and Queensland again receive the kick off. One of the count back methods for a drawn series is the first try of the series, so a tick there for the Maroons.
NSW drag Power into touch, but the ruling is that the tackle was held so they get the ball back through a penalty. Now it's the Maroons building pressure at the try line and Julia Robinson finishes it off on the wing for the opening try of the match.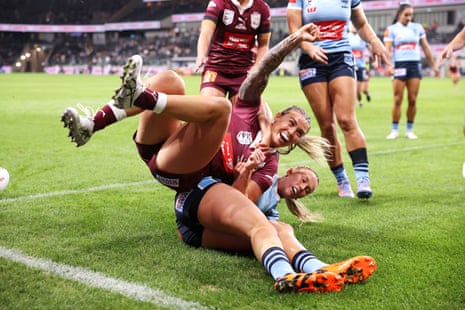 6 mins: A much better start to the set for the Maroons this time, but on the fourth tackle, a loose pass from Upton heads over the sideline. Fortunately there was a touch from the Blues, so Queensland get the scrum feed and another shot at a completed set from 30m out.
4 mins: It's a strong first set from NSW, building pressure on the line right from the start. But late in the set, Southwell makes a mistake in the play the ball and the ball is turned over before they can make Queensland pay. The Maroons get the scrum on the 10m line and pick up an offside penalty on the first tackle to piggyback them up the field.
2 mins: A disastrous first set from the Maroons, with Mato dropping the ball in the tackle into Boyle. There's a captain's challenge in the first minute of the game, but it is unsuccessful. NSW get the ball on the 40m line. Queensland makes it worse by giving away a penalty almost immediately.
Here we go, we're underway in Origin I. NSW with the kick off and Keeley Joseph with a strong first carry.
The teams are out on the field now – we have a Welcome to Country by Aunty Julie Jones to welcome the the teams to Dharug country. Kick off is not far away.
Interesting to note that Kezie Apps has shifted to the interchange bench for NSW – there has been quite a lot of movement around from that originally named line up. We knew some changes would be required with Penitani out, but this is probably more change than most people were expecting.
1. Tamika Upton
2. Julia Robinson
3. Shenae Ciesiolka
4. Evania Pelite
5. Emily Bass
6. Tarryn Aiken
7. Zahara Temara
8. Shannon Mato
9. Destiny Brill
10. Keilee Joseph
11. Tazmin Gray
12. Shaniah Power
13. Ali Brigginshaw
Interchange
14. Emma Manzelmann
15. Jessika Elliston
16. Sophie Holyman
17. Romy Teitzel
Team list – New South Wales
1. Emma Tonegato
2. Jaime Chapman
4. Isabelle Kelly
14. Taliah Fuimaono
3. Jessica Sergis
6. Jesse Southwell
7. Rachael Pearson
10. Millie Boyle
9. Keeley Davis
13. Kennedy Cherrington
11. Olivia Kernick
12. Yasmin Clydsdale
16. Brooke Anderson
Interchange
8. Kezie Apps
15. Sarah Togatuki
17. Shaylee Bent
19. Quincy Dodd
We've still got some time before kick off and there's no better way to spend it than by reading some things I wrote previously. As an added bonus, they'll get you right up to speed on this game and give you some things to yell during the game aside from "She's been doing it all night ref!" and "That was forward!"
Preamble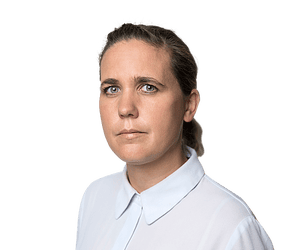 Megan Maurice
Well with last night's warm up match now complete, we're ready for the big game! Mate against mate, state against state, it is truly the most wonderful time of the year. For the first time, the women are taking part in an Origin series, rather than a standalone game. Sure, it's a two-game series rather than the three games the men get, but it is double the amount of women's Origin we got last year, so we're definitely moving in the right direction.
In bad news for Sky Blues fans, winger Tiana Penitani has been ruled out of game one with a hamstring injury. Reports out of the Blues camp say that Penitani sustained a minor strain late in the training week and was given until today to prove her fitness, but was not able to complete the captain's run. Quincy Dodd has been named as Penitani's replacement in the team.
Share and Follow