Key events
German coach Hansi Flick has ruled out resigning if Germany get knocked out of the World Cup tomorrow against Costa Rica.
"I can confirm that from my side – I don't know what else is going to happen," he told the media in Qatar. I have a contract until 2024, I'm looking forward to the European Championships at home, but that's still a long way off."
Germany host Euro 2024.
"The first two games were not as good as we hoped. We didn't show everything we are capable of," Belgium's Timothy Castagne has said to the media in Qatar today, adding "But we are not in crisis" in the way that nobody who isn't already firmly in the grip of a crisis does.
Addressing the stories that there had been a frank team meeting about their shortcomings so far, Castagne said ""It was important to get things off our chests and share our views. We also shared our ideas about how we can improve."
For his part, haunted-looking coach Roberto Martinez said the pressure had got to them. "There was no enjoyment. There was too much responsibility. Every player was fearful of losing. We are not expected to lose …Tomorrow there is no doubt. A draw and we are out."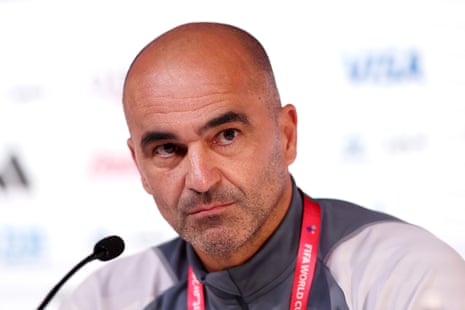 Anita Kobylinska is in Doha for Reuters and she writes that Spain may look to their younger players to seal their last-16 spot at the World Cup when they meet Japan tomorrow, and some of those players including defender Pau Torres will be drawing on their Tokyo Olympics experience to help them prepare.
A number of Spain's under-23 squad from Tokyo are now in Qatar, and remember their semi-final clash with Japan all too well. Spain won 1-0 and eventually took the silver medal, while Japan lost out in the bronze medal match.
"In the semi-final, we needed to go all the way to extra time to win," Torres, who played all six of Spain's games in Tokyo, told Reuters today.
"Japan are a very organised team, very consistent in what they do. I always think they have the game under control, they don't get out of the game until the final minutes," Torres said.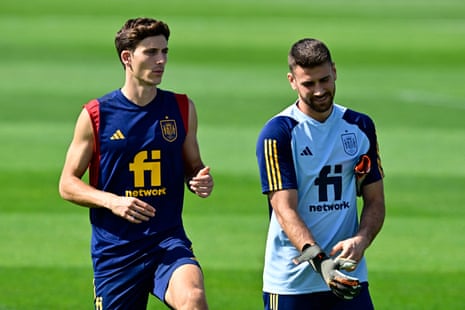 "And they are comfortable defending without the ball, they don't need to feel that they have possession to be comfortable. It's going to be a tough game."
Spain could have booked their last 16 spot already but drew their second match against Germany, meaning it all comes down to match number three.
"Against Germany we knew that they could challenge us a bit for possession. We played a bit in a similar way," Torres said. "We are perhaps a little more organised when it comes to pressing and we took the lead. After that goal they started to accumulate more people in attack and I think it was a fair draw."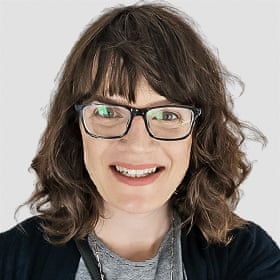 Nicky Bandini
Away from the World Cup for a moment, Nicky Bandini brings us news of the absolute clown show going on at Juventus at the moment:
Agnelli's departure marks the end of an era. Juventus achieved unprecedented results under his leadership, winning nine consecutive league titles and 10 further domestic trophies, as well as reaching the Champions League final twice.
A modernising push that was launched with the move into the Allianz Stadium in 2011 led to Juventus expanding their reach with documentaries on Netflix and Amazon Prime as well as the launch of a new logo in 2017. The signing of Cristiano Ronaldo allowed the club to build its social media following.
But the Portuguese forward, and the failed launch of the Super League project, also symbolises a complicated legacy. Agnelli could hardly have predicted the global pandemic that was about to arrive when he signed Ronaldo in 2018, but the financial burden of his transfer fee and salary played its part in growing deficits. Juventus's recorded losses for the past three seasons amount to more than €550m.
Read more here: Nicky Bandini – Juventus in turmoil as sudden Andrea Agnelli departure marks end of an era
It is 1986 golden boot winner Gary Lineker's birthday today, and his England World Cup teammate Peter Shilton has broken open the box marked "caution: age-based banter".
Gary is 62.
Sion Morgan has been over in Qatar reporting on the Wales team for the Wales Online website, and he has signed off with a piece saying "it has been the privilege of my career and my life to report on Wales at the World Cup". There's quite the last couple of paragraphs in it:
I'm going home now to see my wife and my children. To tell my parents what it was like. To tell my friends the things I can't print here. To tell the story of when little Wales stood up and sang and cheered and showed the world who we are. If only for a little while. A proud nation of people who have always had to fight for recognition. For a platform and a voice.

Call me sentimental. Call me silly. Call me a fool. Look at the little Welshman being happy to be sent packing. Small team mentality. Pathetic. That's what they'll say. They don't get it. They never will. I could not care less.
A somewhat under-played element of this year's World Cup is that you got a right old rum do of it if you were drawn in Group G or Group H. If you end up runners-up in H or win G, you end up in the – frankly – ludicrous position of being expected to play your final group game on 2 December, and round of 16 match on 5 December with just two rest days to prepare, and then a potential quarter-final on 9 December.
For that reason, Brazil coach Tite is expected to rotate his World Cup squad for their final Group G match against Cameroon on Friday, with a view to keeping some players fresh. With their ticket already booked for the knockout stages after two wins, Brazil can rest players and wait for the return of others including Neymar, Alex Sandro and Danilo from injury.
Juventus left back Alex Sandro suffered a hip injury in Brazil's 1-0 win over Switzerland, while Paris St-Germain forward Neymar and Juventus right back Danilo picked up ankle injuries in the opening 2-0 win over Serbia. Brazil team doctor Rodrigo Lasmar has given no specific timetable for their return.
Several Brazil players were also ill on Sunday, including midfielder Lucas Paqueta who missed Saturday's training session and was used as a substitute in the game against Switzerland.
Reuters reports that according to Brazilian television station Globo, Tite has already told the squad that he plans to give some players their first start at a World Cup match when they meet the African side. Cameroon need to beat Brazil to have any hope of progressing themselves.
Vince Rugari has been teeing up today's Australia v Denmark clash for the Sydney Morning Herald, and makes this point about the significant potential impact on sport in Australia if the Socceroos can prosper once again at a World Cup. He writes:
Had Tim Cahill not struck twice against Japan, had John Aloisi not sealed that magical first win in Kaiserslautern, had Harry Kewell not scored the late goal that secured a draw with Croatia and a spot in the round of 16, Mathew Leckie might be kicking a ball of a different shape.

Sixteen years on, Leckie and his teammates – all of whom, save for one or two with a Scottish accent, were also inspired by that 2006 run – have the opportunity to match the achievements of their heroes and influence a whole new generation of aspiring footballers.

It's been a lean few years for Australian football. Unlike 2006, there are very few male players breaking through into any of Europe's top five leagues, the development pipeline has dried up, the Socceroos lost some of their lustre in the eyes of the general public after struggling through two arduous World Cup campaigns without success at the tournament proper, and the A-League's appeal – both domestically and abroad – has dropped away as a result.
Residents in Iran took to the streets cheering and honking car horns on Tuesday night, celebrating the national team's exit from the World Cup following defeat by the USA in Qatar. Videos acquired by the Associated Press showed cars out on the streets of Saqqez in the Kurdistan province, and some people chanting "death to the dictator" in reference to Ayatollah Ali Khamenei, Iran's supreme leader. In Mahabad, people could be seen dancing on the streets. Iran's western, Kurdish-majority areas have seen waves of unrest in recent months amid nationwide protests against the government. The team's loss is viewed by some as a victory against what they see as oppression by the government.
For their part, Canada have got nothing to lose. Having narrowly lost to Belgium and then got Croatia riled up enough to do a number on them, they are heading home expecting to be at consecutive World Cups for the first time in their history.
"There's a lot for us to play for," Canada coach John Herdman has insisted in his press briefing. "We came here to make history. The first game, they said they wanted to show fearless(ness) and entertain. They did that. The second game, they said they wanted to score goals, and if those goals were enough to win a match, then that would have been us with three points, but it wasn't.
"So this last game is about getting a result and winning for Canada and really making this country believe we're in the right direction for 2026."
Canada will co-host the next World Cup alongside the US and Mexico, and while it is yet to be confirmed, it is expected that all three would automatically qualify for the expanded 48 team tournament.
Morocco are back in action tomorrow and they've put themselves in a position where a draw against already-eliminated Canada will see them through to the next round.
Coach Walid Regragui has been up before the media, and said "We are a very difficult team to beat. We've matched two of the best teams in the world. That's what we need to continue."
His side are yet to concede a goal, having secured a 0-0 against Croatia and a 2-0 win over Belgium in what looked like a daunting pair of opening fixtures.
Regragui recalled Hakim Ziyech to the squad after a 15 month absence under the previous coach, and his boss spoke about the 29-year-old Chelsea midfielder, saying:
A lot of people talk about him, about he is a crazy guy, he is a difficult guy to manage, he can't help the team. For me, what I say, when you give him the love, the confidence, he can die for you. And it's what I give him. He is a big player, playing on a big team in Europe and you see he is a different player with the national team. All of the coaches give him the confidence, the same with the staff.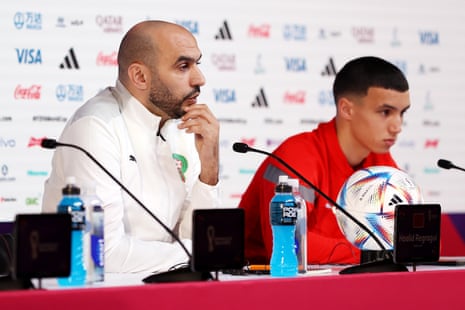 Morocco last qualified for the last 16 in 1986, when they emerged from a group containing England, Portugal and Poland, to be knocked out by eventual finalists West Germany 1-0.
Even a defeat might not impede Morocco this time. If Croatia beat Belgium, then Morocco are through.
Group D: What do Australia, Denmark and Tunisia need to do to join France in the next round?
Like Ecuador and Senegal yesterday, Australia and Denmark are essentially in a straight knockout for second place
Group D – Australia, Denmark, France, Tunisia
Final matches Wednesday 30 November, 3pm GMT: Australia v Denmark, Tunisia v France
France have qualified and will be top unless they lose to Tunisia and Australia beat Denmark and there is a six-goal swing in goal difference in the Socceroos favour. This is not going to happen.
Australia: A win against Denmark puts them through. A draw will be enough, unless Tunisia beat France, in which case the Tunisians would progress instead with a slightly superior goal difference.
Denmark: A win against Australia puts them through, unless Tunisia beat France, in which case goal difference or goals scored would decide between Denmark and Tunisia. A draw is no good to Denmark.
Tunisia: Tunisia must beat France. The Tunisians must also hope that Australia v Denmark is drawn. If Tunisia beat France and Denmark beat Australia, then whoever has the superior goal difference between the Danes and Tunisians will progress.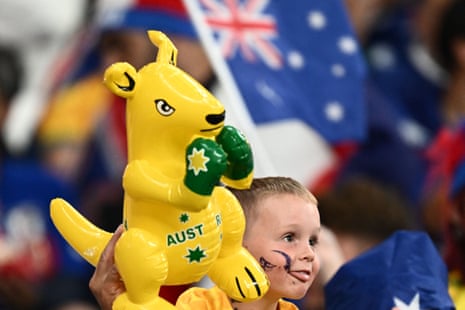 Group C: What do Poland, Argentina, Saudia Arabia and Mexico need to do to reach the next round?
I worked all this out in my head* so you don't have to:
Group C – Argentina, Mexico, Poland, Saudi Arabia
Final matches Wednesday 30 November, 7pm GMT: Poland v Argentina, Saudi Arabia v Mexico
Poland: Poland qualify with a win or a draw against Argentina. They are not necessarily eliminated if they lose, provided Saudi Arabia don't beat Mexico. Poland haven't been past the group stages since 1986.
Argentina: Argentina must beat Poland to be sure of going through. A draw will be enough if Saudi Arabia and Mexico draw, or unless Mexico win that game by four or more goals. If they finish second, they face France.
Saudi Arabia: Saudi Arabia qualify with a win. A draw will be enough if Poland beat Argentina. The side have only qualified for the round of 16 once before, in the US in 1994.
Mexico: Mexico qualify if they win and Poland beat Argentina. If Poland and Argentina draw, and Mexico win, it has to be by four goals or more to overhaul Argentina's goal difference. Mexico are one of only three teams yet to score a goal in Qatar (Tunisia and Uruguay are similarly shot-shy).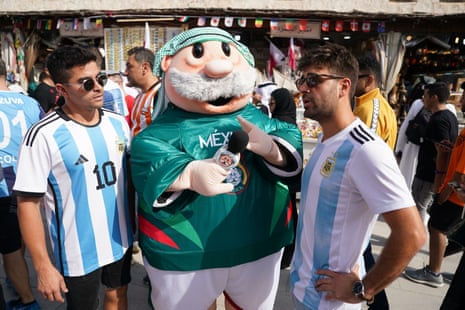 Earlier I wrote wondering "how will France's free-flowing football fare when it hits the tension of a post-colonial clash with Tunisia?"
Olivier Bourassin emails me to point out that he expects it will be "probably better than the way England managed their post-colonial clash with the USA".
Touché sir, touché.
Don't forget if you do want to put me in my place, you can drop me a line at [email protected] Put "WORLD CUP BLOG" in the subject line and I'll spot it more easily among all the emails from editors gently asking me about missed deadlines elsewhere.
The pace of this tournament is lightning fast. I keep thinking about how Ecuador and Qatar were in the opening match on 20 November, and by close of play on 29 November they'd both played all their three group games and been sent packing.
Reuters is carrying a report from Doha and Quito on Ecuador, saying that veteran striker Enner Valencia had offered a tearful apology to the nation.
"We offer an apology to all of Ecuador," Valencia said, crying in the aftermath of Tuesday's 2-1 defeat to African champions Senegal which stopped them from progressing. "We didn't expect this, we were very happy with what we were doing … Unfortunately we could not meet Ecuador's expectations," he added.
The 33-year-old remains a hero at home, however.
"They gave their all and couldn't win in the end, but they showed that they can match bigger teams," said Margarita Vidal, 36, in a park in the coastal city of Guayaquil. "Ecuador is spoken of and known in many nations, that is an achievement no-one can take away from us."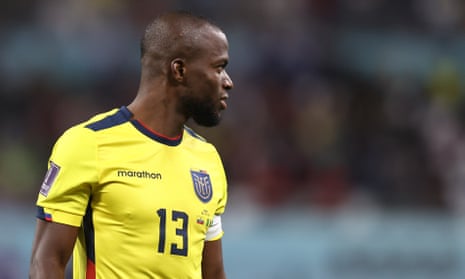 Reuters reports that Ecuadorian media were united in their praise of coach Gustavo Alfaro who it says transformed the team with an injection of fresh talent to complement the experience of Valencia.
Ecuador were attending their fourth World Cup. 2006 was the only time they qualified from the group for the next stage, when they finished second in Group A and went on to play the winners of Group B … England. Bizarrely, had they managed a draw or win against Senegal yesterday, Ecuador would have found themselves in exactly the same scenario.
France have dug out the old DJ Khaled soundtrack to get people in the mood for their 3pm GMT kick off against Tunisia.
We know France are definitely through, and any result against Tunisia will still leave then top of Group D, unless Australia absolutely tonk Denmark when they kick off at the same time, which feels unlikely.
Having a look around the French press this morning I rather enjoyed the turn of phrase of Vincent Duluc in L'Équipe, who said that the third group game when you've already qualified can sometimes be "a Bermuda triangle of good intentions."
Everybody seems to expect Didier Deschamps to rotate the squad, and the French press are already anticipating a round of 16 match-up with Argentina, which you will recall was an absolute humdinger in Russia. There is a two minute highlight reel of the goals here, which you will not regret pressing play on.
One of the joys of podcasting is that you can paint pictures with your mind while you are listening. If, on the other hand, you aren't particularly good at imagining Max and the gang having uncontrollable giggles at the idea of "the reverse Schmeichel" in goal, then you can wrap your eyes around this.
Last night's full Football Weekly podcast is available here.
Members of the LGBTQ community can go to the World Cup in Qatar but the West cannot "dictate" to Qataris what they should believe, Qatar's energy minister has told Germany's Bild newspaper.
Reuters reports that in the interview minister of state for energy affairs Saad Sherida Al-Kaabi said:
If they want to visit Qatar, we have no problem with it. If you want to change me so that I will say that I believe in LGBTQ, that my family should be LGBTQ, that I accept LGBTQ in my country, that I change my laws and the Islamic laws in order to satisfy the West – then this is not acceptable.
Croatia just need a draw to guarantee a last 16 place when they play Belgium on Thursday. They've just posted a little training excerpts video with a very funky soundtrack.
The TV numbers are in. 16.59 million people watched Wales v England last night live in the UK.
I am enjoying that for me Twitter has marked the image as "the following media includes potentially sensitive content" and when you click reveal it is just England celebrating. Maybe Twitter HQ is just trying to think kindly of the Wales fans.
Every day is a school day when you are a journalist, but here is some news that is making me feel as if I'm kindergarten age again professionally. Fifa have been celebrating the achievement of reknowned Argentine sports reporter Enrique Macaya Márquez.
Márquez is reporting on his 17th consecutive World Cup, having first been deployed at the tournament in 1958 in Sweden when he was 23. That first tournament didn't go without a hitch. On the Fifa website Márquez says:
We thought we were the best in the world, including in football. Argentina missed some of the World Cups due to political decisions, but the illusion was quickly shattered [in 1958]. Czechoslovakia put six goals past us. I couldn't believe it, it was inexplicable. How could we concede six goals to a team who [I] had never heard of? I couldn't handle it and I started smoking again, three years after giving up. It was a tough lesson.
The 88-year-old, who celebrated his birthday while covering Qatar v Ecuador this year, claims that he used to have kickabouts with the legendary Alfredo Di Stefano, as they grew up in the same neighbourhood.
In a journalism tale as old as time, he got his lucky break because while working at a radio station as a young lad he made his enthusiasm for football well known, and then one day the regular commentator failed to turn up. (This is pretty much how I got the Doctor Who and Eurovision gigs at the Guardian to be honest.)
He says the secret to journalism at a World Cup is:
You need knowledge, and you have to know how to communicate what you know, you have to know how to deal with technology, you have to know the game and interpret it correctly. It's not easy and you have to learn all the time, talking to people and learning from them – that is how you get better.
He says his favourite ever World Cup team is the Dutch side from 1974, and that ultimately "my passion is football, rather than journalism". So I've just got the 14 more World Cups to cover to emulate him then.
The row about concussion substitutions at this World Cup rumbles on. Wales defended their decision last night to keep Nottingham Forest defender Neco Williams on the pitch after he suffered a head injury against England. Coach Robert Page defended how the team handled it, saying:
Neco took a blow to the head, so there are protocols in place understandably with concussion. He passed the initial test. We followed the Fifa guidelines. The Fifa doctor OK'd him to stay on the pitch, but he was advised if there was any symptoms then to flag it up straight away, and that's what he did. There was no second thoughts at all, he was off straight away. We've covered all the protocols and the Fifa guidelines.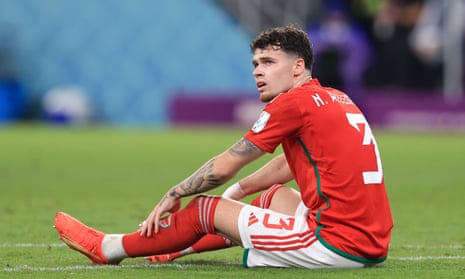 But PA Media points out that in its report that brain injury charity Headway criticised the handling of the incident, saying "yet again medics are given no options" while calling for the introduction of a temporary concussion rule.
BBC pundit Alan Shearer was also vocal on the topic during the match last night, saying "I would say to IFAB, 'what on earth are you waiting for?' because everyone is under pressure then to make a decision. You've got the doctors and the physios on the pitch trying to buy a little bit of time. If they were able to get him off for 10 minutes, assess him, bring someone on and then make their mind up there rather than be put under huge pressure on the pitch."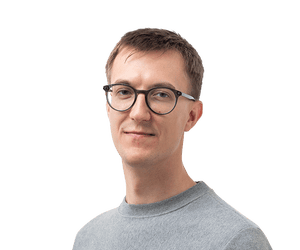 Ben Fisher
Ben Fisher was at the Ahmad bin Ali Stadium stadium for the Guardian on Tuesday night, and here is what he made of it from the Wales point of view:
Three weeks ago, on the day Rob Page announced his squad, the Wales manager conceded that whether Bale could handle three games in quick succession was the million‑dollar question, for which we now have a resounding answer: 256 minutes across eight days was simply too much for a player who has played such little football over the past few years. The painful truth is Bale's three World Cup appearances comprise three duds. At the final whistle Bale limped on to the pitch, embraced Page and then Gareth Southgate.
Bale had seven forgettable touches and completed one pass in 50 first-half minutes – and that was back towards his own defender about 10 yards from the Wales goal-line. Despite starting in his favoured position on the right flank, Bale again appeared to be running on empty, immobile and somehow, despite all of his past grandeur, reduced to a pawn on a chessboard of kings and queens in a dull first half, in which Kieffer Moore had Wales's only shot on target. Page said if Bale returned for the second half he would have been playing at about 70%. Quite what percentage he was operating at in the first half is anyone's guess.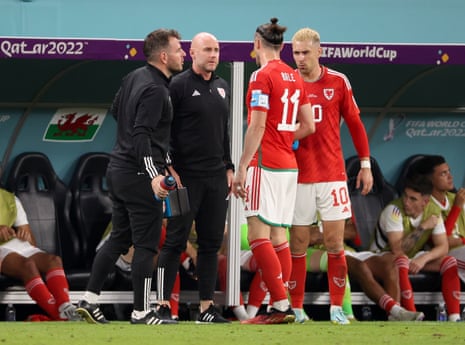 Read more here: Ben Fisher – Is now the time for Gareth to Bale out? Wales legend is running on empty
US president Joe Biden's social media team have posted a little behind the scenes clip of him being informed of the US-Iran score, and then announcing it at a political event in Michigan last night.
With apologies to Wales fans, I'm just going to leave this picture here.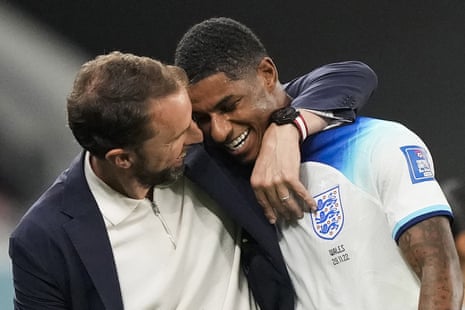 Here is how Rory Smith at the New York Times viewed that US performance in Qatar last night, writing:
Those last few minutes were not about talent. They were, instead, the most thorough examination imaginable of Gregg Berhalter's team's poise, and composure, and grit. They were a test of nerve. It is to their immense credit that they passed.

Victory was not comfortable, not at all. There were moments when their hearts rose up into their mouths, moments when their legs seemed heavy and their minds weary, moments when they had to fight off the siren call of blind panic. But then, it could not be any other way. It would not be a test if it were easy.

This remains an intensely young team, one that has been designed at least in part with the next World Cup, four years away and (mostly) on home soil, in mind. That they weathered what is most likely the most stressful situation any of them have experienced is to their enormous credit.
The Netherlands now stand in the way of this US team emulating their peers from 2002, who reached the quarter-finals, the best US performance of modern times.
The United States team did reach the semi-finals in Uruguay in 1930 in the inaugural World Cup, in a tournament which saw the winners of each of four groups paired up as the last four. The US were beaten by Argentina in Montevideo on that occasion, having overcome Belgium and Paraguay in the group stages.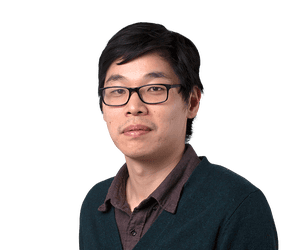 Jonathan Liew
Jonathan Liew was at the Ahmad bin Ali Stadium last night for England v Wales, and he says that Southgate has a dilemma:
As the teams disappeared down the tunnel at half-time you could almost feel the heat from the steam of a million middle-aged Englishmen collectively boiling their piss. A bright start had disintegrated into a staid passing circle, which as everyone knows is the wokest of all the shapes. But One Trick Gareth had a second trick up his sleeve. And it didn't even involve a substitution.
So it was a few minutes into the second half that Foden, now restored to his favoured left flank, slalomed past three Wales players, winning a free-kick that Rashford slotted beautifully into the top corner. Less than two minutes later Rashford, now given the freedom of the right wing, won the ball from Ben Davies, allowing Kane to play Foden in for his first tournament goal.
Southgate now has a quiet dilemma on his hands. Bukayo Saka has had a good tournament; Raheem Sterling is his talisman; Mason Mount his rock. But you try dropping Foden and Rashford after a second half like that.
Read more here: Jonathan Liew – Gareth Southgate has a dilemma: try dropping Foden or Rashford now
You know the drill by now. Max and the gang were up late after the matches finished yesterday to bring you the latest daily edition of Football Weekly. Mr Rushden is joined by Barry Glendenning, Troy Townsend, Elis James, Barney Ronay and Nick Ames as they talk about England, Wales and all that jazz. Get it in your ears here.
It is the morning after the night before for United States fans basking in the glow of a place in the second round, Iran fans wondering what might have been, England fans puzzled if their team is good again now, and Wales fans dreaming it won't be 64 years until the next time.
Then we've got the no small matter of four matches to get through as Group C and Group D come to the pointy end. Can Argentina redeem themselves – possibly at Poland's expense? Will Saudi Arabia's heroics in their opening match come to nothing? Do Mexico even know where the goal is? Can the Socceroos effectively send Denmark home and make the next round for the first time in 16 years? And how will France's free-flowing football fare when it hits the tension of a post-colonial clash with Tunisia? France are already through, but any of the other seven can still join them. Here is how it lines up …
We will have MBM coverage of all of them. Before then I'll have all the fallout from yesterday, media lines from the teams playing tomorrow as they emerge, and the buildup to this afternoon's matches. Drop me a line at [email protected]