Key events
I'm going to confess that my Japanese isn't all that, but some things about football transcend language. The Japanese team social media accounts have just put out an epic six minute supercut of Japan's highs and lows at World Cups, as well as what it has all meant for the development of the sport in Japan. If you want old people playing football, kids playing football on the beach, blind football, disability football, interspersed with clips of the Samauri Blue looking dejected after various round of 16 matches, this is the supercut for you.
Whack the sound up, because it is all soundtracked by Syori No Emi Wo Kimi To from Ukasuka-G which the Guardian has previously described as "bombastic indie from J-pop's answer to the Killers" which "builds to a climax so relentlessly silly that, by the six minute mark, you are somehow won over."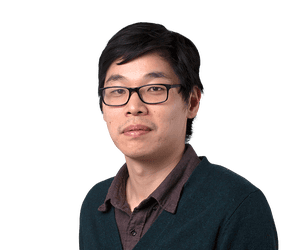 Jonathan Liew
Jonathan Liew was at the Al Bayt Stadium last night to watch ENgland and Senegal, and today he writes for us that Phil Foden gave a seminal display to show England he really is sensational:
In England's era of extreme competence there is a danger that nights like these, games like these, performances like these, somehow become normalised. There has been no outburst of national hysteria: no Gazza explosion, no Owen moment, no Rooney-mania. Foden's image does not hang from one of Doha's many skyscrapers.
Even in the aftermath of this 3-0 win against Senegal it was Jude Bellingham who seemed to attract the bulk of the tributes, Kane who claimed the player-of-the-match award (although when asked who really deserved it, Foden was the first name Kane mentioned). Here, as for much of his career to date, Foden's gift was assimilated, priced in, accepted as established fact.
Perhaps, in the long run, this is for the best: a long-overdue recession in the hype economy of English football. In a sense Foden's curse has been to spend his entire career surrounded by very good footballers in a successful team. There is no real sense of trajectory, no demons to slay, no haters to conquer. Foden was born sensational and everyone knew it. At no point has he really had the capacity to surprise us.
Read more here: Jonathan Liew – Phil Foden gives seminal display to show England he really is sensational
Just a quick note here that Saudi Arabia, who have been touted as potential World Cup co-hosts in 2030, look set to host the 2027 Asian Cup, after India, the other country bidding for the event, has withdrawn.
AP reports that the bids from India and Saudi Arabia had been shortlisted by the AFC's executive committee in October and the final decision was expected to be made at a regional congress in February. Saudi Arabia is now the only candidate.
The 2023 edition will be played in Qatar after China was replaced as host because of the complications around China's zero-Covid policy. Qatar are the current champions, having won the event when it was last staged, pre-pandemic, in the UAE in 2019.
Juninho Pernambucano's point there about Brazil being just expected to go through against what are perceived to be weaker sides did ring a little bit of a bell, having lived in England for quite some time.
Here is how the English newspapers reacted to yesterday's victory for the Three Lions over the Lions of Teranga, which you suspect has merely postponed the gnashing and wailing of teeth about "Why didn't Southgate pick Grealish / Foden / Rashford / Saka / Mount / Maddison" [Delete as appropriate depending on who he does pick against France]
Speaking of Brazil, Juninho Pernambucano writes for the Guardian this morning to say that Brazil are the best team in the world but pressure weighs heavily on the players:
For a football team to be successful, just in a developed society, you need its people – ie, players – to work together to achieve something special. In real life you need people to collaborate to evolve. That goes for every country. But in Brazil we have something different that I cannot see in other countries.
There is an enormous amount of passion around football in Brazil and the way everyone in the country analyses the national team is radical, at times simplistic and often overwhelming when it comes to criticising the players and the coach, making it seem as if football is very easy for those who play, especially if they are professional players. In Brazil it seems to be difficult to accept that football, as well as life, evolves.
And so Brazil are under enormous pressure before their last-16 game against South Korea after losing their third group game against Cameroon. They also lost two more players to injury, Alex Telles and Gabriel Jesus, but Neymar should be fit again. The fact that they are playing South Korea, who everyone thinks they should beat, only adds to the expectation, the pressure and the sense that Brazil have to go through. It would have been different if they were facing Portugal or Uruguay from that group.
Read more here: Juninho Pernambucano – Brazil are the best team in the world but pressure weighs heavily on the players
Away from the World Cup for a minute, overnight AP have been carrying an update on the condition of Brazilian legend Pelé.
Mauricio Savarese writes that two of his daughters and one of his grandsons has said the three-time World Cup winner has been hospitalised since Tuesday to treat a respiratory infection aggravated by Covid-19. They added that the 82-year-old is under no imminent risk of death.
Kely and Flavia Nascimento and Arthur Arantes do Nascimento said in an interview that aired Sunday night in Brazil that Pelé, who is also undergoing chemotherapy in his fight against cancer, is expected to leave the Albert Einstein hospital in São Paulo once he fully recovers from the respiratory infection. Neither the family nor the hospital have any predictions in that regard.
The hospital said Saturday that Pelé is responding well to treatment for the infection and his health condition had not worsened over the previous 24 hours. The hospital did not issue any statements on the former footballer's health Sunday.
"He is sick, he is old. But at the moment, he is there because of the lung infection. And once he feels better, he will go home again," Kely Nascimento told TV Globo. She lives in the United States and spoke on video. "He is not saying goodbye in a hospital at the moment," she added.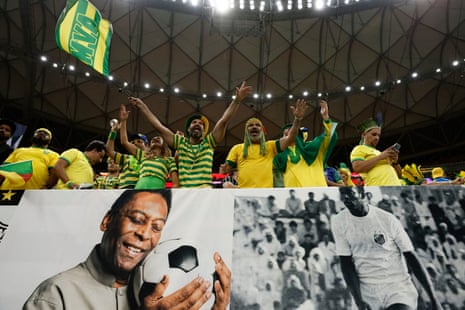 You know the drill by now. Overnight Max and the gang have been producing more podcast goodness for your delight. Barry Glendenning, Mark Langdon and Philippe Auclair joined Max Rushden, and it says here "the panel spend most of part one waxing lyrical about Jude Bellingham. And who could blame them?"
Get it in your ears here …
We know half of the final eight at this year's World Cup like no other: Netherlands, Argentina, France and England. That is an incredibly strong looking line-up of past winners and finalists. Today we will be adding two more teams to their number.
First up at 3pm GMT, Croatia will be looking to emulate the run they made to the final in 2018. Two 0-0 draws and a thumping of Canada in the group stages sees them unbeaten so far, but suggests they haven't quite clicked yet. They face a Japan team who have shocked both Germany and Spain and must be on a high. This is Japan's fourth appearance in the round of 16. They have never won one. Could today be the day?
Then at 7pm GMT Brazil will start as perpetual heavy favourites against South Korea, despite the South American side's stumble against Cameroon in their final group game. Brazil had only needed a point to top their World Cup group for the 11th consecutive time, but instead a much-changed lineup fell to a defeat, and only their superior goal difference over Switzerland kept them in top spot. South Korea's late winner against Portugal came in a game that they, frankly, had never looked like winning. It means they have a chance to emulate the squad of 2002, the only other time South Korea have been further than the round of 16.
Please join me for all the buildup to those games, and no doubt a lot of analysis of yesterday's performances by England and France – both of whom ended up winning by scores that perhaps flattered how tricky they had initially been finding their respective matches with Senegal and Poland. We should also get press quotes from the remaining four teams in action tomorrow – Morocco, Spain, Portugal and Switzerland. Do drop me a line at [email protected]