One man was killed and at least 16 people were injured Monday morning after an SUV drove into a Massachusetts Apple store, officials said.
Police received calls for a car that crashed into storefront windows at the Derby Street Shops in Hingham, about 16 miles southeast of downtown Boston, around 10:45 a.m. on Monday.
Responding officers found multiple people with injuries in and around the Apple store at the outdoor mall, Plymouth County District Attorney Timothy Cruz said during a news conference on the incident.
A dark-colored 2019 Toyota 4Runner smashed through the Apple store's familiar large glass windows at a speed that is unknown at this time, striking multiple people, according to Cruz.
The vehicle went straight through to the back of the store, pinning some shoppers and employees against the wall. Authorities didn't comment on how crowded the store was at the time of the incident, but Cruz mentioned "obviously the Apple Store is a very busy place."
"This morning was an unthinkable morning and people are trying to get through it and process what happened," Cruz said.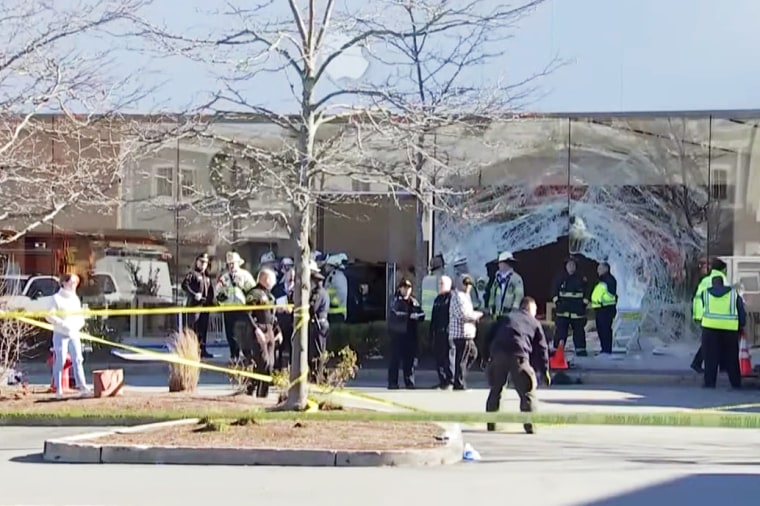 Bystanders rendered first aid to some of those injured, said Hingham Fire Department Chief Steve Murphy, who also spoke at the news conference.
One male victim, identified by police as Kevin Bradley, 65, of New Jersey, was pronounced dead at the scene. Apple identified him as "a professional who was onsite supporting recent construction at the store," according to a statement shared with NBC News.
"Our hearts go out to our team members and customers who were injured and all of those who were affected by this terrible incident. We are doing everything we can to support our team members and customers at this very difficult time," Apple said.
The 16 other victims were taken to area hospitals for treatment.
Dr. Christopher Burns, chief of trauma at South Shore Hospital, said there were "multiple patients with life-threatening and limb-threatening injuries."
A neighboring restaurant was used to help triage patients and get them out of the cold, South Shore Dr. William Tollefsen said at a news conference.
The SUV was driven by a man who has not been identified, but is "with police officers," according to Cruz. Officials said the incident was being treated as a criminal investigation.
Police wouldn't release any identifying information about the driver, or comment on the state of the his sobriety, adding that this would be part of the ongoing investigation.