Share and Follow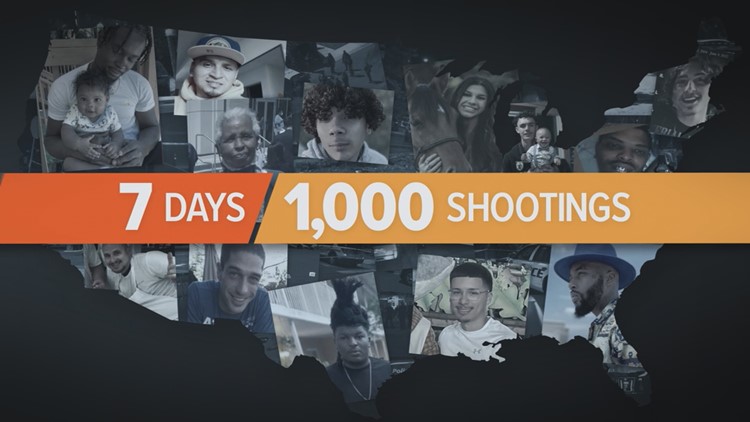 TEGNA stations looked at one week — and it showed a nation gripped by gun violence.
PHOENIX — How do you quantify incalculable loss?
We tried: At least 450 people died from gun violence, not including suicides, this week in 2022. At least 900 more were wounded, according to data compiled by the Gun Violence Archive and analyzed by TEGNA investigators. 
We wanted to understand the human toll of a stunning statistic that can be meaningless without scale. We focused on gun violence in a single week:  May 29 to June 4, 2022. 
7 days. 1,000 shootings
There's no national government clearinghouse documenting each shooting in the United States on a daily basis. However, the Gun Violence Archive, a small nonprofit launched in 2013. Researchers there  compile and catalog shootings from state and local police agencies, news reports, and more than 7,500 sources nationwide. 
The data included in this report was compiled from The Gun Violence Archive, the Centers for Disease Control and Prevention, the FBI and local police, sheriff and prosecuting agencies around the country. Its stated goal is to "provide information on most types of gun violence, and gun crime, no matter where it is on the political table."
The data collected is imperfect and does not include suicides in the daily reports. But it offers the most complete and up-to-date look at gun violence across the United States. 
TEGNA investigators examined the 2022 GVA data by week, finding: 
There are an average of 886 shootings in the United States per week 

Last year, shootings peaked in the summer. 

The week of May 29 – June 4 was the first time there were more than 1,000 shootings, not including suicides, in the United States 
The latest complete data published by the CDC is from 2021 and it shows that nearly 47,000 Americans died of gun-related injuries that year – the most ever recorded. 
That number includes 26,328 people who died by suicide using a gun. 
The CDC commented on rising death rates in a report the previous year: 
All of these deaths leave a lasting toll on communities nationwide. 
Is gun violence a public health crisis… and can it be treated? 
Gun violence results in a tremendous loss of life across the country – but it increasingly leads to serious and life altering injuries for survivors as well. 
A 2021 U.S. Government Accountability Office study found that hospital costs for firearm injuries totaled at least $1 billion each year, though "there is no complete information on the health care costs of firearm injuries." 
It also found that Medicaid and other public coverage accounted for more than 60 percent of the costs of care, and that hospital costs for the first year after a shooting averaged $8,000 to $11,000 per patient. 
One Charlotte, North Carolina doctor believes gun violence could be treated like a public health crisis – and social services are the prescription.
"We think of it as a public health problem, because we know the causes, we know that it travels like an infectious disease from community to community, from individual to individual, from generation to generation," said Dr. David Jacobs, medical director for the Atrium Health Violence Intervention Program.
"And we know what works, we know some of the things that prevent it, so it makes all the sense to treat it like a disease." 
He describes a program that allowed medical providers to do more than treat a gunshot wound in the hospital. The program works with community organizations to provide social services like housing assistance, job preparation and even examines things like tattoo removal. 
"What do they need in order to get their lives on a positive track? Once we have that inventory then we set about writing a prescription like you would any other patient for what it's going to take to prevent the next violent injury in their life," Jacobs said. 
The CDC provides toolkits and strategies for local health agencies across the country to practice violence prevention efforts. They offer a range of strategies that tackle risk factors like sexual and domestic violence, child abuse and neglect and strategies to coordinating local governments with independent violent prevention agencies. 
Still, the proof will come with time. 
"I don't want the public to think this is automatically going to bring the violence rate in Charlotte down to zero," Jacobs said. "Every time I get up in the middle of the night and get called to see another patient, I just keep saying to myself, 'We're not doing enough'." 
How gun violence touches teens
Firearm deaths became the leading cause of deaths in Arizona for teens aged 15-17 in 2021, the most recent year for which data is available. 
Nationwide, researchers with the Arizona Public Health Association found more children ages 1-19 die from gun violence than hostile military deaths in Iraq and Afghanistan. 
"A Department of Defense Casualty Report indicated that there were 3,490 hostile military deaths in Iraq from 2003-2010 or 388 per year. Hostile deaths in Afghanistan from 2001-2014 totaled 1,847 or 132 per year. Firearm deaths among children aged 1-19 averaged 3,095 per year during 1999-2021—a dramatic difference," a recent report shows. 
"In those teen years, it's not common to think about the long term consequences," said Joronda Montano, a teen mental health advocate based in Arizona. "You've got now this heavy pressure of anxiety, depression, the aftermath of isolation, social, academic, physical isolation and here are the outcomes." 
What you can do to prevent gun violence 
If you or someone you know may need help, call the National Suicide Prevention Lifeline – 1-800-273-8255. This program is staffed 24 hours per day and includes local crisis centers and resources. 
The CDC further offers resources to address risk factors like domestic violence and youth violence behaviors. 
You can read more about the stories and resources in your community by clicking on the links in the table below: 
Include table of TEGNA story links for local resources 
About our data
The data included in this report was compiled from The Gun Violence Archive, the Centers for Disease Control and Prevention, the FBI and local police, sheriff and prosecuting agencies around the country. 
Share and Follow