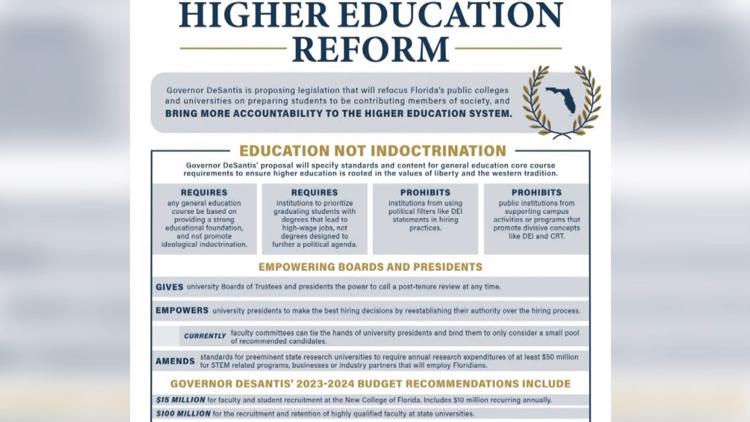 JACKSONVILLE, Fla. — Governor Ron DeSantis wants to ban funding of diversity, equity and inclusion programs, critical race theory initiatives, and other "discriminatory initiatives" at higher educational facilities around the state.
The move is raising concerns from one University of North Florida professor who believes this could lead to job cuts and ultimately hurt students.
"Our state universities are being used as a political football," said Nick Seabrook.
University of North Florida Political Science Professor Nick Seabrook says Governor's DeSantis' Higher Education Reform Bill could lead to major cuts at the University's Office of Diversity and Inclusion. Without the funding, Seabrook says the office's 25 employees are at risk of losing their jobs.
UNF leaders said in a statement the university is reviewing the announcement but had no further comment about the impact it could have.
In a news conference Tuesday, the governor reiterated that Diversity, Equity and Inclusion (DEI) are used to quote "impose ideological conformity, and to try and promote political activism."
First Coast News reached out to Governor DeSantis asking if his team conducted any studies or surveys that would show the need for reform and if not, what evidence is he basing his decision off of. 
We are awaiting a response.
Seabrook says for many colleges, there is no proof of any problem with DEI programs.
"What I like to see the state do is take a step back and actually spend some time at this university in these classrooms, collect more data, collect more information and first try to identify if there's actually a problem here," Seabrook said.
This is just a proposal right now meant for the 2023 the legislation session.