Share and Follow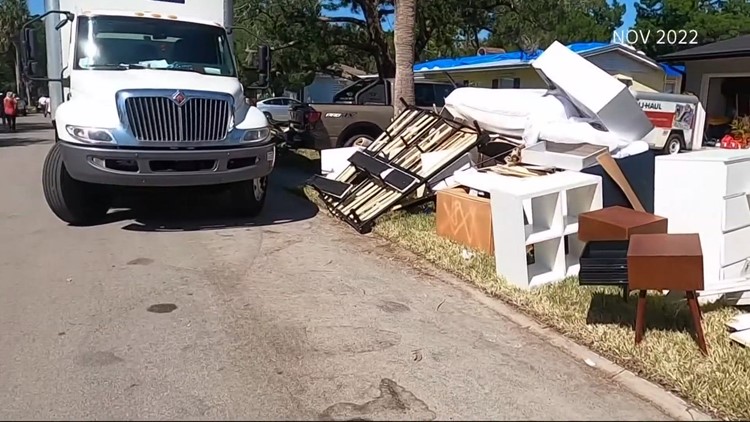 Baker Design Build CEO Tamara Baker took First Coast News on a tour of a home in Jacksonville to show what upgrades and repairs should be made before a hurricane.
JACKSONVILLE, Fla. — Cleaning up after a storm can be a headache and a financial nightmare. Baker Design Build CEO, Tamara Baker, gave First Coast News a tour of a home in Jacksonville to show how quick fixes before a storm can prevent some serious damage from happening.
"Having clean gutters and down spouts is a plus," said Baker as she points to a clogged downspout, "this is a non-no, this is what you should not do. This is just regular maintenance, but if you don't do the maintenance it'll cause other problems."
Backed up gutters can lead to water buildup and create other serious problems. A light on the outside of the house also has some damage where it connects to the wall.
"The calk has failed and is not properly flashed, it needs to be re-calked and flashed to prevent water intrusion because it gets into the wall and that attracts termite damage," said Baker.
Aside from structural issues like cracks in the foundation that require professional fixes, Baker says simple changes go a long way.
"Outside items need to be put away," said Baker, "any kind of furniture, garbage cans, toys, anything needs to be put away or stored in a secure area."
She also says that a little foresight can keep you, your family and your property safe. It may be possible to save some money on your homeowners insurance for wind mitigation by installing Simpson Strong-Ties.
"If you have time prior to a storm to connect the rafter to the top plate of your home you may potentially get a discount [on homeowners insurance] if you strap it down," said Baker.
Checks and repairs should be made outside of the home as well. The particular home that First Coast News toured backs up to the St. Johns River, so preventing against water damage from possible flooding is crucial.
"This is actually part of our foundation," said Baker, "you can see we have a horizontal crack and that invites water intrusion into the wall and foundation."
In a pinch right before a storm Baker says that some cracks in the foundation can be covered quickly with calk, but a permanent repair is eventually needed.
"This particular crack is a structural crack and needs to be repaired properly, it needs to be cleaned out and an epoxy with a sika product or a product that actually bonds the 2 blocks together structurally should be used," said Baker.
What looks like a small crack now can become major damage in a storm.
"Whether it's a temporary fix or a permanent fix it needs to be be fixed before the storm," said Baker.
More information about Baker Design Build can be found on their website: https://bakerdesign.build/ or by calling 904-356-8520.
Share and Follow