Share and Follow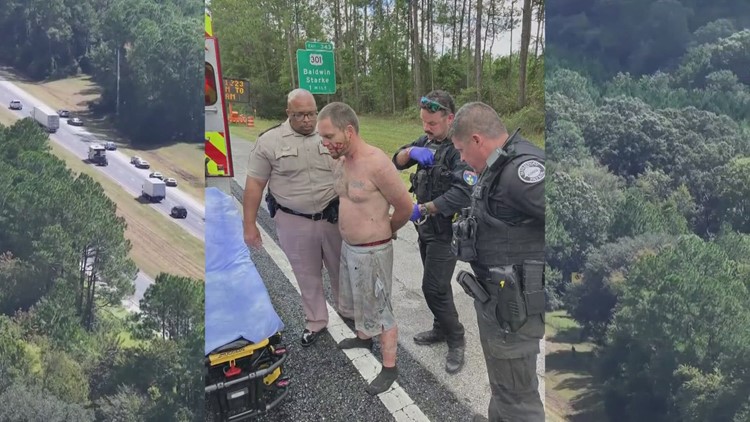 Brian Sullivan faces multiple felonies after he fled from his vehicle after a traffic stop on I-10 and led law enforcement on a manhunt that lasted several hours.
JACKSONVILLE, Fla. — Brian Keith Sullivan faces multiple felonies for his role in the manhunt that affected thousands of drivers along I-10 in Baker County on Thursday. Sullivan is accused of driving recklessly at speeds over 100 miles per hour and passing vehicles on the shoulder of I-10 prior to running from police after he was pulled over.
Friday afternoon Florida Highway Patrol confirmed to First Coast News that Sullivan faces a felony for fleeing and eluding as well as multiple charges of operating a vehicle with a suspended or revoked license, which triggers another felony charge. He also faces a misdemeanor for excessive speed.
Thursday afternoon FHP said that Sullivan had multiple out of state warrants, but FHP said that they were not able to determine if those warrants were still valid or expired, so he will not face additional charges for those warrants. Some of those warrants are from Mobile, Alabama and the sheriff's office in Mobile did not immediately respond to First Coast News regarding the status of those warrants.
But his actions in Baker County on Thursday landed him in jail.
"Upon locating the suspect he was hunkered down under some palmetto brush, was trying to conceal himself," said Bryan.
K9 officers, air support and even mounted police were used to track down Sullivan and make an arrest. Before going to jail in Baker County he was taken to Fraser Memorial Hospital in Macclenny for injuries related to a dog bite while being apprehended.
In 2021 Sullivan was arrested and charged with receiving stolen property in the 2nd degree in Alabama. Sullivan is not being charged in Florida for his previous out of state warrants, but FHP says those warrants helped provide a history of the suspect.
"This person is not a law abiding citizen," said Bryan, "not somebody that just made a simple mistake when they have multiple warrants, especially felonies in nature, they are somebody that is testing the system and quite frankly disrespecting the justice system as a whole."
A woman named Kathren Cohen was a passenger in the car that Sullivan was driving and ran away from prior to the manhunt. FHP says that she stayed in the vehicle, cooperated with the investigation and is not facing charges.
Share and Follow