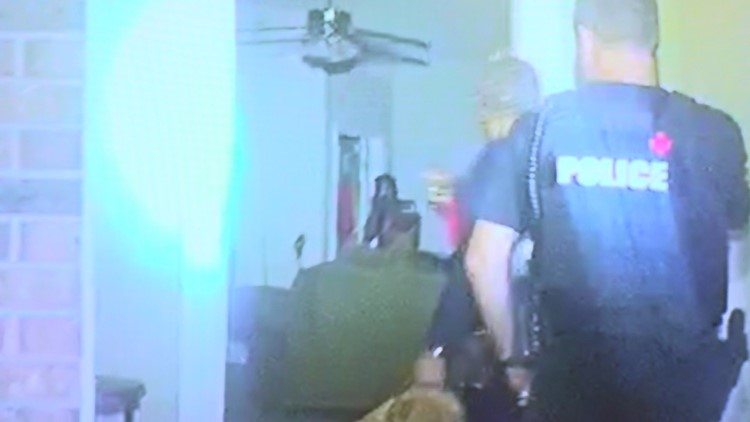 Rebecca Burns said she woke up to the sound of gunshots.
JACKSONVILLE, Fla. — While Officer Malik Daricuad is recovering from getting shot, the shooter's fiancé is mourning the father of her three children. 
Rebecca Burns talked to First Coast News Monday. She said she's still processing what happened. 
She says she was home when officers with the Jacksonville Sheriff's Office showed up to her home at 4:30 in the morning. Burns said she woke up to the sound of gunshots. 
"It's just terrible," Burns said. "It's just terrible. I'm very sorry." 
Police showed up at Tyliko Maduro's home early Sunday morning. They wanted to talk to him after he sped off from a traffic stop the week prior. 
JSO said they knocked on the door, but no one responded. Police managed to get Maduro's mother to open the door. Police said Maduro shot Officer Daricuad. He was rushed to the hospital with critical injuries. 
Sheriff TK Waters said he doesn't know if Daricaud will have a future in law enforcement, because the shot was potentially fatal. 
Burns said she was not expecting what happened on Sunday to escalate like that. 
The Jacksonville mother of three said she and Maduro were together for 12 years. She recalled being asleep and waking up to the sound of gun shots. 
Burns said after Maduro fired at police and before he turned the gun on himself, he was apologizing for shooting a police officer. She told First Coast News she does not know why he picked up a weapon. Burns said her fiancé didn't mean to shoot at the police.
"When he realized he shot a cop he just kept saying 'sorry'," Burns recalled. "It was just very chaotic with his mom on the phone and all the officers and everything." 
She believes if he had known police were at their home, he would have fired a weapon. Burns also mentioned Maduro wouldn't have put his mother in danger. 
"It's not because he's a dangerous person, he just wants to protect his family," Burns added. 
As of Monday, JSO said Daricaud's condition is critical.
Law enforcement sources told First Coast News Daricaud's prognosis has improved. Initially, there were concerns regarding his mobility. However, sources said doctors are more confident in his recovery. They said Daricuad has a long road ahead in recovery. 
JSO said the investigation is ongoing.