Share and Follow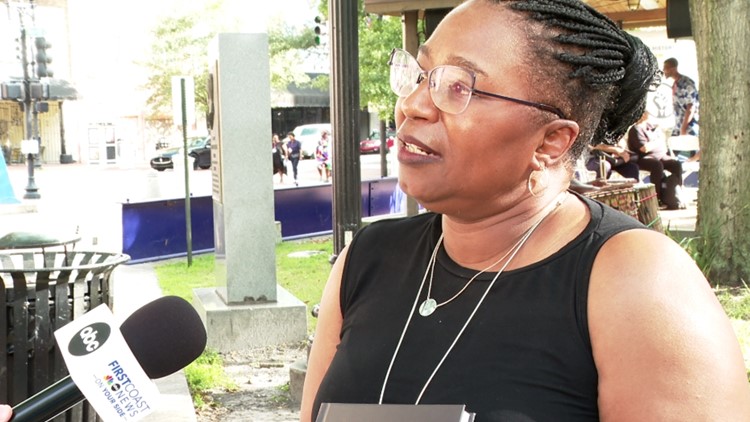 Months ago Diana Greene was instructing Duval teachers to remove books not approved by "the state" from the classroom. She's now handing those books out to kids.
JACKSONVILLE, Fla. — Things couldn't be more different for Diana Greene when you compare what she was doing at the beginning of the year to what she was doing in downtown Jacksonville on Thursday. First Coast News On Your Side caught up with the former Duval County Public Schools superintendent who was at James Weldon Johnson Park participating in an event dubbed, "Banned Book Readout."
Greene, who's now the CEO of Philadelphia-based Children's Literacy Initiative, was handing out books at the event. In stark contrast, many of the books Greene was handing out were likely similar to ones she was instructing Duval County teachers to either cover up or remove from the classroom to comply with a new state law.
"As superintendent, I have a requirement to follow the law and that is what I have always done and did as superintendent," Greene said standing amid boxes of children's books.
The law Greene was referring to is House Bill 1467, which passed in July 2022 requiring the review of all books in Florida schools to "ensure they're free of pornography or certain race-based teachings."
Greene no longer has to follow that law and now she's doing the opposite of what she had to instruct her educators to do.
"As CEO I'm representing an organization whose whole focus is on Black and Brown children … if we can get these books into children's hands and they are more prompted to read, engage to read, we should be doing that."
Greene said this is critical because of the low reading proficiency of Black and Latino students who are not reading on grade level by grade 4.
"We are focused on changing that and part of that is dismantling structural racism that knowingly and unknowingly happens in our public schools," Greene said.
Greene's enforcement of book law put her at odds with Gov. DeSantis
In January 2023, as superintendent of Duval County Public Schools, Greene did something that put Florida in the headlines around the country. She said she was only following the law.
Greene gave the following message to all Duval County public school educators:
"Under new Florida law, all books in elementary school libraries (including classroom collections for independent reading) must be reviewed by a certified media specialist. State training on these new laws requires that books be free from:
Pornography – defined in the Merriam-Webster dictionary as "the depiction of erotic behavior (as in pictures or writing) intended to cause sexual excitement."
Instruction on sexual orientation or gender identity in grades kindergarten through three.
Discrimination in such a way that "an individual, by virtue of his or her race, color, sex, or national origin is inherently racist or oppressive, whether consciously or unconsciously.
In the training, Florida educators are reminded that violation of this provision is a third-degree felony," 
This law set off a firestorm nationally with many calling the Sunshine State "draconian" for "banning books" and threatening teachers with arrest for making "unapproved" reading materials available to children.
As Gov. Ron DeSantis received blowback for the law around the country, he said Greene was intentionally misrepresenting HB 1467 to "create fiction."
"What they're trying to do is they're trying to act like somehow we don't want books," DeSantis said during a February news conference when asked about a viral video showing empty books shelfs in the Mandarin Middle School library. "They're trying to do things to viture signal. I think it's all politically motivated."
Greene and DCPS denied the claim.
That battle is now behind Greene. Her task these days is to get books into the hands of children.
"This is about ensuring that Black and Brown children have access to high-quality books where they can see characters that resemble them." Greene said looking down at a book she was holding. "This book, 'Black Boy Joy' is amazing. And seeing African-American, Latin X characters doing great things, in leadership roles, we have a book over there about the Williams sisters, we have a book over there related to the movie 'Hidden Figures.' They need to see that they can be successful in whatever they desire to do and these books are made available to them."
Greene was asked what message she would give to Florida politicians who are actively seeking to keep books, like the ones she was handing out Thursday, out of the hands of children.
She replied, "My message is to our community. We can stand up and provide support to our students through our public libraries, through churches, through organizations like Children's Literacy Initiative by putting these books in the hands of students so that they can liberate themselves," she said. "Literacy leads to liberation. Once you are liberated you can critically think. You can analyze. You can make judgements about issues. You can synthesize. You are able to be whatever you want to be and you are empowered to control the path that you desire to be on."
When presented with the offer to lead Children's Literacy Initiative, Greene said her decision was easy. "When this opportunity came to me, it was a no-brainer. I knew this was what I wanted to do."
While the position requires her to travel a lot, Greene said this is still her home. "I still live here in Jacksonville, Florida," she said.
Share and Follow