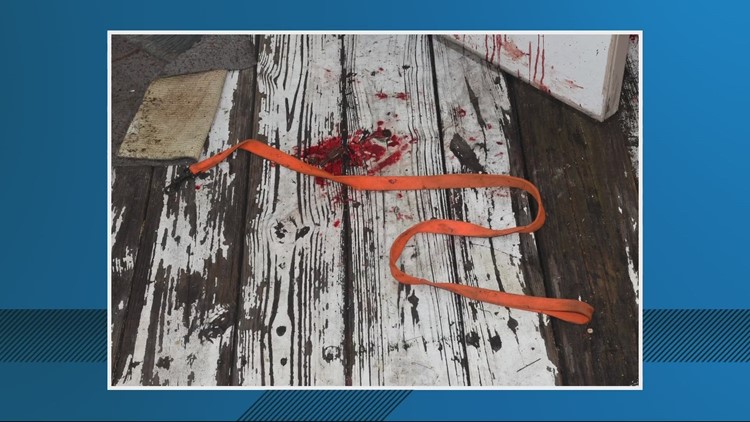 Three people were sent to the hospital. Authorities believe the dog escaped its owner's home
JACKSONVILLE, Fla. — WARNING: The following report contains graphic images
The Jacksonville Sheriff's Office released more than 200 photos from a police K-9 attack earlier in March. Three people were sent to the hospital. 
The K-9 got loose from the handler's yard. Some of the photos in the collection are graphic. It showcases the injuries and the aftermath of the scene. 
The victims have bites to their arms and there are scrapes to one person's back. Victims had to get stitches to their fingers. The Jacksonville Fire and Rescue said "chunks of meat" were missing near a woman's ankles. 
The photos also include images of blood on the floor inside someone's home. First Coast News talked to the attorney representing the people attacked by the K-9. 
Lawrence Najem said his clients are traumatized and of them is still recovering.  
"We're investigating the nature of this attack and why a K-9 dog was in a position that he could get out," Najem said. 
The Jacksonville attorney said his clients were looking for its owner. He told First Coast News the handler was not home at the time. JSO believes the dog dug a hole under the fence and escaped from it's owner's backyard. Najem said something triggered the animal while they tried to secure it. 
"They were not doing anything to provoke the dog," Najem said. 
Najem said every time one of the victims kicked or punched the dog, the animal wouldn't ease up on the bite. The lawyer said he has never seen a "rogue K-9 do what this dog did." One of the victims ended up stabbing the dog in the neck. The victims, still at this point, did not know the animal was with JSO. Authorities said the K-9 has since had surgery. However, police cannot speak on pending litigation. 
At this point, Najem said his clients have not filed a civil lawsuit. The attack is still under investigation. Najem said he is working to recover the medical costs associated with the attack for his clients. 
First Coast News inquired if the dog was still working. JSO said it cannot comment. Police said the state prohibits it from identifying the dog because it would identify the handler.