Share and Follow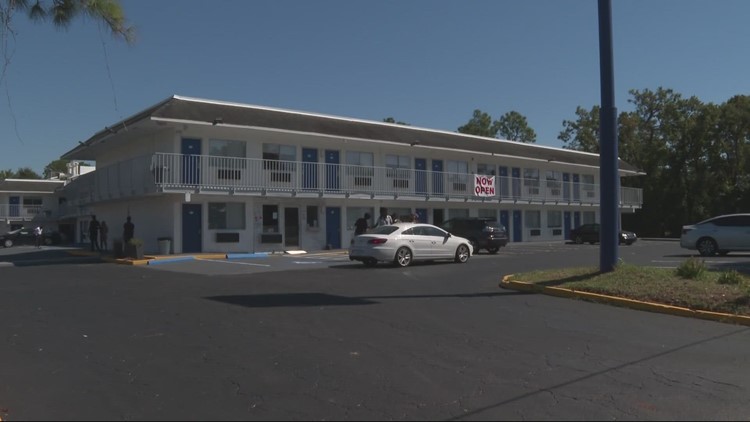 Some are calling for the Home One Great Stay Hotel on Harts road, formerly known as the Gold Rush Inn to be permanently shut down and demolished.
JACKSONVILLE, Fla. — City Councilman Reggie Gaffney Jr. wants the Home One Great Stay hotel gone immediately.
"Anytime you have over 20 to 25 deaths in the last three years, you know it's pretty much a plague in the community, and it's been a nuisance to everyone on Harts road," said Gaffney. 
On Saturday, Gaffney held a briefing after a body was found there. 
He says that the death was not a homicide, but he believes it's a symptom of a larger safety problem.
Gaffney is in the process of getting this hotel shut down.
"The case is in front of OGC (office of general counsel) right now, they are reviewing all the facts and all the detail whether they should close the hotel down or not," said Gaffney. 
While the Red Roof Inn had 53 total calls from the beginning of the year, Home One Great Stay hotel had 80.
Tameka Holly, who is running for the District 8 City Council seat believes tearing it down is not the answer.
"We want to make sure that the community is safe," said Holly. "We want to make sure that there isn't any type of issues happening up there. We also have to be realistic about what we can deliver and to have a knee-jerk reaction and call for the demolishment of a property within 30 days is just impossible to do so."
Springhill Missionary Baptist church is down the street. Pastor Michael Jackson says there needs to be a better solution.
"We oughta be concerned about the people making sure they have a safe haven and if that property continues to be a nuisance, then it needs to be shutdown. We can use that property for any other purposes," said Jackson. 
Gaffney says the office of general counsel will be making the decision this evening or tomorrow morning.
Share and Follow