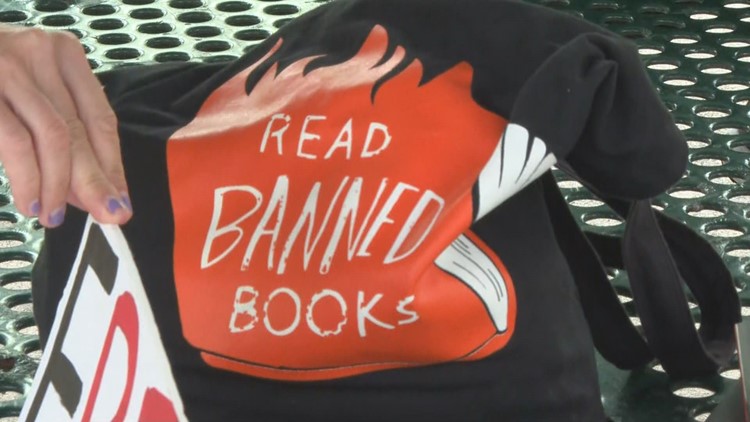 A read-in-rally was held in Jacksonville's Willow Branch Park this week.
JACKSONVILLE, Fla. — Authors, students and educators say they are celebrating the freedom to read by reading books that have been pulled from classrooms in some Florida school districts.
Demonstrators say it's about preserving their freedom. Advocates on the First Coast held a read-in-rally at the Willow Branch Park this week.
Their message to Florida legislators is to "let Jacksonville read". 
This comes after books in Duval County school libraries had to be reviewed by a media specialist. Demonstrators said the movement is about taking a stand against censorship. 
Attendees were allowed to take home books that were reviewed and removed from DCPS schools. The rules were based on Florida law. A couple of the books include The Bluest Eye and The Handmaid's Tale. 
Community leaders such as Elizabeth Andersen, a former DCPS school board member, said young people should have access to a variety of books. She believes removing books just because some parents made complaints is not fair to students. 
"We've got thousands and thousands of books that are not in the hands of children," Andersen said. 
Governor Ron DeSantis' office said Duval and St. Johns County Schools removed the most books. The Governor recently accused DCPS of trying to "create friction" when certain books were in question. 
He said book bans are a hoax in Florida. 
"What they [DCPS] were doing was trying to intentionally create friction to act like something is wrong in the State of Florida," DeSantis said. 
In March, DCPS said it reviewed and removed 21 books. As of Tuesday, St. Johns County Schools removed 26 books. 
Andersen said local school districts should have control of the books in classrooms and libraries. 
"I think one of the things that I experienced being on the school board and continue to see as a problem currently is that we've got what I would consider an overreach of authority," Andersen added. 
DCPS also reviewed and approved nearly 10,000 books, as of March. In St. Johns County, school officials kept 13 books that were in question.