Share and Follow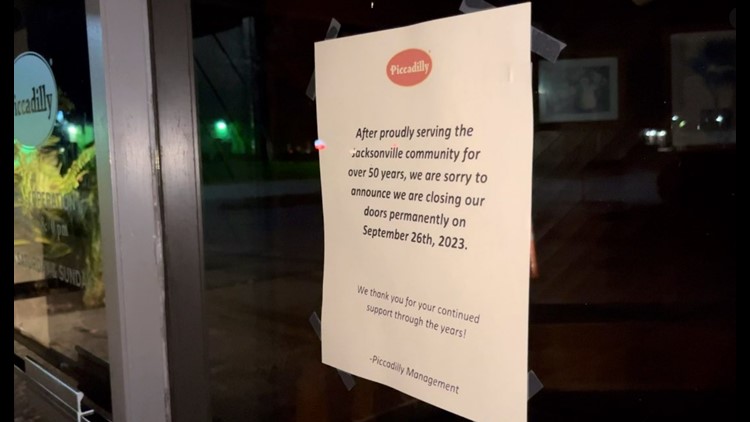 Piccadilly Cafeteria on University Boulevard opens at 11 a.m. Tuesday for the last time.
JACKSONVILLE, Fla. — A beloved Jacksonville restaurant open over 50 years closes its doors Tuesday.
Piccadilly Cafeteria on University Boulevard opens at 11 a.m. for the last time before permanently closing, as a note from management on its front door reads.
The restaurant has created many memories for people on the First Coast and some say the sudden sign on the door is a surprise. Lovers of the restaurant share memories on Facebook of going to Piccadilly with parents and grandparents who are no longer alive.
One person online calls the restaurant's closing a "tragic" loss. Others say they have to get the recipe for Piccadilly's souffle and aren't sure what they're going to do without a go-to spot for liver and onions or red velvet cake for the holidays.
The employees are what so many people say they'll miss because the food was made with love and some customers say they built relationships with them over the decades at the restaurant. They worry about them having to find new jobs
The closest Piccadilly will now be hundreds of miles away, their website shows. The website shows there's a Piccadilly in Hollywood, Florida, and multiple in Georgia.
When First Coast News confirms what time they close Tuesday, that information will be updated here.
Share and Follow