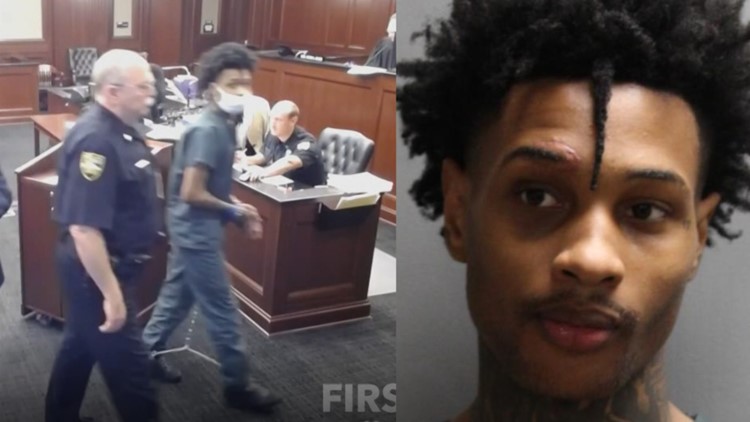 Before being sentenced, Kshordy told the judge he's not "a bad kid," but a product of environment. He'll be back in court Wednesday for a hearing in a murder case.
JACKSONVILLE, Fla. — A judge sentenced a Jacksonville rapper Friday to 12 years in prison for a gun possession charge. Terise Powe, who performs under the name Kshordy, will spend the next dozen years in prison for what happened on August 2020 when Jacksonville police found him in a vacant lot suffering from a gunshot wound to the leg.
Before being sentenced, Powe addressed Circuit Court Judge Anthony Salem telling him he's known in the jailhouse as "Send'em Home Salem." 
"Say what?" Salem replied. "Send'em Home Salem?"
"You send people home a lot," Powe said. "A lot of people want you as a judge. … I'm praying that is true."
One of the factors leading to Powe's conviction was a rap video he made. Prosecutors called it "a confession."
On August 3, 2020, Jacksonville police were called to a shooting in progress at a convenience store in the 9300 block of Norfolk Boulevard. When they arrived, officers found Powe in a vacant lot nearby with a gunshot wound to his leg.
About 70 yards from him, police found an AR-15 rifle. Investigators found spent shell casing from the firearm nearby. They also found a hoodie sweatshirt with eye holes in the hood which doubles as a mask when worn backwards.
Powe's DNA was found on the rifle and sweatshirt. Investigators said Powe was firing the rifle during the shootout. In February 2021, he was charged with being a gang-related felon in possession of a firearm.
It took a Duval County jury just over an hour to find him guilty of those charges last month. One of the state's key pieces of evidence against Powe was the lyrics of his song "On Yo Ass."
Prosecutors said the song describes precisely what happened.
 A portion of the lyrics state:
"I'm shot, I ain't know where to go … this crazy; Awe shit, how the fuck I drop my blic [slang for gun], I'm losing blood and shit; they still shootin', now I crawl through the bushes,
"I said a prayer for hope … I'm tellin' God, please I ain't ready to go; I ain't gonna do no more bad; he know I'm lyin'; I said that last time I shot ole boy in the ass; Police sirens come floodin' the block … look how God works, comin' through saving my ass;
"I gotta stick to the code; I started strippin', had to get rid of that mask, get the fuck away from that pole [slang for gun]."
Powe is scheduled for a pretrial hearing in the murder case Wednesday.
"Product of my environment"
Before he was sentenced, Powe told Judge Salem he "wasn't a bad kid." The rapper said he was a product of his environment. He told Salem about how he witnessed people being killed, including his girlfriend.
On March 19, 2020, a couple of weeks after he turned 19, Powe was on a date with his girlfriend. Inandi Wyche, 17, was a popular cheerleader at Ribault High School.
She was driving her new car and was in the process of dropping Powe off. When they reached the Sherwood Forest community on Jacksonville's Northside, a gray vehicle pulled up in front of Wyche's car. Two males got out and opened fire on the couple.
Jacksonville police were called to the scene for a report of gunfire. They arrived and found Powe injured in the vehicle. He was rushed to the hospital where he was treated and released.
Wyche was pronounced dead at the scene.
Powe will be back in court Wednesday for a pretrial hearing for a murder charge he's facing. That charge followed what happened to on Sept. 28, 2021. That's when Jacksonville rapper Noah Williams, known as Spinabenz, was driving in a car with two other rappers, Dasaun Williams, who performs under the name Greenlight and another man named Xavier, who goes by 187 NoFace, or BMG Zay.
Noah Williams went on Instagram posting a live video that gave away his location.
Powe and Williams are from rivaling Jacksonville gangs, according to police.
Williams and the two other men were sitting in a Dodge Challenger outside Raceway gas station on Lenox Avenue when a black Range Rover Evoke pulled up and opened fire on them.
Williams and "Greenlight" ran into the gas station, but Noface was left behind.
The Range Rover sped off. Williams and his friend went back to the Dodge Challenger and drove to the emergency room. Noface was shot in the head.
He was pronounced dead at the hospital.
Jacksonville police investigators were on the lookout for the black Range Rover Evoke.
The following day, JSO's gang unit spotted a similar vehicle while surveilling the Woodland Acres community.
Officers pursued the Range Rover which sped off. It crashed into a pole and the occupants exited the vehicle and attempted to run off.
Investigators caught them. They were identified as Powe and his friend Lorano Span, another rapper who goes by the name Lil Kracka.
Police said they found spent shell casings in the Range Rover and Span was wearing clothes that matched the description given the day of the shooting.
Powe was charged with second-degree murder, two counts of attempted murder, and gun possession by a convicted felon. Span was charged with resisting arrest.
Another man, Zhacobe Sykes, was also charged in July 2022 with second degree murder in the case.
A couple of months after the shooting, Williams dropped a new song called "Bad A$$ Day" which includes a likely reference to the shooting and the death of his friend Noface:
"Them sprayed up my whole side, I didn't get hit, I'm still confused, I still hear Face voice in my head, I know he still got some shit to do."