Share and Follow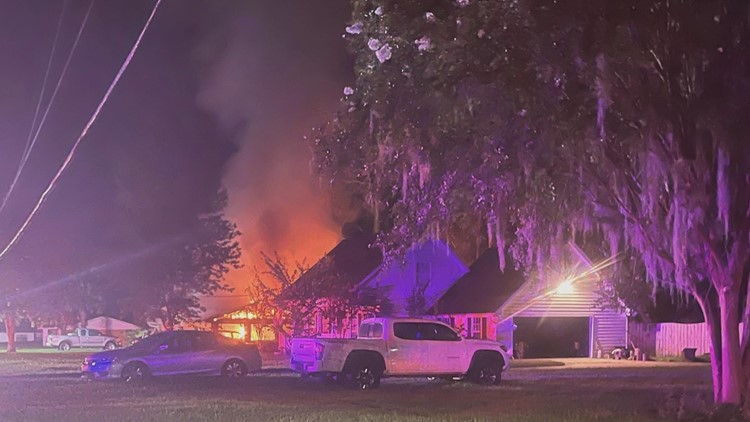 Neighbors identified the couple who lived in the home on Crew St. as Alice and Roger Oswald.
BAKER COUNTY, Fla. — One person is dead and another is recovering after an overnight fire and explosion destroyed a home in Baker County, the Sheriff's Office says.
MacClenny neighbors are shocked and saddened, saying the couple lived there for many years.
Neighbors identified the couple who lived on Crew St. as Alice and Roger Oswald. They say Monday morning Roger and two dogs died in the fire, and his wife Alice was taken to the hospital, suffering from burns and smoke inhalation.
MacClenny neighbors living on Crew St. woke up to explosions around 2 a.m. Monday. They found the Oswald's home in flames.
Brian West lives down the street and called 911 when he saw fire break a window in front of the home.
"By the time they showed up," West said, "the whole roof had caught on fire. All the walls had caught fire. That whole side – the first car that was under the carport caught on fire."
A charred frame is what's left of the home Monday. Two scorched cars sit in the garage and driveway.
West said neighbors tried screaming through the windows to wake up anyone who may have passed out but eventually backed away because of the danger.
"There were oxygen tanks inside the house," West said, "So we were hearing explosions happening and stuff as well and then eventually their power box caught on fire and we just kept seeing sparks flying from everywhere the power box was blowing up in the backyard."
West said he didn't know the Oswald family, but he's praying for them.
"I've seen field fires catch on fire in a neighborhood," West said, "but I've never seen a house explode as much as that one. I've never seen as many explosions coming out of one house."
The state fire marshal's office is still investigating how the fire started.
Share and Follow