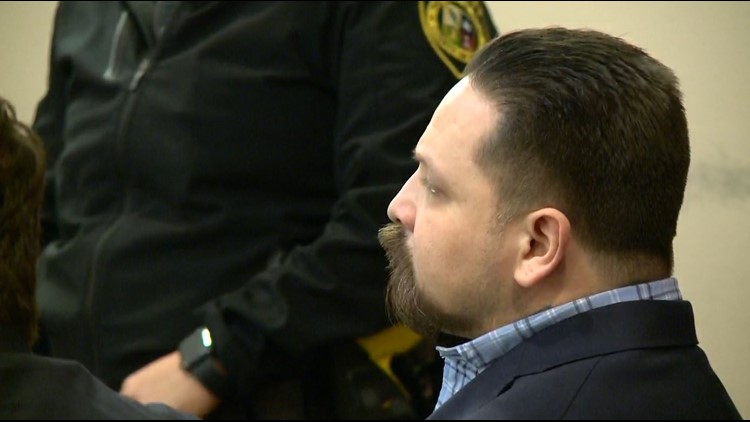 The K-9 officer, Chucky, was set loose to subdue the suspect without a protective vest when he was killed.
SAN ANTONIO — The man who shot and killed an unprotected BCSO K-9 in early 2019 was sentenced to life in prison on Friday. 
Court officials confirmed the sentence to KENS 5; it comes after Matthew Mireles was convicted in December of firing a single fatal shot at the K-9 officer, Chucky, during a chase involving BCSO deputies. He was found guilty on all counts, including aggravated assault of a police officer, evading arrest and being a felon in possession of a firearm. 
A report released months after the 2019 chase found Chucky was shot from behind at fairly close range. Chucky was set loose to subdue Mireles but wasn't wearing protective gear. 
BCSO officials later said Chucky's handler didn't have time to put the vest on him because they were in the midst of a pursuit. When pressed on whether it was protocol to order an unprotected deputy to take down a suspect who shot at other law enforcement minutes prior, Sheriff Javier Salazar at the time said he thought all protocol was followed. 
According to the Bexar County district attorney's office, Mireles was a seasoned Mexican gang member with nine prior felony convictions. 
"Justice does not tolerate those who endanger others, show no respect for the lives of our citizens and habitually commit crime after crime," DA Joe Gonzales is quoted as saying in a release. 
>TRENDING ON KENS 5 YOUTUBE:

https://www.youtube.com/watch?v=videoseries
Since going on the air in 1950, KENS 5 has strived to be the best, most trusted news and entertainment source for generations of San Antonians.
KENS 5 has brought numerous firsts to South Texas television, including being the first local station with a helicopter, the first with its own Doppler radar and the first to air a local morning news program.
Over the years, KENS 5 has worked to transform local news. Our cameras have been the lens bringing history into local viewers' homes. We're proud of our legacy as we serve San Antonians today.
Today, KENS 5 continues to set the standard in local broadcasting and is recognized by its peers for excellence and innovation. The KENS 5 News team focuses on stories that really matter to our community.