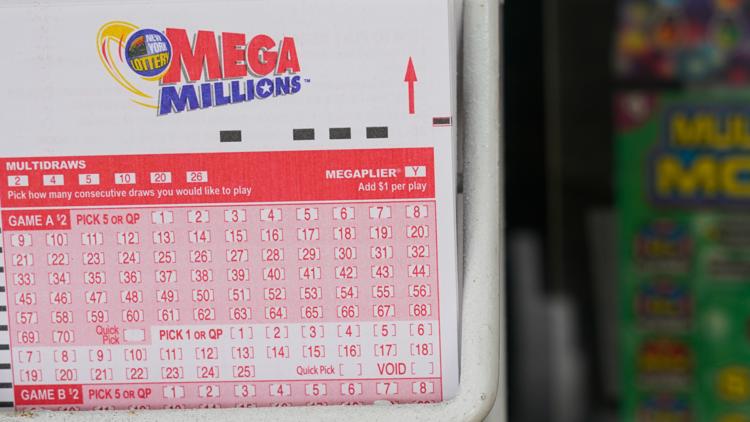 The game's odds are 1 in 302.6 million.
WASHINGTON — After a historic set of jackpot wins earlier this year, the Mega Millions prize is on the rise again.
Tuesday's drawing offered a hefty $272 million with a cash option of $143.9 million. Players must match all five white balls and the gold Mega Ball to win the grand prize. 
Nobody won the grand prize. Friday's jackpot rises to $302 million.
In January, the Mega Millions jackpot was won a total of four times, including a whopping $1.34 billion prize won in Maine. The month set a record for the lottery game, which had never seen four wins in a single month.
What are my chances of winning the Mega Millions?
The game's odds are 1 in 302.6 million.
Lucky winners can choose an annuity with annual payments over 29 years. Winners almost always take the cash option, which for Tuesday night's drawing would be an estimated $143.9 million.
What are the largest US lottery jackpots ever won?
$2.04 billion, Powerball, Nov. 8, 2022 (one ticket, from California)
$1.586 billion, Powerball, Jan. 13, 2016 (three tickets, from California, Florida, Tennessee)
$1.537 billion, Mega Millions, Oct. 23, 2018 (one ticket, from South Carolina)
$1.35 billion Mega Millions, Jan. 13, 2023 (one ticket, from Maine)
$1.337 billion, Mega Millions, July 29, 2022 (one ticket, from Illinois)
$1.05 billion, Mega Millions, Jan. 22, 2021 (one ticket, from Michigan)
$768.4 million, Powerball, March 27, 2019 (one ticket, from Wisconsin)
$758.7 million, Powerball, Aug. 23, 2017 (one ticket, from Massachusetts)
$731.1 million, Powerball, Jan. 20, 2021 (one ticket, from Maryland)
$699.8 million, Powerball, Oct. 4, 2021 (one ticket, from California)