Share and Follow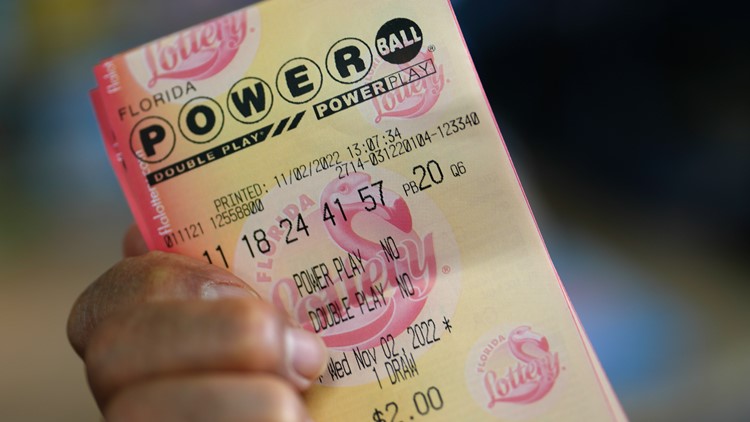 The last time someone hit the Powerball jackpot was back in July, when one very lucky lottery player won $1.08 billion.
WASHINGTON, USA — The Powerball jackpot is nearing record territory once again. 
The big prize leaped to an estimated $785 million after Saturday's drawing failed to produce a jackpot winner. It is now the fourth-largest jackpot in the game's history. 
Even though there was no jackpot winner, there are still four people waking up newly-minted millionaires Sunday. 
Three tickets in California, Florida and New York are taking home $1 million after matching all five numbers, but not the Powerball. One ticket in Michigan also matched all five white balls but selected the Power Play option, boosting their earnings to $2 million instead of $1 million.
A winner, when one is eventually picked, will be able to claim monthly payments for part of the $785 million or take the lump sum of $367 million. The jackpot has been rising for weeks after a streak of drawings without a grand prize winner. And you won't have to wait long to see if you're the next winner. The next Powerball drawing is Monday, Sept. 25. 
Lottery players must match all five white balls and the Powerball to win the jackpot. The winner can choose to get the full amount through an annuity option — a sum paid out over 29 years. However, winners typically opt for the cash option.
The last time someone hit the Powerball jackpot was back in July, when one very lucky lottery player in California won $1.08 billion, which was the game's third largest prize in history. Since then, there have been 27 straight Powerball drawings without a grand prize winner. 
It's been a big summer for huge lottery prizes. Last month, a single winning ticket sold in Florida won the $1.58 billion Mega Millions jackpot, the largest in the game's history.
What were the Powerball numbers for September 23, 2023?
The winning numbers were 1-12-20-33-66, Powerball 21 and Power Play 2 . 
When is the Powerball drawing?
The Powerball drawing takes place live at 10:59 p.m. Eastern every Monday, Wednesday and Saturday. Tickets, which cost $2 per play, are sold in 45 states, the District of Columbia, Puerto Rico and the U.S. Virgin Islands.
What are my chances of winning the Powerball?
The odds of winning the Powerball jackpot are one in 292.2 million.
Over the past few years, huge lottery jackpots have become more common as lottery officials have changed the rules and ticket prices to boost top prizes.
Powerball's biggest change came in 2021 when officials decided to add a Monday drawing to its weekly lineup of Wednesday and Saturday evening drawings. At the time of the announcement, Powerball proclaimed the addition of the Monday drawing would lead to "larger, faster-growing jackpots."  
What are the largest Powerball jackpots? 
$2.04 Billion – Nov. 7, 2022 – CA
$1.586 Billion – Jan. 13, 2016 – CA, FL, TN
$1.08 Billion – July 19, 2023 – CA
$785 Million (est.) – Sept. 25, 2023
$768.4 Million – March 27, 2019 – WI
$758.7 Million – Aug. 23, 2017 – MA
$754.6 Million – Feb. 6, 2023 – WA
$731.1 Million – Jan. 20, 2021 – MD
$699.8 Million – Oct. 4, 2021 – CA
$687.8 Million – Oct. 27, 2018 – IA, NY
Share and Follow