Politico-Strategic Level
Week 49 of Putin's War looked a lot like the last six weeks. Both sides have carried out limited operations. The Ukrainians have focused on northern Donbas between the cities of Svatove and Kreminna. The Russians have focused on southern Donbas, particularly the city of Bakhmut. Both sides have made limited gains.
The real action is behind the scenes. Russia is mobilizing men and pushing them into Ukraine. There are rumors that Russia plans a "decisive" offensive in Donbas before April. Ukraine is training thousands of troops in other countries as well as receiving new weaponry and is anticipated to start its offensive in the same time frame.
Be sure to read my last updates.
Putin's War, Week 48. The Logjam Breaks and the Leopards Are About to Roam the Ukrainian Landscape
Putin's War, Week 47. Gerasimov Shakes Up the Russian Army and the Russian Spring Offensive Looms
Putin's War, Week 46. Putin Shakes up the Army Command, Prigozhin Shows How It's Done, and Western Tanks for Ukraine Are on the Way
Putin's War, Week 45: Putin Declares a Cease Fire, Zelensky Gets Putin's Terms for Peace, and if You're Fighting a War, Leave Your Cell Phone Home
Putin's War, Week 44. Drones Strike Russian Strategic Bomber Base…Again…and Prigozhin Makes His Move
Putin's War, Week 43. Zelensky Visits the Front Lines and Washington, Putin Tries to Push Belarus Into War
Putin's War, Week 42. Ukraine Gets the Nod to Strike Targets in Russia and Some Tools to Do It With
Many more are available at this link.
Russian Television Hacked…Again
One of the many areas of underperformance of the Russian military has been cyber operations. Most analysts expected Russia to dominate cyberspace. It hasn't turned out that way. Ukraine has periodically hacked into Russian television to broadcast statements by Ukrainian President Volodymyr Zelensky, among other things. They've done it again, and the Russians, who can't bring themselves to credit the Ukrainians with any abilities, blame the US.
Television audiences in Crimea & the Belgorod region saw a speech from Ukrainian President Zelensky today when tuning into different Russian TV networks. Russian officials blame the Americans for giving Ukrainian intelligence agencies the hijacking tech. https://t.co/pMhLNKRwGs pic.twitter.com/tF8WKae7LJ

— Kevin Rothrock (@KevinRothrock) January 25, 2023
Ukraine's Arms Industry Produces Artillery
Before the war, Ukraine had a solid domestic arms industry that mostly modified existing Russian crap and produced ammunition. Ukraine's ammunition production is back online. Now they are starting to crank out domestic 155mm self-propelled howitzers. See Putin's War, Week 40. Winter Is Coming, and It Is Looking Like Finland in 1939 for more details.
⚡️In Ukraine, serial production of the domestic artillery installation "Bohdan" is launched, – Minister of Defense of Ukraine Oleksiy Reznikov pic.twitter.com/7H0IN2DGzD

— Sander (@SanderRegter) January 26, 2023
Russian Media Discusses a Way Out of Western Sanctions
I toss these clips in every once in a while to demonstrate that we are not dealing with a functioning society in Russia. Keep in mind everything that is said has the imprimatur of Putin and his inner circle. Here the hosts dispassionately discuss whether Russia should adopt the Cuban, Iranian, or North Korean economic models as it looks more like Venezuela and Zimbabwe every day.
An important discussion took place on state TV today:

Which country's economy is the best model for Russia to follow? Cuba, North Korea or Iran? pic.twitter.com/tShi724tGM

— Francis Scarr (@francis_scarr) January 27, 2023
Germany Builds Missile Defense Network for Ukraine
Russian attacks on civilian population centers and infrastructure have been the Kremlin's calling card in this war. While the attacks on electric and water infrastructure might arguably have a military purpose, the way the Russians have carried out the attacks — that is, away from the line of contact — and the way Russian officials and media figures have boasted that they intended to ensure Ukraine's civilian population spent the winter very cold and in the dark indicate that the attacks are war crimes.
The West slowly added to Ukraine's air defense capability until, finally, Patriot missile systems were transferred. This announcement that Germany has undertaken to design and install an integrated air defense network in Ukraine is great news.
Nice! Germany is in talks with several defense manufacturers to build a multi-layered, anti-missile shield that could cost as much as €17 billion ($18.5 billion), according to people familiar with the matter, reports Bloomberg pic.twitter.com/gKhKM1Av9T

— NOËL 🇪🇺 🇺🇦 (@NOELreports) February 1, 2023
Australia Joins the UK's Training Program
The UK has trained about 20,000 Ukrainian soldiers in basic soldier skills and individual combat tactics at its bases in Britain. Australia is now sending training cadre to assist with the program.
Australia is the latest nation to join the UK-led training programme to train Ukrainian recruits on UK soil.

A total of 9 nations have joined the UK in offering basic training to Ukrainian recruits to help them defend their homeland and retake territory. #WeStandWithUkraine pic.twitter.com/gwYTSea7NF

— Ministry of Defence 🇬🇧 (@DefenceHQ) February 1, 2023
EU Doubles the Number of Ukrainian Soldiers to Receive Training
Most attention is focused on weaponry and money, but the strategic advantage to Ukraine will be superior training. As noted above, the UK runs an aggressive training program, imparting basic combat skills to Ukrainian soldiers. Likewise, the EU is running its own mission, and now it has announced it will double its output.
"The EU is doubling the number of 🇺🇦Ukrainian troops it aims to train to 30,000 as it seeks to bolster Kyiv's fightback against Russia".

🇪🇺 set up a mission to train #Ukraine forces in November with the initial goal of training 15,000.
Via @defensepost: https://t.co/RJEGPX3Dg3

— Giuseppe Famà (@FamaNelMondo) February 2, 2023
The US is focusing on training battalion-sized units in combat operations.
All the training takes place outside Ukraine, giving the troops a breather.
Wagner Group Recruits US Veterans
Wagner Group, the mercenary organization/criminal enterprise run by Putin crony Yevgeny Prigozhin has created a high profile for itself in this war and earned a deserved reputation for brutality. Having siphoned off the available prison population in Russia, it is now casting it's net wider to appeal to disaffected US military veterans.
Wagner Group releases a recruitment video targeting US military personnel. US veteran population is big and varied. Will some be swayed by this pitch? Interesting 🤔 pic.twitter.com/ygnct2GWea

— Bashkarma🌏 (@Karmabash) January 30, 2023
The over-the-top imagery and script and the voice-over with a Russian accent left me unsure whether it was real or some kind of meta prank. However, the consensus among those who study this stuff is that it is real.
Weapons Repair Facilities in Poland
Every time there is mention of a new weapon system heading to Ukraine, the same people chime in with, "oh, no, that means 'boots on the ground'" or something like that. The assertion is that the Ukrainians are too dumb to repair vehicles and equipment, so US military personnel must be on the front lines doing maintenance. The Ukrainians have shown a remarkable ability to keep their equipment running, but they are getting help from repair facilities in Poland. I don't know how "secret" a facility is if the Wall Street Journal is given access, but I'd bet there are more like this, and before the Leopard, Challenger, and Abrams tanks arrive, more such facilities will be built and staffed with local hires and foreign contractors.
In a secret factory complex in Poland, hundreds of technicians are working around the clock on one of the biggest challenges of Ukraine's war: repairing artillery and heavy armor and returning it to the front line – Wall Street Journalhttps://t.co/LvXV6sjSgF

— Euromaidan Press (@EuromaidanPress) January 31, 2023
Operational Level
Over the last month, the Russians have focused on Southern Donbas and the area around Bakhmut. They have registered small gains there. As I've said for the last couple of months, it is unclear what success here brings them. The terrain is a washboard of north-south ridges and streams that lends itself to defense. The difficulty the Russians have in putting together a coherent combat operation indicates that even if the Ukrainians break and run, which is not likely, the Russian gain will be significantly under ten miles.
More on that in a moment. Here is what else is happening.
New Weapons
France is supplying state-of-the-art Ground Master 200 radars to protect Ukrainian facilities and combat forces from Russian drones.
Together with my 🇫🇷 colleague @SebLecornu signed Memorandum with @thalesgroup on supply of MG-200 radars for Ukrainian air defenders. This equipment will help us to spot enemy drones & missiles, including ballistic.
Our skies will be protected from russia's deadly attacks.
🇺🇦🤝🇨🇵 pic.twitter.com/BYOse4oCbo

— Oleksii Reznikov (@oleksiireznikov) February 1, 2023
M2 Bradley Infantry Fighting Vehicles
The M2 Bradley was promised at the last Ramstein conference. Here they are loading onto a commercial roll-on-roll-off ship in Charleston, SC.
US Transportation Command is delivering the first shipment of Bradley Fighting Vehicles to Ukraine. The shipment — containing more than 60 Bradleys — left the shores of North Charleston, South Carolina, Jan. 25. https://t.co/h0FGsehpl9 pic.twitter.com/c7t8lCMLeE

— Ryan Chan 陳家翹 (@ryankakiuchan) January 30, 2023
They are NOT headed to Ukraine; they are headed to the US maneuver training center at Grafenwoehr, Germany. There they will be married with the troops who will use them. They'll be trained on the operations and maintenance of the vehicle and how to use them as a fighting force.
First M1 Tank Destroyed in Combat
Just joking. But that is what Russian propagandists are putting out. The image is an Abrams tank in Iraq. It couldn't be moved, so it was destroyed by friendly fire. The Abrams tank will arrive in Ukraine in the last half of 2023…maybe.
🇷🇺 media channels circulating this image of a "Destroyed Abrams near Bakhmut" today.#Bakhmut , like the majority of 🇺🇦, had a layer of snow on the ground recently – so the sudden alleged change of landscape to a desert environment is…. unlikely. #Russia #Ukraine pic.twitter.com/Nt8jgVqprV

— WhereisRussiaToday (@WhereisRussia) January 28, 2023
Ukraine Gets Drone Interceptors
The one big lesson this war has delivered is that drones are no longer a toy or something used by higher headquarters. They are needed at every echelon for planning, tactical reconnaissance, and combat missions. The problem facing both sides is developing effective countermeasures. Using a missile costing over $250,000 to knock down a $1,000 drone is not sustainable. So we've seen weapons systems on the way out, like the German Gepard, become essential because they use relatively cheap ammunition.
Ukraine is now using a US-made drone interceptor to combat Russian drones.
Ukraine 🇺🇦 is now using flying drone interceptors from the USA 🇺🇸 to counter the threat of #Shahed loitering munitions. Deputy PM Mykhailo Fedorov shared that #Ukraine has bought 6 of the Fortem DroneHunter F700 drones, which use their aerial agility to down threats with nets. pic.twitter.com/LknFDlyY5t

— Crimson (@CrimsonShadowMK) January 27, 2023
Combat Operations
The thread below shows control of Ukrainian territory by month. The Russians started the war controlling about 6% of Ukraine. The high water mark was in late summer when Russia controlled nearly a quarter of the country. The autumn offensive knocked that back to 16%, which is where we remain. The Russian gains have been exclusively in the area of operations near Bakhmut in southern Donbas. The 0.1% gain in January has brought Wagner chieftain Prigozhin major headlines, but it has been at least as bloody, in terms of the size of the contending armies, as the First Battle of the Somme…and just about as meaningful.
Over the month of January 🇷🇺 increased the area of land they control in Ukraine by approximately 600km².

This equates to a total of ~16.65% of Ukraine being occupied by 🇷🇺 forces, a 0.1% increase since the end of December. pic.twitter.com/Xby1gEREAR

— War Mapper (@War_Mapper) February 1, 2023
Northern Front
Donbas
As I said earlier, the word is that Russia will attempt a "decisive" offensive in Donbas, probably in March. Ukrainian intelligence estimates that there are 320,000 Russian troops in Ukraine. The original Russian invasion force was about 150,000. I'm agnostic on the 320,000 number. That is a lot of Russians to cram into a relatively small space. Given the tenuous ground line of communications from occupied Ukraine to Russia, it is a lot of soldiers to feed and supply. Ukraine has an interest in maximizing the Russian threat in its communications with Western media. I agree the Russians are trying to mass forces and further stipulate that the area of effort will be Donbas.
The Ukrainian intelligence estimates that 320,000 Russian troops are inside Ukraine. This would be significantly higher than previous estimates, but it could explain why Russia believes that it can recklessly sacrifice so much troops.#Ukraine https://t.co/D5pgyC4IVb

— (((Tendar))) (@Tendar) February 1, 2023
Yesterday, Kramatorsk, a city in free Donetsk, was hit by a Russian missile strike.
First videos coming out from Kramatorsk. Same carnage we witnessed only recently from Dnipro. Russia continues with its terrorist acts and needs to be labeled as such.#Kramatorsk #Ukraine pic.twitter.com/3xxujxTbb8

— (((Tendar))) (@Tendar) February 1, 2023
It may be the typical Russian terror attack, or it might be the start of something else.
Credit to LiveUAMap.com for the image.
Let's assume that the "decisive" offensive has the objective of bringing under Russian control all the land within the boundaries of the annexed oblasts of Donetsk and Luhansk. This is something that is more of an operational objective than a strategic one. Still, if you are Vladimir Putin and trying to let go of this tar-baby, then this could serve as a "win" that would permit Russia to declare a unilateral cessation of offensive operations along the line of contact and go for the "frozen conflict" solution.
At the lower right side of the map, you can see Bakhmut and the ongoing Russian offensive to outflank that city and force the Ukrainian Army to withdraw. The intensity of the attacks at and around Bakhmut could be because that area is designated as the base of the March offensive.
If the "decisive" offensive was on an axis following the M-03 aimed at Sloviansk and, in the upper left, Liman, it could force a Ukrainian withdrawal from all areas to the west of that line. Hitting Kramatorsk, in that context, could have a purpose. If the city is rubbled, the road and rail lines that could bring reinforcements are blocked. It would still be a war crime, but at least an understandable one.
If there is a Russian offensive in the works, this, in my view, is the logical course of action. My doubts are based on the terrain and the coordination of effort the Russians would have to pull together to make that work remain. Still, if I were a staff officer told to plan an offensive or join one of Wagner Group's assault battalions, this would be my plan.
At the same time, Ukraine is conducting a series of offensive operations at Svatove-Kreminna; they are along the pink line at the top of the map. These operations, if successful, unhinge the northern flank of Russian forces in Donbas. As a result, the Russians are sending reinforcements there. This, in my view, is one of those operations where the main objective is keeping the enemy off balance, but if things break the right way, you open the gate to a larger victory.
Southern Front
Zaporizhzhia
While the Russians are getting their offensive ready, the Ukrainians are doing the same. I hold fast to my belief that the Ukrainian offensive will be focused on Melitopol. If Melitopol falls, the Russians must evacuate all forces to the west because they can no longer be supplied.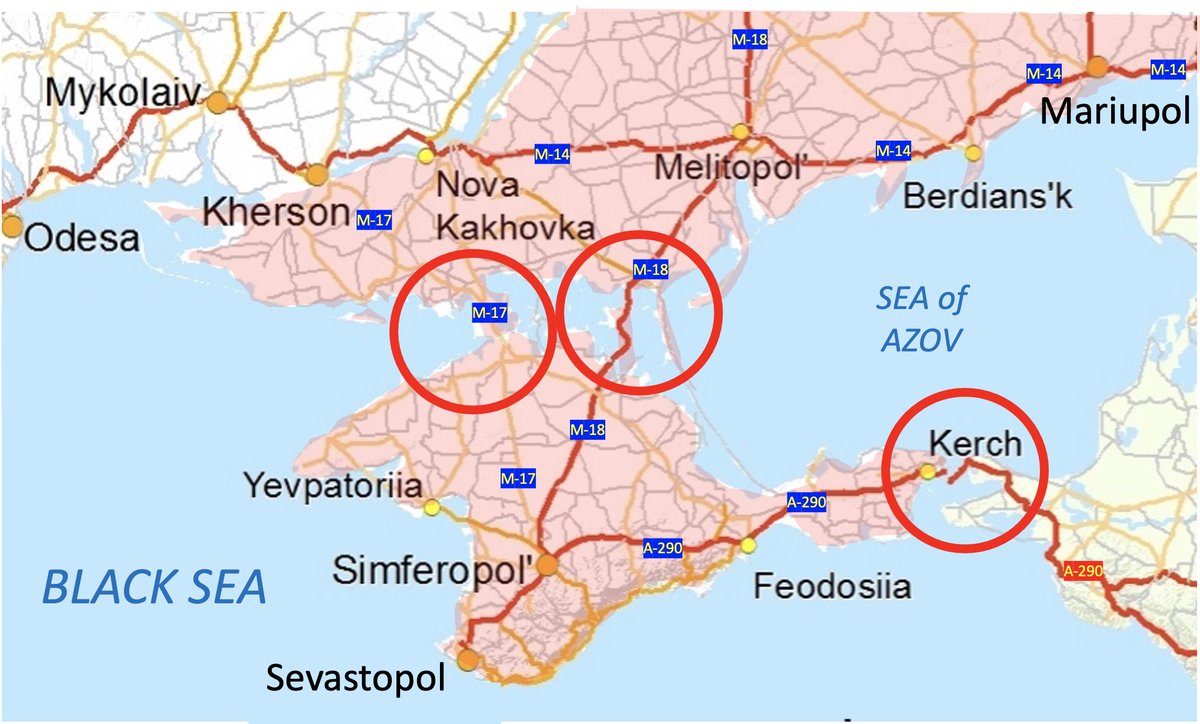 Since the destruction of the Kerch Strait bridge, nearly 100% of all supplies for the Russian army have come down the road and rail trunks that pass through Melitopol. As most of Crimea's potable water comes from the dam at Nova Khakovka, if Melitopol falls, the ability of the Russians to retain control of Crimea becomes problematic.
Russian official media have reported the destruction / damage of a strategic bridge near occupied Melitopol by Ukrainian HIMARS strikes. It served as a vital supply route for mil equipment & personnel and its destruction is a blow to the Russian occupiers' logistical capabilities pic.twitter.com/KvLg7V3KyM

— Ukraine Reporter (@StateOfUkraine) January 29, 2023
Russia is doing here what Ukraine is doing in northern Donbas. They have been conducting minor offensive operations between, in the above map, Orkhiv and the Dneiper Reservoir. These attacks force Ukraine to respond, diverting attention from future operations. Unlike the Ukrainians, these spoiling attacks are meaningless even if they succeed because there is nowhere to go.
What's Next?
My estimate remains unchanged. The Ukrainians will attack in the direction of Melitopol. I think the offensive will take place in March and feature the Bradley IFVs and Leopard tanks now entering Ukrainian service. The Russian offensive may materialize. However, I have my doubts that the Russians can mass the forces needed that the supply dumps to sustain operations within the range of Ukrainian artillery. I do not doubt that we'll see some kind of a significant attempt coming out of the Bakhmut area, but I don't see how it gets off the ground and makes significant progress.