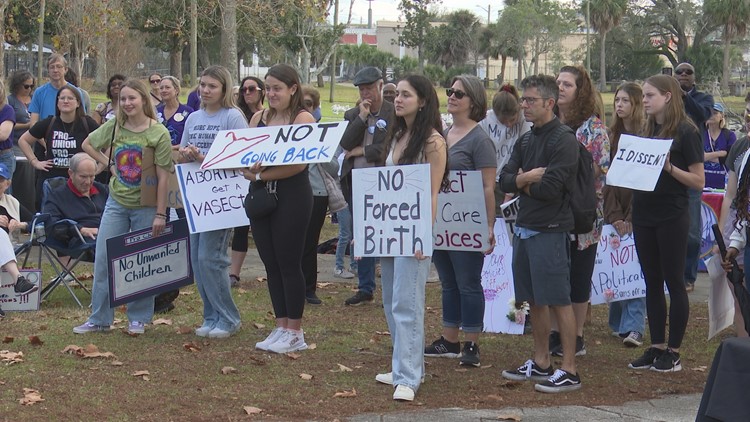 The landmark decision on abortion was overturned by the Supreme Court last summer.
JACKSONVILLE, Fla. — Sunday marked 50 years since the landmark Roe v. Wade Supreme Court decision that made abortion legal in the United States on January 22, 1973.
The decision was overturned by the Supreme Court last summer.
The anniversary brought supporters from both sides of the debate out for events across the country, including in Jacksonville, where Jax Now rallied for reproductive freedom at Springfield Park in downtown.
"Gay, straight, black, white, one struggle, one fight," the rally attendees chanted.
"I saw a gathering of people and I was curious, so I thought I'd come out here and I'm glad I did," said Springfield Resident Sherry Vitro.
Vitro said she can remember the day the Supreme Court made the decision in Roe v. Wade back in 1973.
In fact, abortion has played a significant role in her life.
"I actually had a family member that died from an abortion because it had to be done illegally before Roe V. Wade and it was very traumatic," said Vitro.
Jax NOW, The local chapter of the National Organization for Women, brought activists of all ages, from high schoolers to career politicians, together at Springfield Park to talk about the next chapter of the abortion debate.
"We have to come together, and we have to do more," said State House Representative Angie Nixon. "As you see, history is starting to repeat itself."
The "Bigger than Roe Rally focused on how the abortion topic will be handled in Florida as the debate rages on.
Last summer, the state legislature passed a ban on abortions after 15 weeks that is being challenged at the Supreme Court level.
Rally participants brought up a warning that state health care regulators sent to pharmacies threatening them if they provided abortion pills to customers.
"This is using fear, intimidation," said one speaker. "We have got to get together folks. We are all being attacked."
Vitro said she loves Jacksonville and has seen plenty of changes in the 30 years she's lived in the River City.
She's hoping there may be more on the horizon.
"I hope we can continue to be progressive and show other cities around the country what really needs to happen," said Vitro.
First Coast News reached out to Jacksonville for Life to see if the pro-life group had any perspective to share on the 50th Anniversary of Roe V Wade, although there was no response on a Sunday evening.
The organization's Facebook page didn't share any events planned for the anniversary weekend.