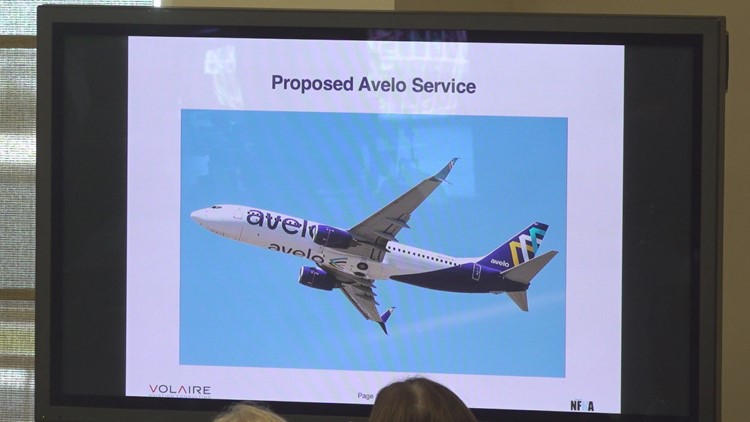 The board passed an initial agreement with the airline but needs to look at the numbers before making a full commitment.
ST. AUGUSTINE, Fla. — The St. Johns County Airport Authority Board says it's willing to bring Avelo Airlines to St. Augustine.
The board says Avelo wants to bring service to St. Augustine by mid-June with flights to Raleigh-Durham, Wilmington, Delaware and Connecticut.
While the board passed an initial agreement with the airline, it says it needs to iron out details before it fully commits to bringing in the airline.
"This is starting much more aggressively, and they have a market niche that is emphasizing ultra-low cost travel and that happens to be what the masses of travelers are looking for these days," said Robert Olson, St. Johns County Airport Authority board chair.
Volaire Air Service Consulting Firm representative, Michael Lum, presented why the airport would benefit from Avelo's services.
"On a weekly basis with nine flights a week we would generate about 13 or a little bit over $13,000 in revenue for the airport," Lum said. 
"It's easy to get people on airplanes to come to Florida," he added.
The St. Johns County Airport Authority board listened to a presentation, but decided it needed more time to calculate its return on investment. 
"The MOU (memorandum of understanding) calls for us to provide ground support at no cost to the carrier during an initial period," Olson said. " But, those costs if the airline is able to proceed of the way it wishes to with the number of flights and passenger loads the revenues will start exceeding the costs for the airport to provide the ground support those revenues will come in form of car rentals and parking at the airport which can be very lucrative. Most airports make their big money off parking and auto rental."
"We're still looking at those numbers," he added. 
As they work towards a deal with Avelo, the board is also still looking for an executive director to run its airport and recruit airlines. 
The board announced its top candidate recently turned their offer down at the last minute. 
Board member, Michelle Cash-Chapman shared a part of her conversation with the candidate.
"Additionally, a board member or some board members mentioned, and I quote a rich tenant on the airport saying that 'if you don't stay on his good side, you won't last long here.' I'm both embarrassed and disgraced by this comment," Cash-Chapman said. 
"The visit did not go well as far as us presenting the kind of relationship that our prime candidate was looking for." Olson said. 
The board voted to take 90 days to reevaluate its process. 
Olson said he would like to see board members visit airports similar to Northeast Florida Regional Airport to see how their boards work with their executive directors.
First Coast News asked Cash-Chapman for an interview after Monday's board meeting, but she declined to speak with us on the record.