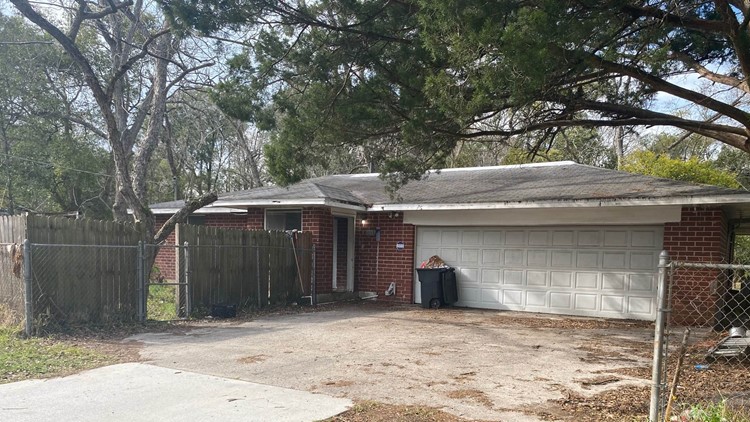 The man lives in the same house where Henry Tenon, now charged in the Jax Beach slaying, stayed. He says police repeatedly searched the home, looking for evidence.
JACKSONVILLE, Fla. — The man now charged with Jared Bridegan's murder last February previously rented a home owned by the husband of Bridegan's ex-wife, law enforcement sources told First Coast News Wednesday.
Now, that home's current tenant tells First Coast News that police came to the property three times after the February murder, searching for weapons, DNA and a truck. From the start of the investigation, police have asked the public for any information regarding a blue F-150 they believe is connected to the crime.
The current tenant, who did not give his name but spoke to a reporter outside the house, moved in last February. He said he knew and liked the former tenant, Henry Tenon, who is now charged with Bridegan's murder. The man said he allowed Tenon to "crash" at the house on occasion, and that Tenon was "a hard working guy, six days a week."
Up until he moved out last February, Henry Tenon rented the house from Mario Fernandez, according to law enforcement sources. Fernandez's current wife, Shanna Gardner-Fernandez, was previously married to Jared Bridegan, with whom she has two children. The pair split in an acrimonious divorce followed by a years-long custody battle. 
Gardner-Fernandez has not been linked to the crime and faces no charges in the case. She has only given a few interviews, but compelled to speak out after out after what she called sensationalistic media coverage and harassment related to Bridegan's murder.
Tenon has been in jail since an August 2022 traffic stop. The home's current tenant says he is in the process of moving out because Mario Fernandez is selling the property.
What happened to Jared Bridegan? 
Police said Tuesday that Bridegan's murder was "planned" and "targeted." 
The Microsoft executive had just dropped off his 10-year-old twins at the home of his ex-wife in the Sanctuary neighborhood and was returning home to St. Augustine. Jacksonville Beach Police said the incident occurred between 7:15 and 8 p.m. and was witnessed by his daughter.
A $55,000 reward was offered for information in the case. Police said after the crime they were seeking information on a blue F-150, and that they thought Bridegan had pulled over to remove a tire from the road.
At Tuesday's press conference, police said that they now believe the tire was placed in the road on purpose. They said Bridegan put on his hazard lights and pulled over to remove the tire. When he went into the roadway, police said, he was "gunned down."  
His 2-year-old daughter was still strapped in her car seat behind him.
Tenon's arrest warrant will remain sealed for 30 days at the request of prosecutors. It was not clear why they asked to have it sealed. Tenon is due to appear in court Thursday.