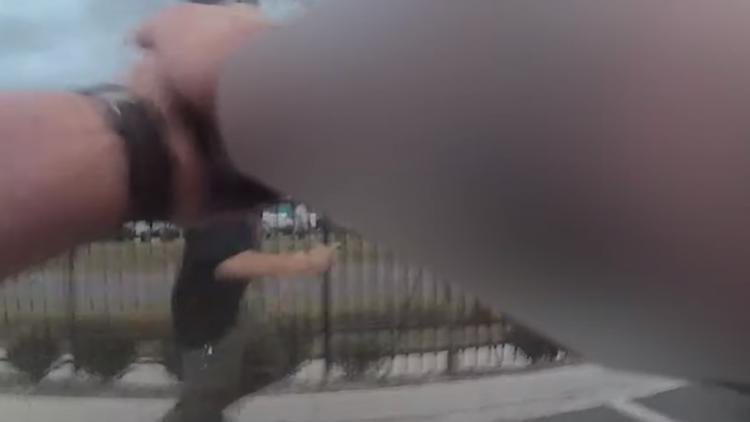 The Jacksonville Sheriff's Office published their account of body camera footage from an officer involved shooting on Jan. 19.
JACKSONVILLE, Fla. — The video above is from First Coast News' initial coverage of the incident. 
The Jacksonville Sheriff's Office released a recorded statement about an officer involved shooting investigation on Thursday afternoon.
JSO published their account of body camera footage from an officer involved shooting on Jan. 19 on the Northside during a drug arrest. 
The video begins with Sheriff T.K. Waters introducing the video before JSO's Chief of Professional Standards explains the available details of the shooting. 
The Chief of Professional Standards explains that officers were watching Eric Nathaniel Thornton and Brian Brightman who is a "known drug dealer" when they saw what looked like an "illegal drug transaction". 
Investigators blocked the van the men were in before trying to arrest them, according to the video statement. Thornton reportedly opened the side door and took off. 
When watching the body camera footage, you can see officers chasing the man identified as Thornton while yelling for him to get on the ground. One of the officers can be heard yelling, "He's got a knife" during the pursuit. 
The video shows the shooting from two different perspectives, one from the male officer's body camera footage and then the second from the female officer's body cam. The male officer can be seen holding up his gun and firing multiple times. 
Thornton drops to the ground before the officers hand cuff him. A groaning noise can be heard in the video. More officers can been seen arriving in the background.
An 8-year-old was found in the car van unharmed, according to JSO. Brightman was arrested at the scene for selling fentanyl, child abuse and the unlawful use of a communication device, police said. Two knives and fentanyl were reportedly found at the scene. 
The Sheriff's Office and the State Attorney's Office are investigating the shooting that took place in the 13200 block of North Main Street. The video statement is a part of Waters' transparency efforts, according to the JSO press release that accompanied the video. 
The release also emphasized that the investigation into the officers' conduct is ongoing and JSO has not drawn any conclusions on the appropriateness or legality of the incident.