Share and Follow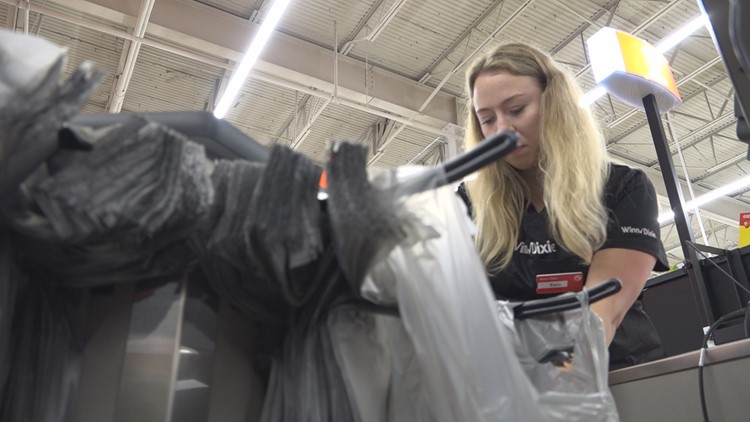 The Winn-Dixie is located at 999 University Blvd. North in the College Park Shopping Center. Residents who live nearby say the store is a game changer.
JACKSONVILLE, Fla. — Jacksonville's Arlington area has a new grocery store. A Winn-Dixie opened at the College Park Shopping Center, giving a community better access to fresh food.
Now, shoppers won't have to go too far to purchase groceries. Prior to Winn-Dixie, the closest store was three miles from the College Park Shopping Center. Other stores were six to seven miles away. 
Hundreds of people lined up at the new store on its opening day on Wednesday. Residents who live in the area say the return of the grocery store is a game changer as it alleviates the food desert that's been there for nearly 17 years. 
"You'd have to go so far back toward the river to find a grocery store," Dr. Regina Young said. "The community overall has just [be]come alive so, this and the location of it, it's just paramount." 
Young has called the Arlington area home for 30 years. More than half her time living in the area, didn't involve a grocery store nearby. It is something she described to First Coast News as "awkward." 
According to the U.S. Department of Agriculture, the community on University Boulevard North is low income. The Winn-Dixie is part of an ongoing effort to revitalize the shopping center. Not only does the grocery store give people more access to fresh food, it also brings new jobs to the community. 
"We couldn't be prouder and happier to be a part of the development and the rejuvenation of Arlington," regional vice president of the grocery store, Shawn Sloan said.
Winn-Dixie is asking shoppers to return Saturday for a community celebration. There will be free samples and giveaways.
Share and Follow