Thorpe was part of a counterprotest near the event outside Parliament House in Canberra earlier today.
Speaking at the event was anti-transgender activist Kellie-Jay Keen-Minshull, a British woman also known as Posie Parker.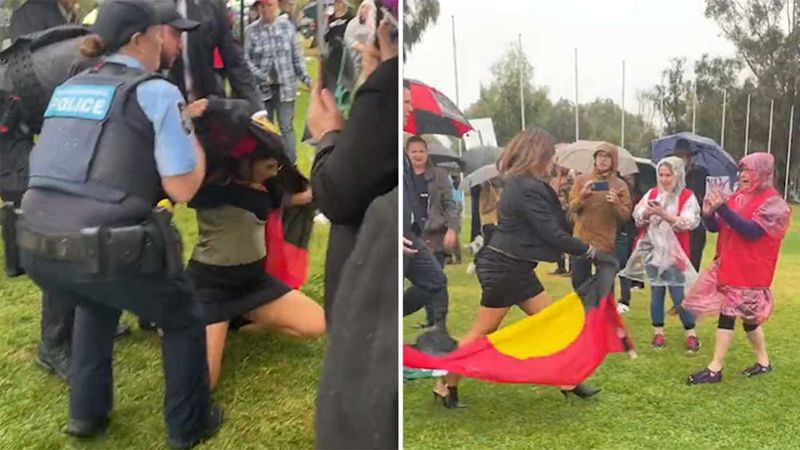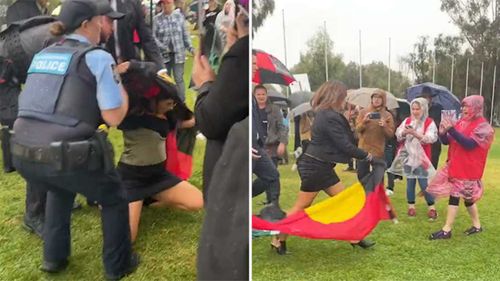 Thorpe walked up to the podium as Keen-Minshull was speaking, shouting, "You are not welcome".
When she approached the podium, she was pulled to the ground by a police officer. 
As they tried to pull her back to her feet, Thorpe cried out "let me go" and then crawled away, before getting to her feet and walking away.
"We do not tolerate this kind of filth being on Ngunnawal-Ngarigo country," Thorpe later said, referring to the anti-transgender activists.
"Let alone the Nazi support that they have. They are racist. They are homophobic. They are destroying people's lives.
"This country should be ashamed that they even let people like this into this country."
Thorpe said she had been "pulverised" by the police.
"I've been assaulted by the police today," she said.
"The police need to answer for the assault but also this government needs to answer for why these people are let into the country."
The event was sparsely attended, with only a handful of attendees outnumbered by counter-protesters.
Sign up here
to receive our daily newsletters and breaking news alerts, sent straight to your inbox.