Share and Follow
US President
Joe Biden
tripped on a sandbag and fell as he completed handing out diplomas at the US Air Force Academy graduation ceremony in Colorado.
Biden appeared fine afterward, walking without assistance to his seat in the stands. He was seen smiling and jogging toward his vehicle at the ceremony's conclusion.
The White House said the president was fine after the fall on Thursday (Friday AEDT).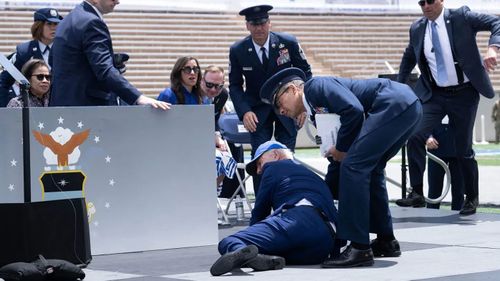 The stumble began as Biden was jogging away from centre stage, where earlier he'd delivered a commencement address to the academy's graduates.
As he was moving, he tripped, falling to the ground. The president landed on his right hip before lifting himself up on his right hand.
A group of men, including an official with the air force academy and two US Secret Service agents, grasped onto Biden's arms to help him back to his feet.
As he walked to his seat, Biden pointed back toward the ground where he tripped, indicating something had gotten in his path. Video of the moment showed sandbags placed in front of the podium near where Biden had been standing.
The president returned to his seat in the stands without assistance, and appeared in good spirits as the ceremony concluded.
"He's fine. There was a sandbag on stage while he was shaking hands," communications director Ben LaBolt wrote on Twitter.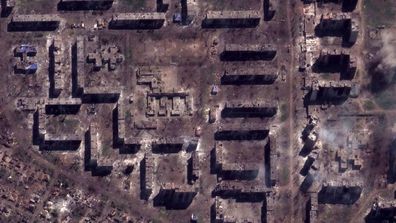 Thriving city turned into smouldering ruins
Biden is 80 years old, the nation's oldest president.
Earlier, Biden told US Air Force Academy graduates they were entering a rapidly changing world as he stressed the critical role of US support for its allies and partners and emphasised ongoing US assistance for Ukraine.
Biden said that the cadets will have "a lot to deal with" as they enter service amid a changing world with "proliferating" global challenges from Russia's invasion of Ukraine to strategic competition with China, as well as climate change and Artificial Intelligence.
And he stressed how America's global partnerships are a "sign of strength" and praised the "incredible" people of Ukraine.
"The American people's support for Ukraine will not waiver. We always stand up for democracies, always," Biden said to applause.
Sign up here
to receive our daily newsletters and breaking news alerts, sent straight to your inbox.
Share and Follow