With her bad dance moves and quirky laughter, Elaine Benes is a beloved sitcom character who is imperfect but manages to be one of the most entertaining people ever. It may be pure luck that she was added when the pilot was labeled boring and Seinfeld was nearly scrapped. Arguably, the role of Elaine earned Julia Louis-Dreyfus the fame she enjoys today—and quite a bit of money, too.
Jerry Seinfeld's net worth is massive, and fans can guess that Julia Louis-Dreyfus was paid a high salary to play Elaine over the sitcom's nine seasons. While the actress has appeared in many movies since then, and she's also had some starring roles on different TV shows, it seems like Seinfeld contributed to her bank account the most.
Keep reading to find out how much of Julia Louis-Dreyfus's insane net worth comes from Seinfeld.
UPDATE: 2023/03/21 21:34 EST BY LANE VASQUEZ
Julia Louis-Dreyfus Made Millions From Seinfeld
Julia Louis-Dreyfus made millions from Seinfeld, but her salary (and royalties) was far lower than Jerry Seinfeld's (or Larry David's).
How Much Did Julia Louis-Dreyfus Make From Seinfeld?
Julia Louis-Dreyfus has a $250 million net worth, which admittedly pales in comparison to Jerry's net worth. Still, she made a ton of money playing Elaine on Seinfeld. It's said that the cast made a "base salary" of around $45 million. That definitely makes up a large portion of the star's total net worth.
Celebrity Net Worth reported that in 1993, the cast asked for more money and began making $3.8 million a season or $150,000 for each episode. That number shot way up in May 1997 when they began making $600,000 for each episode of season 9 (or $15 million total).
Related: Julia Louis-Dreyfus Still Gets Emotional Remembering Her Last Day Backstage On Seinfeld
The cast eventually petitioned for—and won—$1 million per episode in the show's final season, according to Distractify.
While fans would likely guess that Julia Louis-Dreyfus, Jason Alexander, Jerry Seinfeld, and Michael Richards make a ton of money from royalties and reruns of the show, that's not the case.
Jerry Seinfeld and Larry David make a lot of money from Seinfeld royalties, and the other stars get some DVD sale profits and "residuals" that actors who are part of SAG-AFTRA get.
To date, Seinfeld has made an estimated $4 billion in royalties from syndication, but Julia Louis-Dreyfus hasn't seen any of that money. That might not be too terrible for the actress, though; she claims to not remember anything from her days on Seinfeld.
During an appearance on David Letterman, when asked if she missed her time as Elaine, Julia answered, "I do miss it," but she explained it was kind of weird that the show would be on syndication "forever."
"That's kind of odd because it's like you know your high school yearbook on television, you know… " She went on to say, "I have no idea what happens in these episodes so frankly, I find it rather pleasant to watch it."
What Was Julia's Salary On Veep?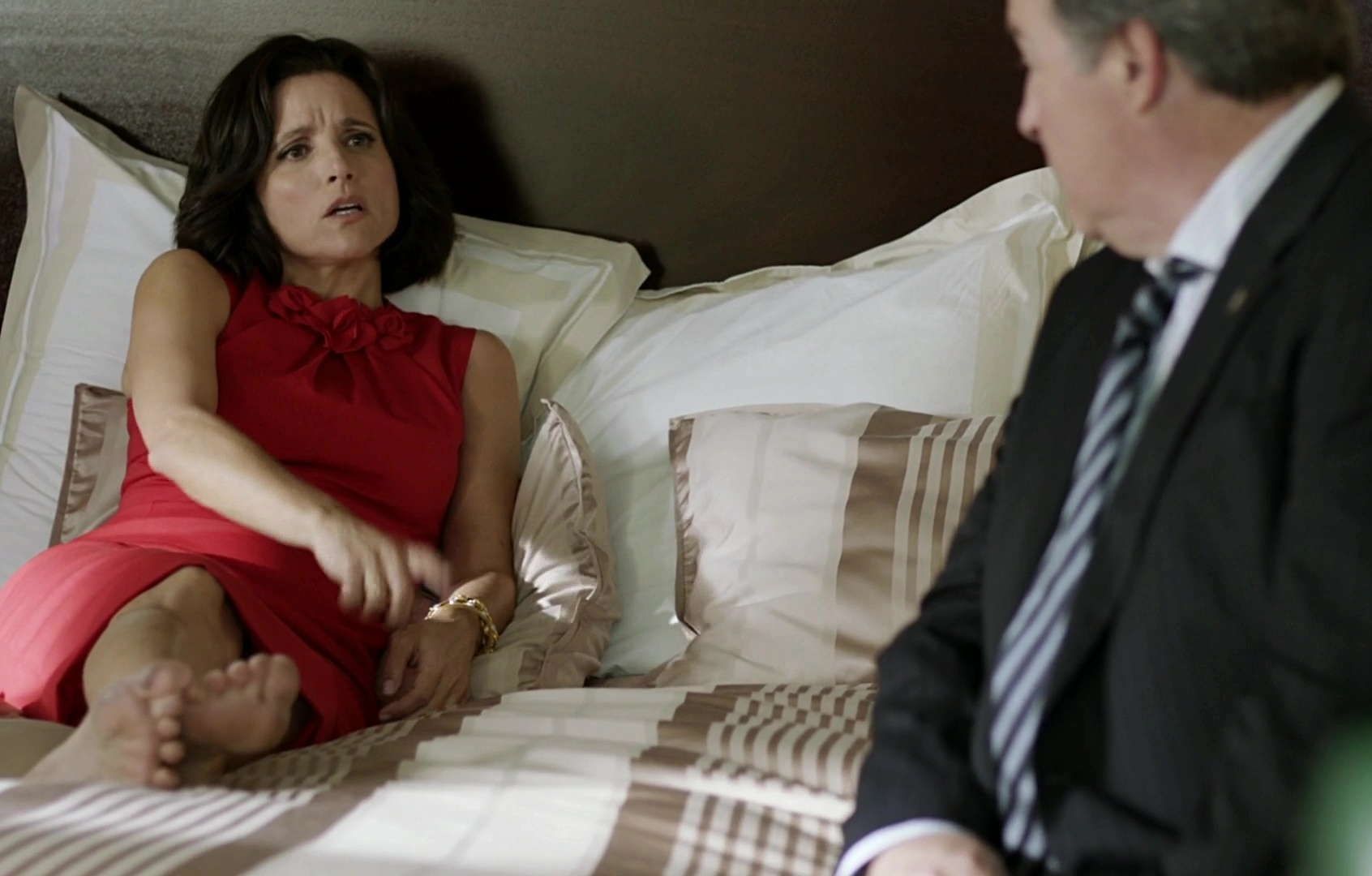 Veep aired from 2012 to 2019 and fans loved getting the chance to watch this beloved actor play a political character.
Several seasons in, in 2017, Julia Louis-Dreyfus earned $2.5 million per season of Veep. According to Cheat Sheet, that works out to $250,000 for each episode. The publication notes that the actress is said to have been given a raise for the final and seventh season.
Related: How Julia Louis-Dreyfus Got Past The Seinfeld Curse
In an interview with NPR, Julia Louis-Dreyfus talked about her Veep character.
She said, "Every time I played [Selina Meyer] even at her most heinous, I had to find a way in to make that seem truthful. You know, this is a woman who has been — she's been in battle a long time, but she is, without really realizing it, a victim of a male-dominated culture, because she herself is a woman-hating woman and does not think well of her sex. So that's why I was so pleased when we were able to come up with that whole idea of 'man up' because … it's so layered in terms of its messaging."
Julia Louis-Dreyfus Also Earned Money From Other Sitcoms
While Julia Louis-Dreyfus is of course famous for playing Selina on Veep and Elaine on Seinfeld, her sitcom The New Adventures of Old Christine was a funny show that has many fans. The show aired for five seasons from 2006 until 2010.
It was a far cry from Julia's days on Saturday Night Live, which the actress and comedian admitted to hating. After Seinfeld and other sitcom successes, it seemed she was nearly unstoppable.
Julia went on to appear in a handful of other projects before signing on for a seven-year run on Veep. A surprise Marvel role followed; Julia Louis-Dreyfus portrays Valentina Allegra de Fontaine.
Related: How Julia Louis-Dreyfus Survived A Moment That Should've Canceled Her Career
The actress clearly isn't finished in Hollywood yet, though she could probably afford to retire. Now, she also fetches a far higher price than she would have had she never appeared on Seinfeld. That alone is priceless in terms of earnings!