Share and Follow
Chelsea Field Real Name, Age, and Early Life
Born as Kimberly A. Botfield on the 27th May 1957, in Glendale, California USA, she is an actress who came to prominence in the late '80s, with the role of Teela in the cult film "Masters of the Universe", and most recently as Rita Devereaux in the TV crime-drama series "NCIS: New Orleans" (2017-2018).
She is the daughter of Wil Botfield, but there is no information about her mother and if she has any siblings or not. She went to Crescenta Valley High School in La Crescenta, California, from which she matriculated in 1975. There are no records of her further education.
Career Beginnings and Rise to Fame
From an early age, Chelsea became interested in the performing arts, but instead of acting, she decided on dance lessons, and it was dancing that brought her first roles in TV series'. She made her debut in 1984 as a dancer in the TV series "Glitter", and the following year she was Randy in the film "Perfect", while two years later she had her most prominent role to date, as Teela in the fantasy action adventure film "Masters of the Universe", starring next to Dolph Lundgren, Frank Langella and Meg Foster.
She used the momentum generated to appear in a number of successful projects until the mid- '90s – she starred in the sci-fi thriller film "Prison" in 1987, with Viggo Mortensen and Lane Smith, and was the lead star of the series "Nightingales" (1989). Then in 1991 she was chosen as the female lead in the action drama film "Harley Davidson and the Marlboro Man", co-starring Mickey Rourke and Don Johnson and also starred with Bruce Willis and Damon Wayans in the action comedy crime film "The Last Boy Scout".
[embedded content]
Continual Success
Nothing changed much for Chelsea in the next few years, as she continued to star in films such as "Dust Devil" (1992), "Snapdragon" (1993), and "Andre" in 1994. The same year she starred with her future husband – Scott Bakula – in the thriller drama film "A Passion to Kill". Before the '90s ended, she appeared in a few more successful projects, such as the thriller film "Wicked", starring Julia Stiles, but then she became more focused on family matters, and didn't appear much on screen.
Acting Comeback and "NCIS" Role
Chelsea returned to the big screen in 2008 with the role of Jeanne in the film "Just Add Water", but it is most recently that she made another breakthrough, with the role of Rita Devereaux, next to her husband in the TV series "NCIS: New Orleans", in which he portrays the lead character, Special Agent Dwayne Cassius "King" Pride.
Chelsea Field Net Worth
Since launching her career, Chelsea has featured in over 50 film and TV titles, most of which increased her wealth,. So, have you ever wondered how rich Chelsea Field is, as of mid- 2018? According to authoritative sources, it has been estimated that Chelsea Field's net worth is as high as $500,000, which is quite decent don't you think?
https://www.instagram.com/p/BXvCqd1F7G4/
Chelsea Field and Scott Bacula Relationship, Wedding, Children
Chelsea and Scott met while on the set of the film "A Passion to Kill", and started a romantic relationship, actually being together for 15 years before deciding to tie the knot. The wedding was a small and private ceremony with only friends in attendance. The two welcomed their first child, Wil Botfield on the 1st December 1995, while their second child, also a son, Owen, was born in 1999.
Chelsea Field Body Measurements, Height, and Weight
Do you know how tall is Chelsea, or how much she weighs? Well, Chelsea stands at 5ft 9ins, which is equal to 1.75m, while she reputedly weighs 120lbs or 54kgs. Her vital statistics are
33-24-35, which makes her attractive even at 61 years of age, and after two pregnancies. Hope she keeps her fit figure in the future.
Chelsea Field Husband, Scott Bakula
It wouldn't be fair not to share a few facts about Chelsea's husband, the Golden Globe Award-winning actor, Scott Bakula.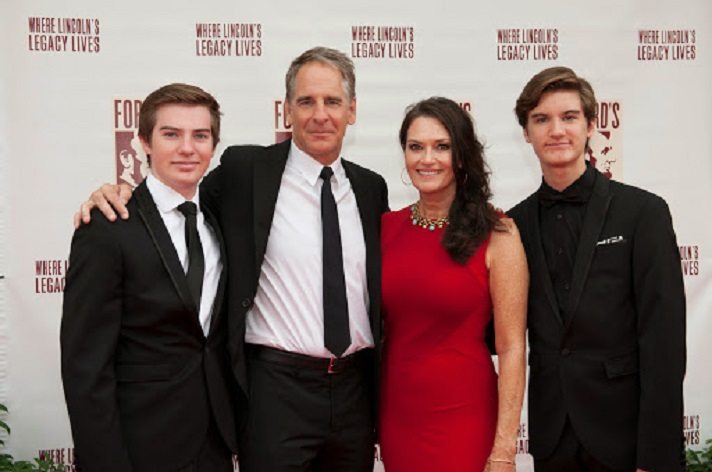 Born Scott Stewart Bakula on the 9th October 1954, in St. Louis, Missouri USA, he is best known to the world as Captain Jonathan Archer in "Star Trek: Enterprise", and also as Special Agent Dwayne Cassius "King" Pride on "NCIS: New Orleans", among many other roles he has secured so far in his career.
The oldest of three born to Sally and J. Steward Bakula, he is of Czech ancestry, and grew-up with his younger brother and sister in St. Louis. After finished high school, Scott enrolled at Jefferson College and later the University of Kansas, but became a part of the musical "Godspell", which at the time toured the USA, and so left the University and toured the US.
Before his screen debut, Scott also featured in several Broadway plays, including "Marilyn: An American Fable", playing Joe DiMaggio. He won a Golden Globe Award in the category Best Performance by an Actor in a Television Series- Drama, for his portrayal of Dr. Sam Becket in the TV series "Quantum Leap". His net worth is estimated at over $10 million.
Source: Affair Post
Share and Follow