Share and Follow
Born Kristen Mary Jenner (née Houghton; formerly Kardashian) in San Diego, California USA, on 5 November 1955 under the zodiac sign of Scorpio, she's one of the most famous reality TV personalities and entertainment managers in the world. She gained worldwide recognition for starring in her own reality series "Keeping Up with the Kardashians", which has been aired on the E! cable network since 2007. Her amazing accomplishments in the world of entertainment have helped her to stand out among many other celebrities, and her rise to global fame caused enormous media interest in her love life as well. Over the years, Kris Jenner has been romantically linked to nine men, if not more! So, we take a look back at her complete dating history. Just keep listening for everything you want to know about it!
According to Daily Mail magazine, Kris and professional photographer Alfred M. Garcia started their romance around 1973, apparently her first real long-term relationship.
At the time, she was working as a clerk at her mother's clothing store in San Diego's Mission Valley shopping mall, and they were introduced by their mutual friend, Debbie Kathleen Mungle. During their relationship, Alfred took a series of photoshoots of young Kris, which were later published by the magazine, when he decided to open up about their relationship. He said, "We just had a relationship where we maybe kissed and got affectionate, but nothing very heavy."
After dating for less than a year, they parted their ways but remained on good terms – she even hired him to photograph her fancy wedding to Robert Kardashian. "We went our separate ways. I was really involved in photography, and my attention was on that. I wasn't into having a steady girlfriend, but Kris and I stayed friends, and then she called me to do the model pictures, and then her wedding," he said. Besides the details about their relationship, Alfred also described Kris as a girl who "always had her eyes set on the end of the rainbow. She was always looking for something grander."
In the mid-1970s, Kris fell in love with Mexican-American professional golf player Cesar Sanudo. They met each other at a golf tournament in Hawaii, and soon became romantically involved in a relationship. She reportedly kept the truth about her age since she was ten years younger than Cesar. They were so crazy about each other that everyone thought that they were meant to be! Cesar even popped the question, and they even moved in together.
However, Kris soon became unfaithful – while they were engaged, she fell for lawyer Robert Kardashian, and they became so close to each other that Cesar even caught them in his bed. According to Radar Online magazine, Cesar's brother Carlos revealed more details about the incident, saying "Cesar was at a tournament in the South, and he had become so suspicious of Kris that he missed the cut because he was such a mess. He hurried back to San Diego, got home around midnight, went upstairs – and found Kris in the bedroom with Kardashian! Cesar yelled, 'You son of a b***h!' and Kardashian started to cry. Cesar grabbed him and threw him out of the house."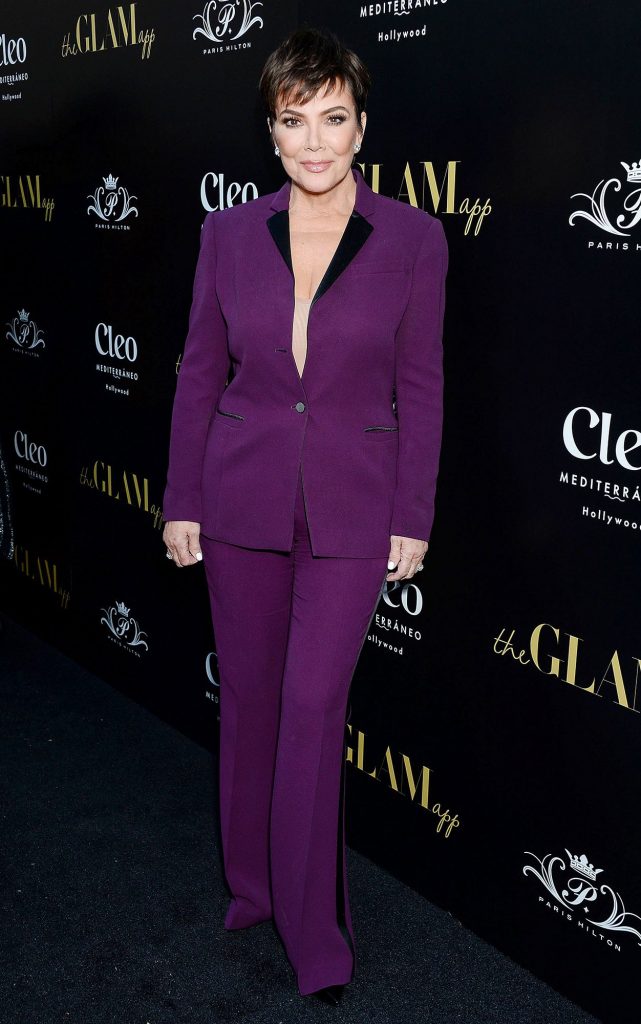 Moreover, Carlos added that his brother believed Kris had an affair with Robert's friend, O.J. Simpson, as well. Carlos also claimed that she tried to flirt with him as well, saying "Whenever a bunch of us would be partying over at Cesar's condo while he was out on the road, Kris would hit on any number of guys. She even made a move on me! Of course, I would never do anything to hurt my brother, and I never understood how Kris could do something so lousy." Following their split, Cesar went on to marry Jacqui Schenz, while she was trying to win the heart of handsome lawyer Kardashian!
After being dumped by Carlos, Jerry Oppenheimer revealed in the book "'The Kardashians: An American Drama" that Kris was dumped by Robert Kardashian as well. According to Daily Mail magazine, that happened in 1975 when Robert fell in love with Elvis Presley's ex-wife, Priscilla Presley. At the time, Kris was working as a junior flight attendant for American Airlines and was based in New York City, while he lived in Los Angeles, California.
[embedded content]
Her close friend, Cindy Spallino, recalled that period of her life, "I knew she wanted to marry him, but I also knew from her that Priscilla Presley was there in the background." She also added that Kris was "desperate" to marry him, and that she "would call Robert every night", but Robert wanted to marry Priscilla. Luckily for Kris, Priscilla told him that she didn't have any intentions of marrying anyone until after Elvis passed away. So they eventually ended their romance after dating for a year, and the successful lawyer decided to rekindle his relationship with Kris.
The couple eventually exchanged their wedding vows at a lavish ceremony at the Westwood United Methodist Church, Los Angeles on 8 July 1978. It was officiated by Pastor Kenn Gulliksen, who would described their relationship to Oppenheimer as "beautiful and genuine. When I looked at them and the way they looked at each other, and when I heard them share their vows, I was convinced their marriage would last forever."
Proud Parents of Four Children
Robert and Kris soon became the parents of four children. Kris gave birth to their first child, a daughter named Kourtney Mary on 18 April 1979, welcomed their second daughter named Kimberly Noel, 'Kim', on 21 October 1980, and third daughter Khloé Alexandra on 27 June 1984, before son Robert Arthur, 'Rob' was born on 17 March 1987. All of their children would later became famous through the reality show "Keeping Up with the Kardashians".
Kris Jenner and O.J. Simpson – Just a Rumor?
Unfortunately but perhaps unsurprisingly Kris and Robert's marriage soon started to fall apart, due to her infidelity. She was constantly in the spotlight while she was married to Robert, firstly rumored to be pretty close to his friend, O.J. Simpson, known for being tried for the murders of his wife and her friend. Their affair was claimed by Simpson's former manager, Norman Pardo, in the 2019 documentary film "Who Killed Nicole?" He said that Simpson told him the details about it back in 2003. It was allegedly the reason Kris and Robert divorced in 1991.
OJ Simpson In Talks . . . To Be Managed By KRIS JENNER . . . And Get His Own E! REALITY SHOW!!! http://www.thebbbuzz.com/oj-simpson-in-talks-to-be-managed-by-kris-jenner-and-get-his-own-e-reality-show/

Posted by Bbbuzz on Friday, July 21, 2017
According to Page Six magazine, O.J. Simpson denied those rumors, "I would never do that to my friend Bob, (who was Simpson's lawyer]. I would never tap Kris." People magazine reported that she also shut down those rumors in an episode of "KUWTK", saying, "They printed a story that I was sleeping with O.J. That f****** piece of s***. […] It's so tasteless and disgusting," but adding, "I'm so over stupid rumors of things that never happened. I think it's just really wrong." Moreover, Simpson was rumored to be the biological father of Kris and Robert's third daughter Khloé, since everyone noticed that she looks different to her siblings. At one point the rumors went too far, and Khloé took a DNA test, proving that Robert was her biological father.
During her marriage with Robert Kardashian, Kris became romantically involved with professional soccer player and Emmy-nominated Hollywood animator Todd Waterman. They started their secret relationship back in 1989., and it lasted for about two years.
Kris would reveal all the details about their affair in her 2012 autobiographical book "Kris Jenner… and All Things Kardashian", but used the false name 'Ryan'. So, Todd decided to open up in his interview with Daily Mail magazine, saying, "I was attracted to Kris," and added, "It was fate, we invited it and we just ran with it and from that point on. We didn't hold back." Todd also said, "To my knowledge I was the only affair she had." He also shared that they continued seeing each other from time to time while she was married to Bruce Jenner.
At the time of her extra-marital affair with Todd, Robert doubted her fidelity, so decided to hire private detectives to catch them together. They were soon caught by Robert's best friend in his home gym, and shortly afterwards Robert filed for divorce from Kris. According to Mirror magazine, she wrote in the book, "Suddenly, I realized everything that was great about my marriage. Robert was the greatest guy in the world.
He would never cheat on me. He only wanted the best for me. He adored me, and I treated him so badly. […] I was really ashamed of myself. But I didn't try to get Robert back. I didn't want to insult him like that. I had been so wrong. I had embarrassed him, humiliated him, destroyed him." She would describe her affair with Todd as one of the "biggest regrets" of her life – during her appearance on Diane Von Furstenberg's podcast "InCharge With DVF" in 2019, Kris said, "I didn't know what to do. I had four kids, I was single. I didn't know where I was going to live. I didn't know how I was going to make a living. It was the scariest time to be that young." The divorce was finalized in March 1991, but no matter what, they remained on good terms. Rob passed away from esophageal cancer in September 2003, at the age of 59.
In November 1990, Kris met retired Olympic gold medal-winning athlete Bruce Jenner on a blind date.
In no time, they became romantically involved, and a month after her divorce from Robert was finalized, they tied the knot. Their wedding took place at a Bel Air section of Los Angeles on 21 April 1991; It was his third and Kris' second marriage – Bruce has four children from his previous marriages. On 3 November 1995, she gave birth to their first child, a daughter named Kendall Nicole Jenner, while the couple welcomed their daughter named Kylie Kristen Jenner, on 10 August 1997.
Soon, Kris' career took off, while her relationship with Bruce fell apart, but they didn't end their relationship until June 2013, but didn't announce it until October. She told US Weekly magazine, "We are living apart, but there is no animosity. We are united and committed to our family," and added, "We ended a marriage, but that's not the end of our friendship. I will always love him, but we are no longer a couple in that way." They remained on good terms and continued spending a lot of time together. A year later Kris filed for divorce, citing irreconcilable differences as the main reason for their separation.
Happy Friday! Shop my essentials on #KardashianKloset #HappyShopping ✨https://t.co/7vAmhUreSa

— Kris Jenner (@KrisJenner) September 25, 2020
According to E! News magazine, the former couple said, "We will always have much love and respect for each other. Even though we are separated, we will always remain best friends and, as always, our family will remain our number one priority." Kris also added, "I would rather have him in my life as a friend than not in my life at all." Their divorce was finalized in December 2014.
In April of the following year, Bruce came out as a trans woman and changed his name to Caitlyn. In a 2015 cover interview for Vanity Fair magazine, she opened up about the divorce, saying "The first 15 years I felt she needed me more because I was the breadwinner…. Then really around the show, when that hit and she was running this whole show and getting credit for it and she had her own money, she didn't need me as much from that standpoint. The relationship was different," but adding, "I think in a lot of ways she became less tolerant of me. Then I'd get upset and the whole relationship kind of fizzled."
Caitlyn recently explained during her appearance on Rob Lowe's podcast "Literally!" that her transition wasn't the reason for their split. She said, "After 23 years, Kris and I went our separate directions. My identity…it was not a big part of us separating. There were so many other bigger issues out there."
Following her split from Bruce Jenner, Kris was rumored to have hooked up with Benjamin 'Ben' Flajnik, a reality TV personality, known for being the runner-up of the seventh season of "The Bachelor". In October 2013, Daily Mail magazine reported that Kris was spotted getting cozy with him at Kanye West's concert in Oakland, however, a source close to them shut down those rumors since he told the magazine, "They are not dating, they're just really good friends. They were with a big group of people." In his interview with US Weekly magazine, Ben would deny it as well, and confessed that he was actually dating someone else. Kris also slammed those rumors since she told E! News magazine, "Ben and I are good friends. I think he is a great guy, but we aren't dating!"
Kris Jenner soon put a spell on tour manager Corey Gamble – they met each other at Riccardo Tisci's birthday party thrown by Kanye West in Ibiza in August 2014. Shortly afterwards they started their relationship, and were spotted together for the first time during the performance of Kanye West at the "Life is Beautiful" music festival in Las Vegas. In March of the same year, Corey made his debut appearance in an episode of their reality show "Keeping Up with the Kardashians", which was all about Kris and Corey's very loud sex. The couple made their debut red carpet appearance at 2016 Met Gala.
In October 2017, it was rumored that Kris had ended her relationship with Corey, and had fallen in love with Nigerian billionaire Christopher Cunningham, whom she allegedly met during her vacation in Greece. A source told Radar Online magazine, "Kris and Christopher have seen each other a couple of times, including this past August, but they are definitely not dating. Kris wishes that she was with him and has been trying her hardest to wrangle him in, but the distance between them makes their relationship virtually impossible." Maybe it was true, and Kris and Corey split at the time, but they eventually renewed their romance.
[embedded content]
In August of the following year, Kris and Corey set off the engagement rumors after Kris' appearance on "The Late Late Show with James Corden" wearing a huge diamond ring. According to Mirror magazine, when the host asked her about a possible engagement, Kris replied, "The ring's right there, it's a bit of a giveaway," but then said "it's just a ring." During the same year, she revealed in an interview with Laura Wasser on her podcast "Divorce Sucks!" that she would probably never marry Corey. According to Daily Mail magazine, she said, "You know, you never say never, but I often say it's just not what I think I need to do again based on my past. I'm in a really great relationship right now, and I'm happy and I don't want to mess that up." She also added, "I don't have the need to put on a long, white dress and walk down an aisle. I've done that. I've had the big wedding, I've had the babies and the kids—six of them, by the way. It's not like we need to do that again; my body wouldn't co-operate if I wanted it to. I think that I just feel really grateful and blessed for my past experiences and I'm looking forward to my future, and I just don't think that I want to go there."
The lovebirds frequently share their photos across social media account. In November 2019, Kris posted their photo on her official Instagram account for Corey's birthday, and wrote in the caption, "Happy Birthday @coreygamble!!! I love you babe! Thank you for holding us all down and being such a rock. You are the most amazing partner, best friend and ride or die, and I am truly blessed to have you in my life. Thanks for being on this crazy journey with me. I love you" with a heart emoji.
Apparently Kris and Corey are still going strong. Recently a source close to her told The Sun magazine, "Kris is still with Corey but she's not engaged and they won't get engaged," adding "She will never get married again. This works for her."
Whether she might change her mind or not remains to be seen! Anyway, the most important thing is that they enjoy their love! Of course given her checkered history in relationships, there will inevitably be suspicions that Kris is finally settled-in for the long haul.
Source: Affair Post
Share and Follow