Share and Follow
Unfortunately, sunscreens with a white cast can still be a thing in 2023 due to skin-protecting ingredients like zinc oxide and titanium dioxide that work to reflect the damaging UV rays.
Mineral sunscreens are the ones that usually cause that ghostly glow, especially on darker skin tones. Chemical sunscreens are less likely to cause a white cast but are controversial due to the lack of reef-safe claims. Thankfully, mineral sunscreen formulas continue to improve, and numerous formulas are now a mix between mineral and chemical.
So what's the difference between mineral and chemical sunscreens? Chemical sunscreens penetrate your skin and offer protection by dispelling absorbed UV rays, while mineral sunscreens sit on top of your skin to repel UV rays.
Many people have strong opinions on which one is better, but I won't tell you to choose one over the other as I like both — and it ultimately comes down to what you prefer.
As an esthetician and skin care expert working in the beauty industry, sunscreen holds a special place in my heart. Keep reading to see my expert-recommended sunscreens for specific skin types. And always remember to reapply your sunscreen every two hours and use a water-resistant sunscreen while sweating and swimming to keep your skin protected.
And if you aren't wearing sunscreen every single day, make sure you do to help minimize the look of lines, wrinkles and age spots and prevent skin cancer.
1. Best For Acne-Prone Skin & Rosacea: EltaMD UV Clear Face Sunscreen, SPF 46 , $41
This lightweight and silky sunscreen is excellent for skin that suffers from redness and inflammation associated with acne and rosacea as it's calming, protecting and non-comedogenic (meaning it won't clog pores). It has niacinamide (vitamin B3), hyaluronic acid and lactic acid: All ingredients that help hydrate the skin, even overall skin tone and promote healthy-looking skin.
2. Most Loved For Priming: Live Tinted ​​3-in-1 Mineral SPF 30, $32
This is a moisturizer, makeup primer and mineral SPF all in one. It's reef-safe, vegan and fragrance-free, and formulated with a weightless non-nano zinc that blends seamlessly into the skin for a natural glow and no white cast on all skin tones and types.
3. Top Drugstore Brand: Neutrogena Ultra Sheer Dry-Touch, $9.58
Like the name says, it's super sheer, lightweight and non-greasy. You know how some sunscreens feel heavy and sticky? Yeah, this one doesn't at all. Its fast-absorbing formula is dry to the touch and is a great choice for outdoor activities.
4. Most-Loved By Deeper Skin Tones: Black Girl Sunscreen, $15.99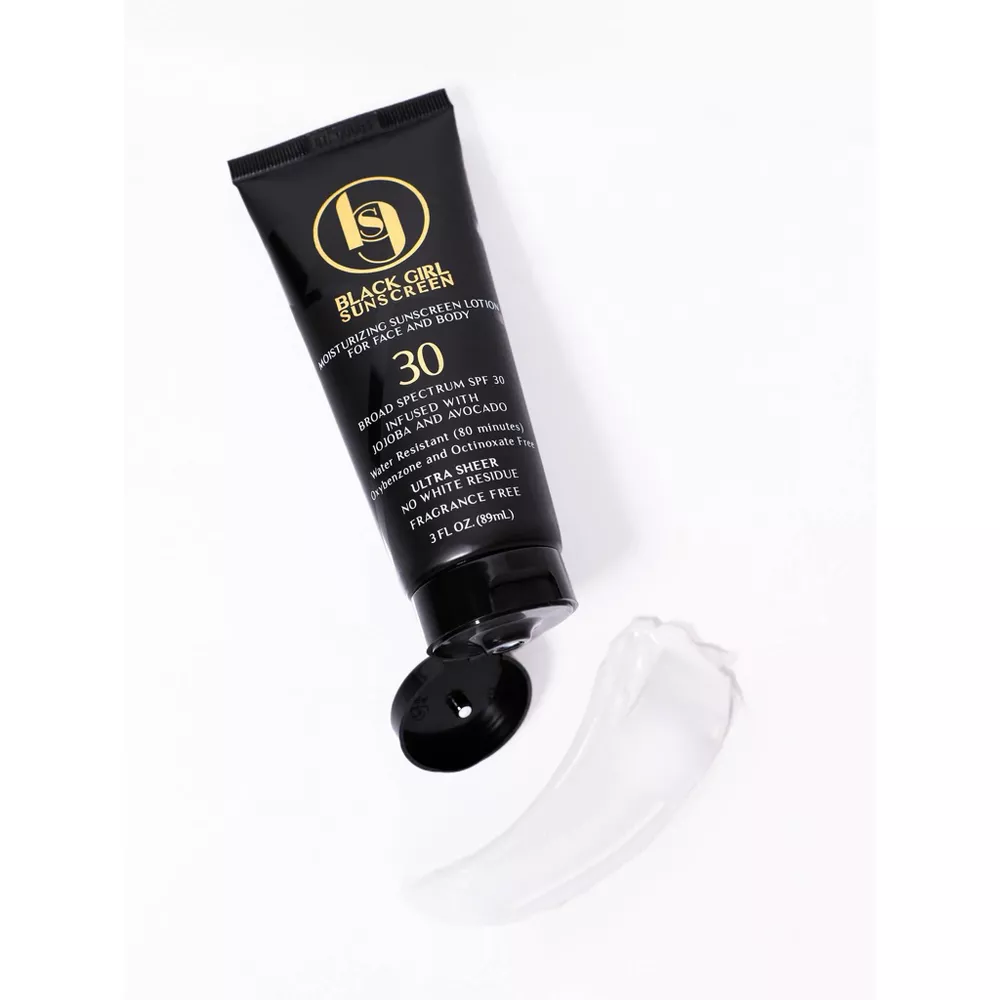 This will forever be my go-to. This sunscreen was the first to formulate with dark skin tones top of mind and set the "no white cast" trend. Perfect for a beach vacation, this sunscreen has skin-loving ingredients like avocado to reduce the signs of aging, jojoba to soothe and moisturize while preventing acne and cacao to even the overall complexion. Use on your face and/or entire body and enjoy a moisturized, even and radiant glow.
5. Best For Brightening + Dark Spots: Murad Environmental Shield Essential-C Day Moisture SPF 30, $61.20
Vitamin C is an ingredient you should be using each day, and I love that it's already in this sunscreen because that's just one less step. Vitamin C is a must for reducing hyperpigmentation and dullness and targeting the signs of aging. And this clinically-proven formula will do just that. Plus, shield your skin from environmental stressors and damaging UV rays. This is great for all skin types looking for a brighter, more even-looking complexion.
6. Top Water-Resistant For Swimming: Supergoop! PLAY Antioxidant Body Sunscreen Mist, $21
This sunscreen is non-aerosol, water-resistant for up to 80 minutes and travel-friendly. It's also formulated with vitamin C and green tea extract to counteract and protect against free radical damage — which occurs while in the sun.
7. Favorite Tinted Sunscreen Foundation: Tower28 Sunny Days SPF 30, $32
It's a lightweight, tinted, mineral SPF that evens out redness and protects your skin from sun damage and blue light from laptop and phone use. With 17 flexible shades, you'll have a natural finish so your real skin still shines through. Also, this product is the first and only complexion makeup product with the National Eczema Association's Seal of Acceptance — that's a big deal.
8. Best for Eczema + All-Over Dry Skin: Urban Hydration Castor & Shea SPF 30, $22.56
If you follow me on Instagram or TikTok, you know I've spoken about this product many times. A small but mighty Black-owned business formulated this SPF with pure, natural and effective ingredients like shea butter and castor oil, which are the best for soothing, healing, and moisturizing dry, flaky skin. Friends and clients have asked me how to heal and soothe their eczema, and I recommend a pure, natural shea butter. Urban Hydration's sunscreen is great for the face and body but better for drier skin types and works great for combo skin during the winter.
9. Trendiest Reef-Friendly Sunscreen: Summer Fridays Shade Drops, $36
Summer Fridays mineral sunscreen is perfect for all skin types and tones. It is formulated with squalane for softer-looking and plumper skin, an antioxidant complex that helps protect skin against free-radical damage and chamomile to soothe inflammation. It's lightweight, reef-safe and comes in recyclable packaging.
10. Most-Loved For A Dewy Glow: Supergoop! Every. Single. Face. Watery Lotion, $34
This everyday sunscreen is for all skin types, tones and routines — no matter the season. It is water-resistant for up to 40 minutes and formulated with cress sprout extract to help the skin retain water, filter pollution and strengthen the skin barrier. Plus, wild butterfly ginger root extract helps filter blue light and reduces the visible effects of free radicals. This has no white cast, a natural, non-greasy finish and a cool feeling upon application.
If you enjoyed this story, check out the 13 best weekender bags for travel, starting at just $43.
More from In The Know:
This air-circulating pedestal fan is so powerful that it feels like an AC — plus, it blows air in every direction
Want a Coach bag but don't have much to spend? These 13 affordable picks are all 70% off
The ultimate men's linen shop for summer — shorts, shirts, suits and more
This $10 shampoo is the industry's best-kept secret for curing bald spots and dryness: 'It's a miracle, actually!'
Listen to the latest episode of our pop culture podcast, We Should Talk:
Share and Follow