Share and Follow
Chicago hot dogs are a unique and flavorful take on an American classic, that, in its purest form, is a simple pleasure. Dog, bun, mustard. What more do you need? In Chicago, they give you a lot more! The Chicago dog, a product of the Great Depression, was created when vendors in the city's Maxwell Street Market would add piles of relatively cheap veggies to sausage sandwiches. This affordable—and well-balanced—meal was a hit with the city's working-class population.
"Piled high with the garden," Chicago dogs are anything but basic, and purists have some very specific rules about them. One you may have heard a lot about is that they must never, ever have ketchup touch them. Ketchup shouldn't even be in the same kitchen as a Chicago-style hotdog.
Of course, with all foods that have a highly devoted, almost cult status, it's never that simple: The bun should be steamed and covered with poppy seeds, the dog is steamed (never grilled), the relish should be a bright, almost neon green; the list goes on. What's not up for debate is that most versions are fantastic, and chefs have some very strong opinions about who makes the best hot dog in the city.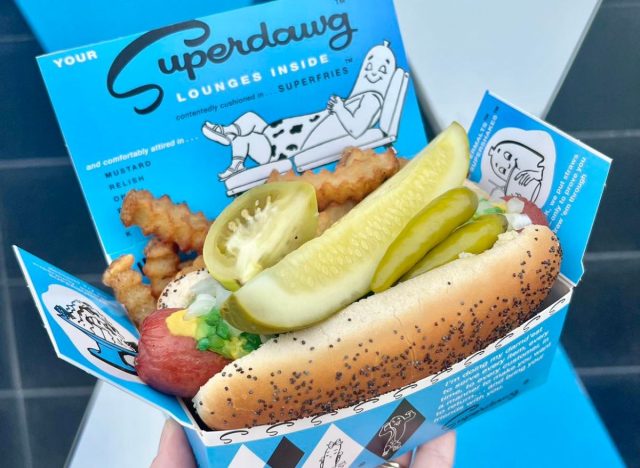 "It's gotta be Super Dawg!" says James Beard Award Winning and Rising Food Network Star, Chef Jonathon Sawyer, chef and partner at Kindling. Sawyer, who was raised in Chicago and has been cooking in the Midwest most of his career, is a huge fan of this famous hot dog stand that's been slinging dogs since 1948.
First, it's all about the visuals when you approach this stand, says Sawyer. "The stand is iconic with the dancing statues of Mr. and Mrs. Dawg adorning the top of the building, welcoming you to a true Chicago experience."
Next, it's about the actual product they use, Sawyer explains. 
"They use a snappy super dog, not a frankfurter, not a red hot, not a hot dog. Plus, they have the best, most crispy, salty consistent french fries of all the old brigade Wolfies/ Portillo/Weiner Circle. And you have to finish it like me, with a pineapple super soda. Great packaging preserves the build of this hot dog and allows for easy transportation for a bunch of to-go dogs for a party.  Add onions always chopped fresh and that crisp kosher dill."
He's not alone in his passion for this stand. Anne Lanute, executive chef and Auguste Escoffier School of Culinary Arts lead instructor, also has some pretty passionate thoughts about Super Dawd.
"First thing's first, Lanute told us, "it's not just a "hot dog," it's a SUPER DAWG!! 
It's about the great food and the amazing experience, she said, "Here you get to order your pure beef hot dog in a classic poppy seed bun through a loudspeaker, and it arrives nestled in a cozy box, topped with mustard, piccalilli relish, chopped onions, sport peppers, kosher dill pickle, and a pickled green tomato, and surrounded by a heaping pile of Superfries (get the cheese sauce)."
Speaking of the old brigade of hot dog stands, celebrity Chef Ming Tsai's pick is another from the same area. The Wieners Circle (commonly known as Wiener Circle), is a no-nonsense shop serving charred or steamed dogs, Polish sausages, and even cocktails like River Monster (Rum, Green River Syrup, Vanilla, Lime).
Tsai says, simply "Weiner Circle, after midnight a must. Trust me. Excellent Chicago Dog and Cheese Fries."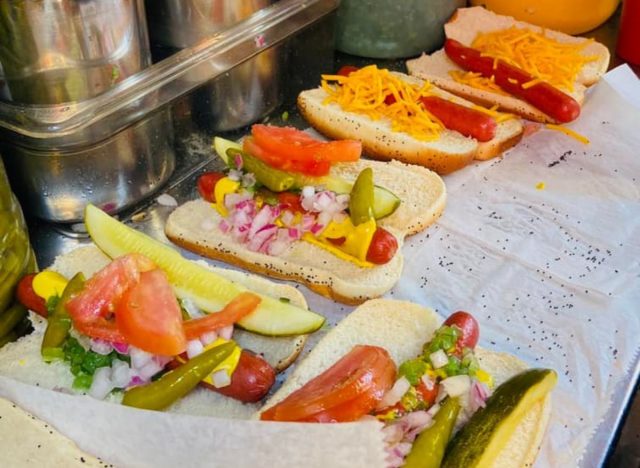 These hot dog stands, scattered around the city, are easy to find if you check their Facebook page. Of course, some stands are better than others and Chef Matt Condon of 1308 Chicago has his particular favorite that fits in perfectly with an excellent Lake Shore bike ride. 
"My favorite hotdog in the city is from Kim and Carlos' hotdog stand near the Field Museum," Condon told us. "I always use the Field Museum as a halfway point for a bike ride on the Lake Shore trail. They have the perfect Chicago-style dog for a great price. It's a great way to refuel before my ride back to the North Side."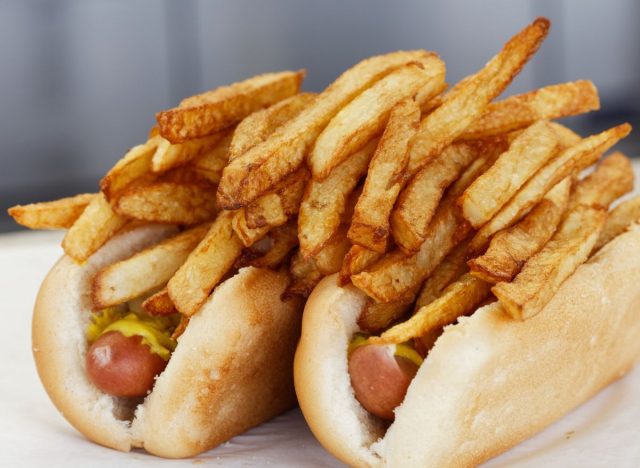 This no-nonsense stand, open since 1946, has a few rules (no seats, no ketchup, no pretense) and a lot of chefs who are fans. Located just outside the city, we can confirm Gene and Jude's is worth the trip. 
"The best hot dog in Chicago and my number one go-to spot when touring in Chicago is Gene and Jude's, says Chef Brian Pancir, corporate culinary director of Thompson Hospitality Group in Virginia. "They have the best classic beef hot dog with mustard, relish, and peppers. You know when you take your first bite and that snap of the beef casing hot dog bursts with its natural juices, with the tangy mustard and sweet pickled relish, and the hint of spice from the sport peppers. [It's] the ultimate combination for the best hotdog in Chi-Town."
This stand got a lot of love from chefs, with Chef Rachel Cuzzone, Auguste Escoffier School of Culinary Arts instructor telling us, "I love Gene and Jude's! I love the hotdogs but (I also) love that you have the hand-cut fries right on top, so you get a nice duo bite!" 
It's all about the atmosphere (or lack thereof) says Cuzzone," 'No Seats,' means customers can eat hot dogs at Gene and Jude's counters or in their cars/as a tailgate! And it's funny how they do not have ketchup, and the McDonald's next door charges for it!" 
Chef Blaine Welsh, executive chef of Destination Unknown Restaurants in Washington, D.C. and a Chicago native, says, "I stan Gene and Jude's. While technically located in a suburb, it's worth the drive. They are coming up on 80 years of business. The line is always out the door and their fresh-cut fries are perfect. This place isn't just the best for a dog, it's one of those places that gives you a rare glimpse into another era, without feeling trite."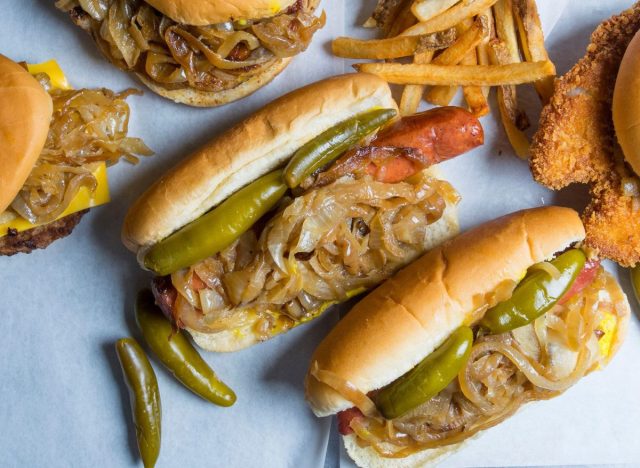 One chef even went outside the bounds of what many would consider a hot dog and picked an all-pork sausage. Maxwell Street does offer a hot dog, but culinary consultant  Chef Ron Stewart swears by their Polish sausage. 6254a4d1642c605c54bf1cab17d50f1e
"Maxwell Street Polish Sausage Sandwich holds a special place in my heart and stomach. Don't get me wrong, it might not have the fancy reputation of its hot dog cousins, but there's nothing that beats sinking your teeth into that juicy sausage smothered in onions and pickles," says Stewart."Plus, it's a steal at only two bucks a sandwich! So, what makes this sandwich so darn good? Well, for starters, it's not even technically a hot dog, it's a smoked pork sausage nestled in a soft bun that's simply divine. The toppings are the cherry on top; Crispy pickles and sweet diced onions round out the flavor explosion."
Share and Follow