Whether you like to eat it in a bowl with cheese, onions, and sour cream or you enjoy it smothering a hot dog or fries, there's always room for some piping hot chili. The best part about chili is that everywhere you go the recipe is unique, with the popular debate being whether to include beans or not. In terms of fast-food chili, most people know that Wendy's serves up the iconic dish, but a few other chains also have it on the menu.
While chili is rare these days on fast-food menus, it can be one of the best sides or toppings for a few reasons. First of all, it's well known that chili is one of those dishes that gets better as it sits, so you don't have to worry about freshness. It often contains beans, which add a hit of fiber to your meal. Plus, it is right at home in a cup or bowl, tossed over a hot dog, or smothering a cheeseburger, making it a versatile topping.
Here are some of the best fast-food spots that still sever this iconic warming side.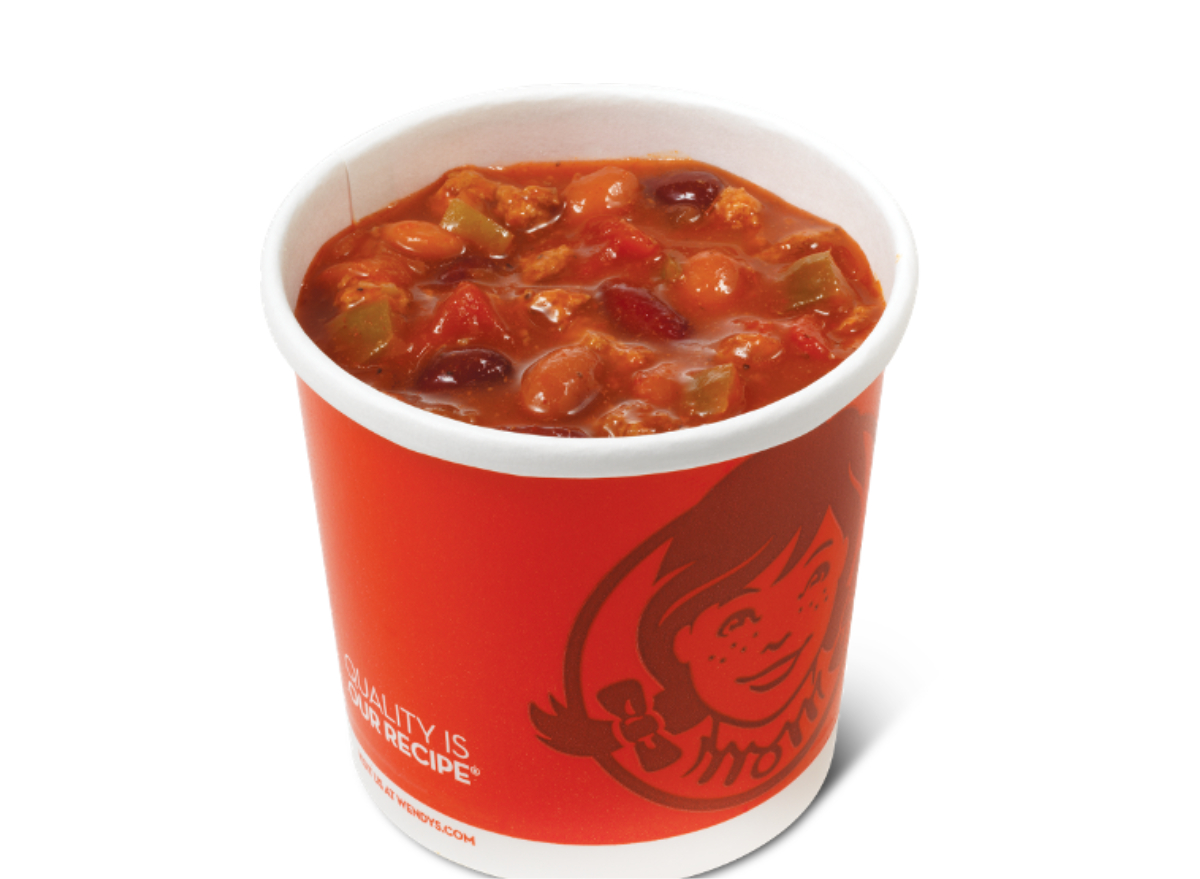 Since opening its restaurant doors in 1969, Wendy's has taken pride in its iconic chili. According to Wendy's website, its famous chili is made with a perfected combination of ingredients—including the chain's signature beef, a mix of hearty vegetables, chili beans, and savory spices. Not only has the iconic homemade recipe not changed much since its debut, but it's also allowed the company to save money and avoid excessive food waste, by using leftover hamburger meat, just like Dave would have wanted it.

6254a4d1642c605c54bf1cab17d50f1e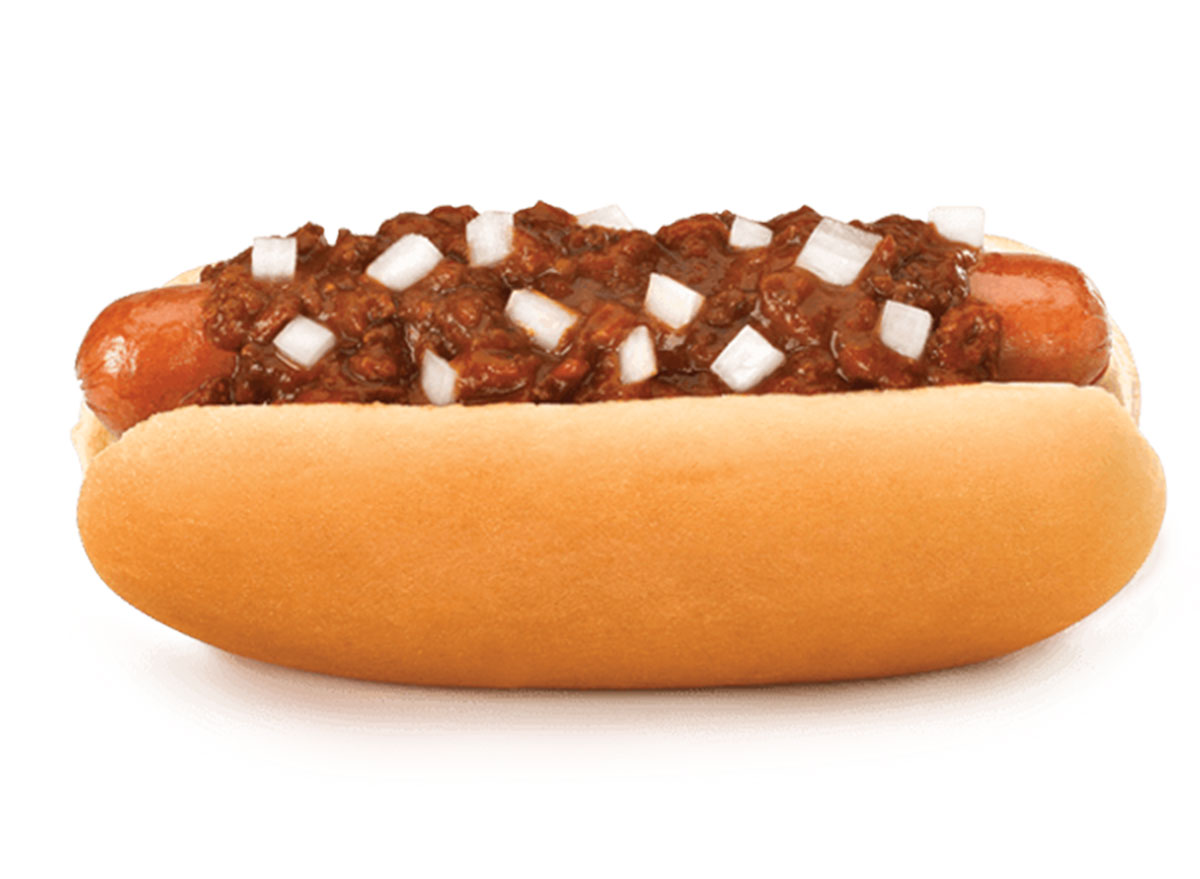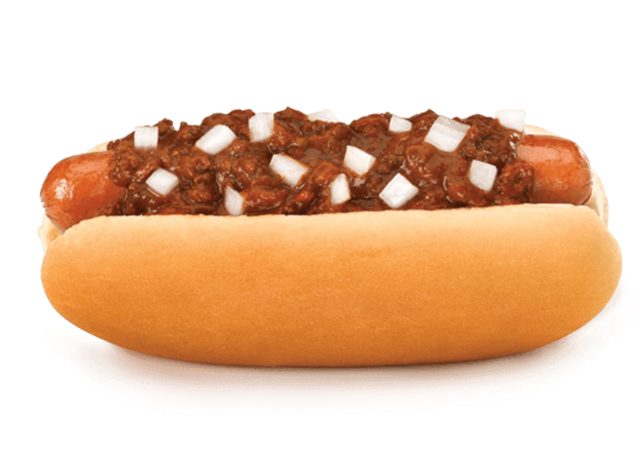 A&W's chili is actually "coney sauce," because it smothers a beef frankfurter made with natural casing and is topped with onions in a nod to the Coney dogs that originated in Coney Island. Coney sauce is like chili, but looser and almost always served as a topping. While the chain's menu doesn't include a bowl of chili option, there are plenty of chili hot dogs and chili cheese fries to keep customers more than satisfied.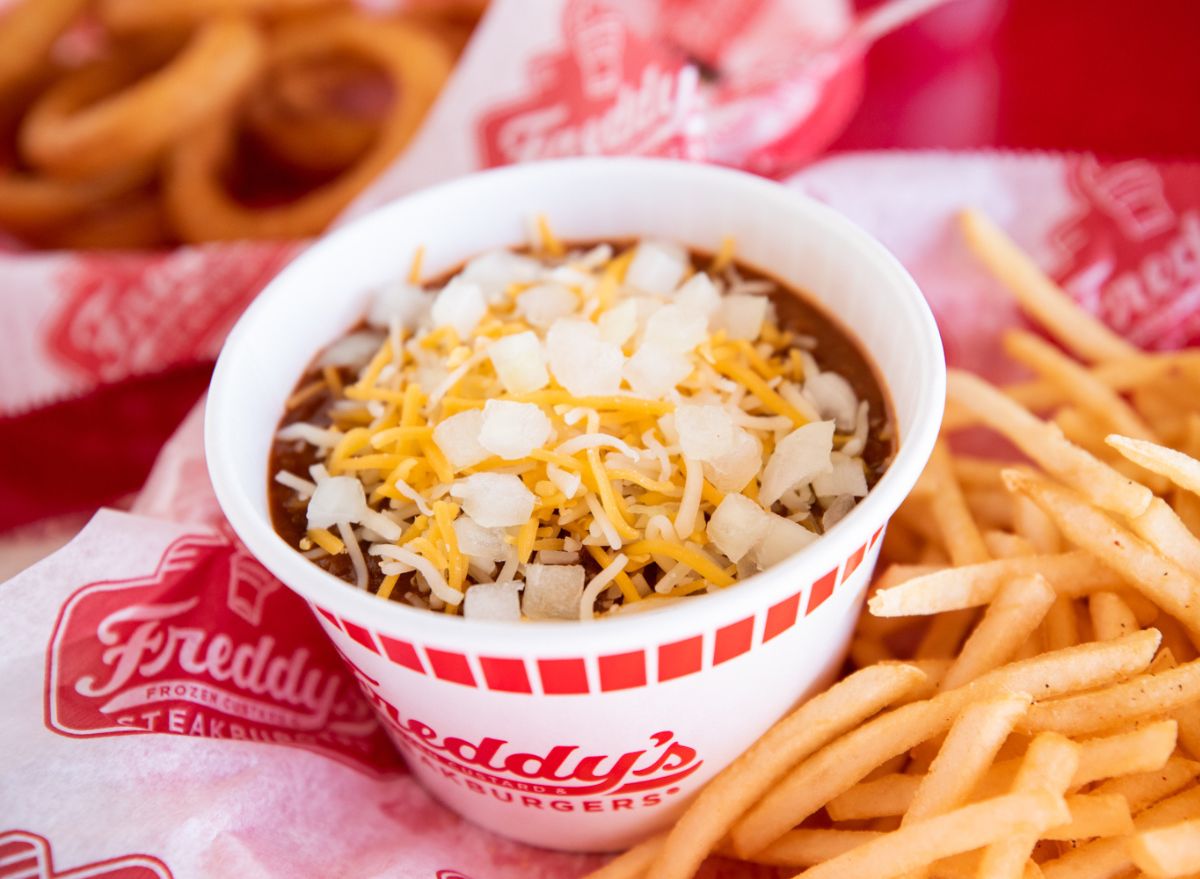 Fans of Freddy's Frozen Custard & Steakburgers also enjoy the chain's chili. The chain allows customers to order the chili as a side (in a cup or a bowl) or on top of any menu item of their choosing—even its onion rings and the beloved steakburgers. The chili recipe at Freddy's is a well-kept secret, with the exception of the chain confirming it doesn't get made with any beans.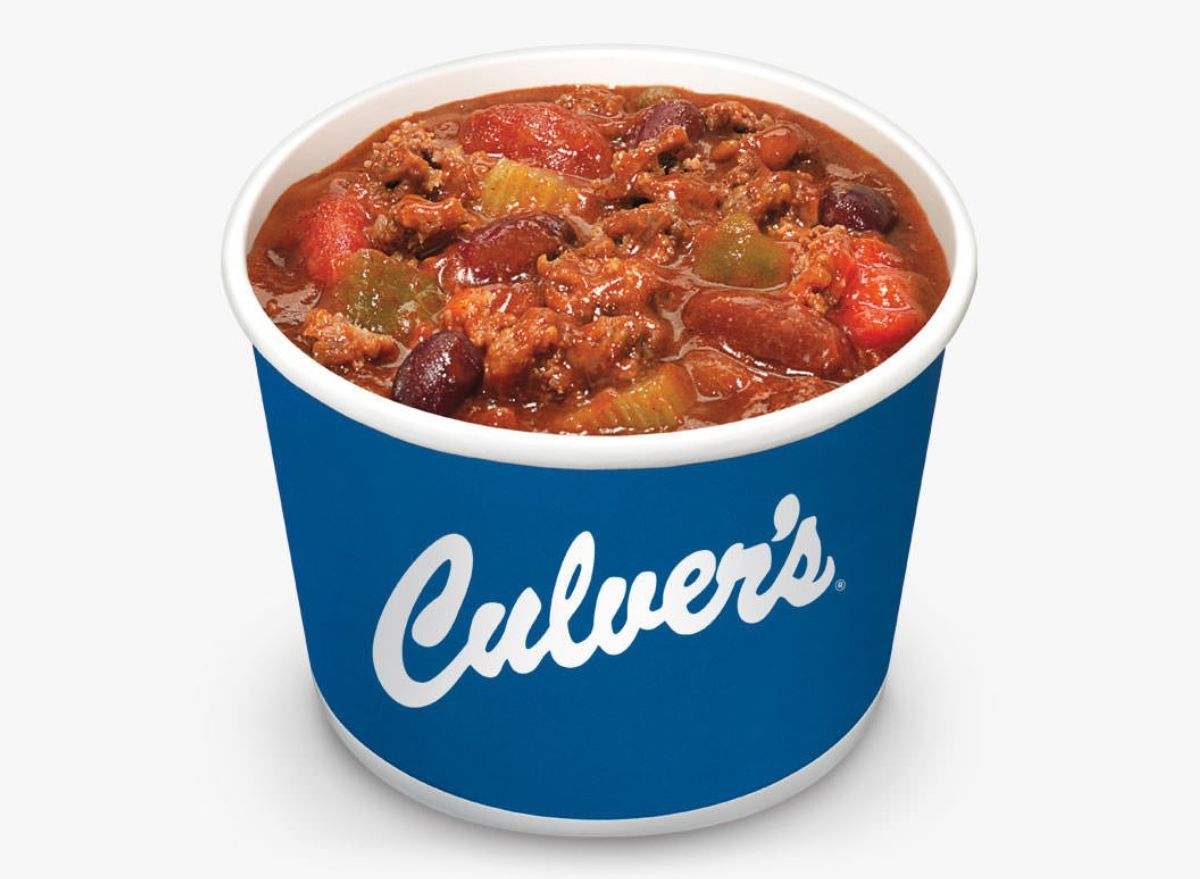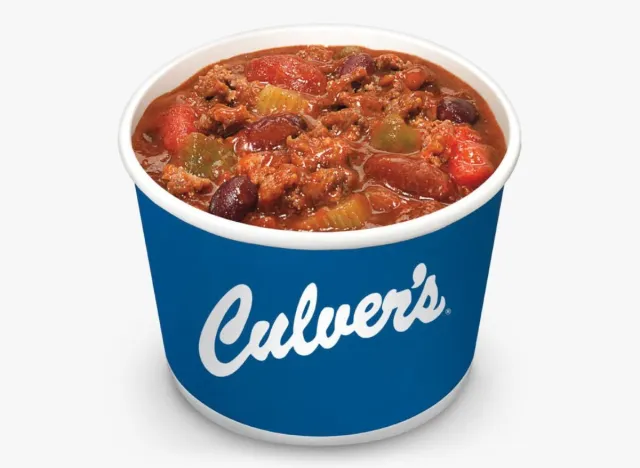 At Culver's, chili used to be a winter special, but as the company and popularity for its chili grew, it was made a permanent menu addition. George's Chili, a family recipe from founders George and Ruth Culver, is a medium-spicy chili made with simmered homestyle beef, diced tomatoes, dark red kidney beans, peppers, onion, celery, and a secret blend of peppery spices. The thick and flavorful side dish can be eaten as is, on top of hot dogs or French fries, or upgraded to be "Supreme" which includes sour cream, cheese, and onions.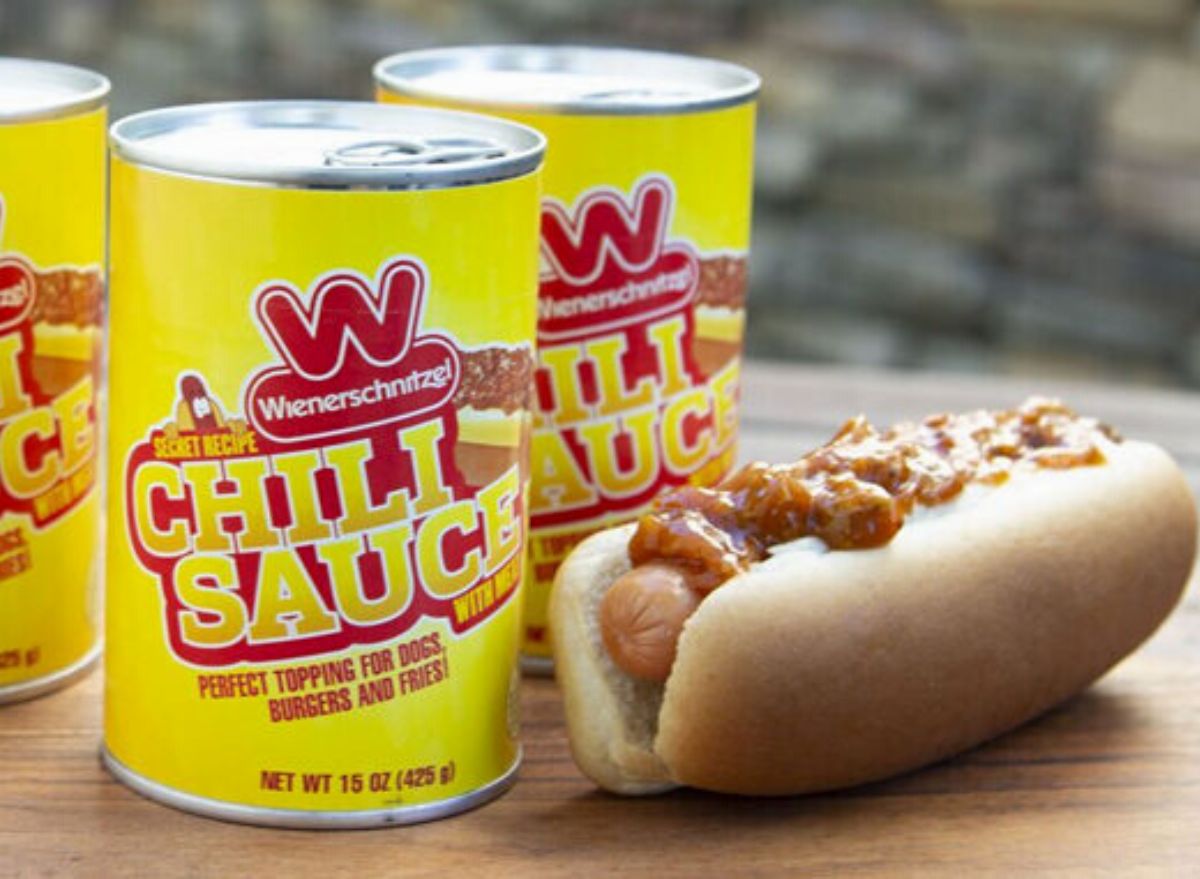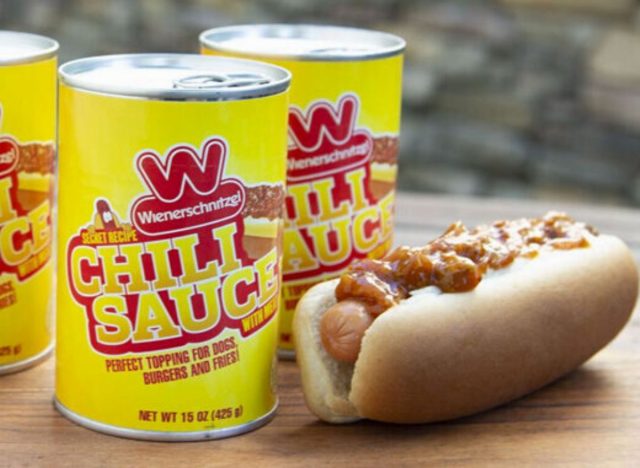 Wienerschnitzel claims to have the "World's Most Wanted Wiener," but the hot dogs rarely get sold topping-less. The chain's signature chili sauce is layered over multiple menu items, but, something that sets Wienerschnitzel's chili apart from the others on this list is the lack of one very common ingredient—beans. Unfortunately, Wienerschnitzel has kept the complete recipe a secret for over 50 years, but it's safe to say that the chain understands what fans really want and need out of a good chili. 
A few years ago, due to a large chili fan following, Wienerschnitzel launched its secret recipe chili in a can to be sold in grocery stores and restaurant locations. Most locations no longer hold the product, but a few diehard customers sell the cans on eBay for a ridiculously high price.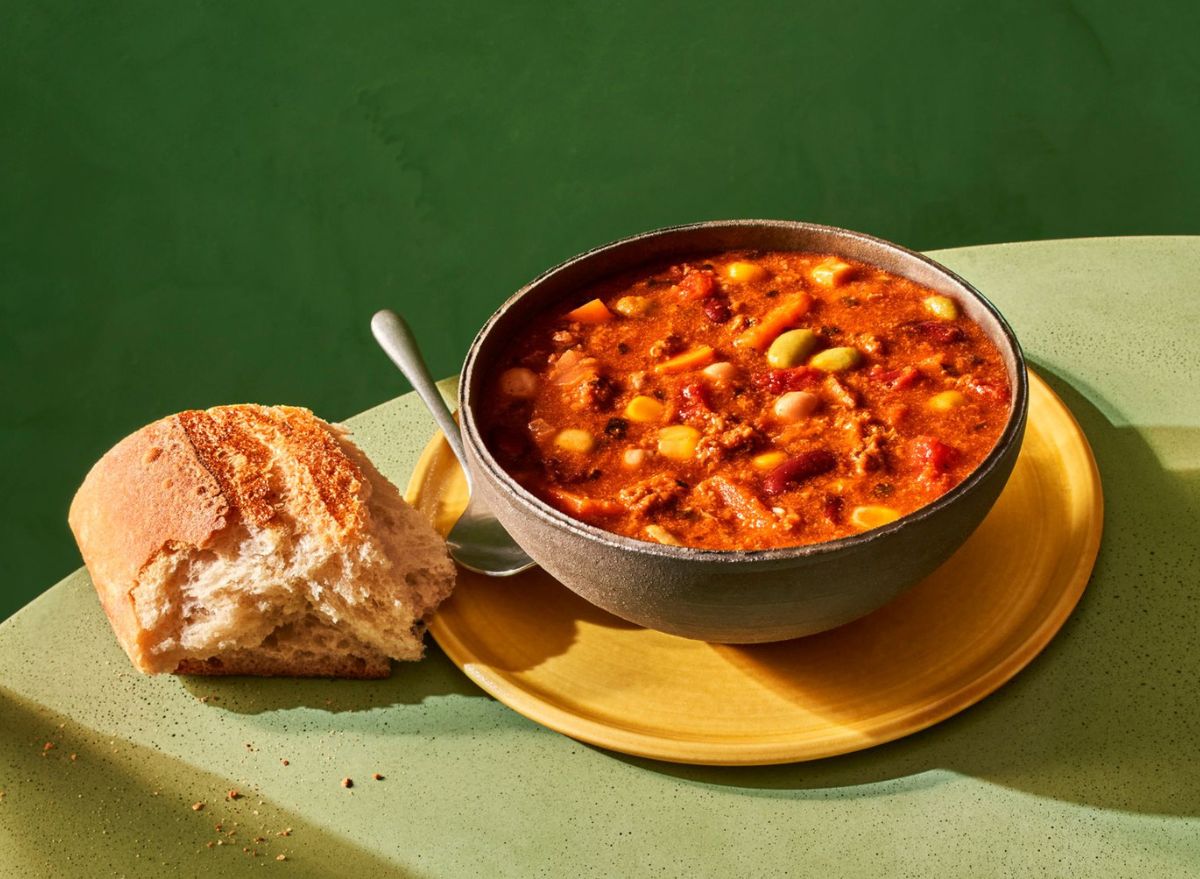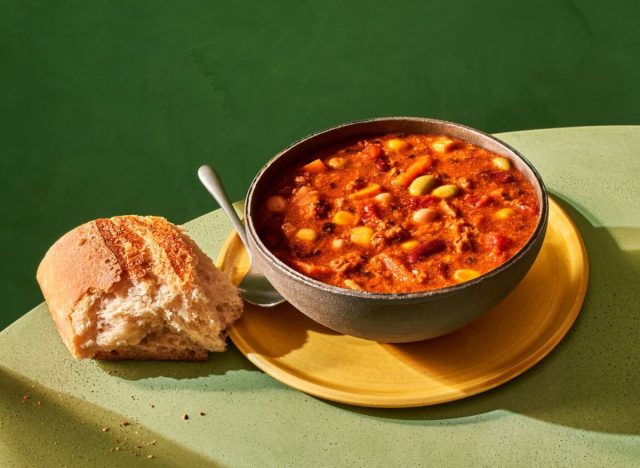 In addition to the crowd-pleasing broccoli cheddar soup, Panera makes an amazing and healthy bowl of turkey chili. It's low in calories—only 300 for a bowl and 180 a side—and has a good dose of fiber.  The Turkey Chili at Panera offers a roundhouse of flavors due to bold ingredients like dark-meat turkey (raised without antibiotics), chickpeas, kidney beans, edamame, carrots, cilantro, cumin, and lime. Many loyal fans claim it's one of the tastiest items on the menu.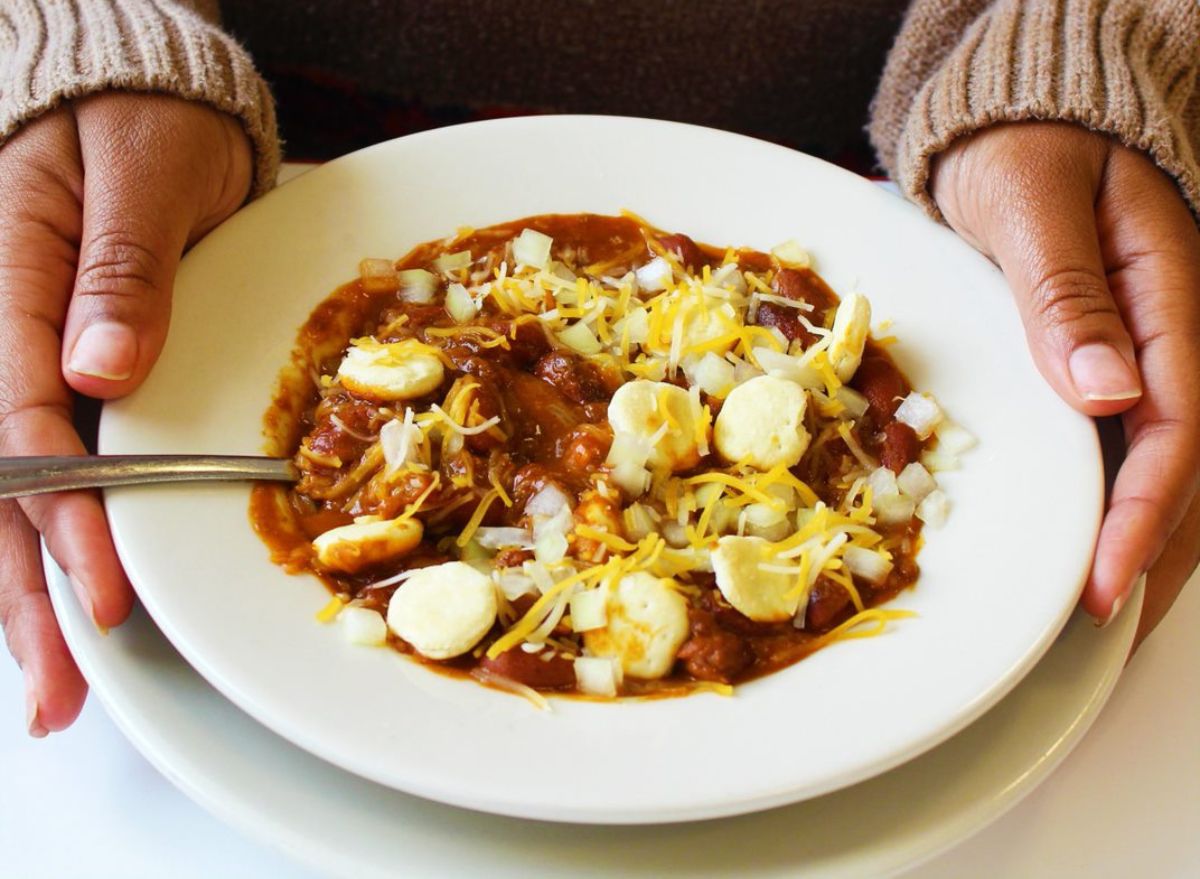 The chili at Steak 'N Shake is no joke and depending on how you order it, it's like no other on this list. The chain's Chili 5-Way (also known as Cincinnati chili) is a dish of spaghetti, topped with the famous chili, extra chili beef, shredded cheddar, Jack cheese, and diced onions—a Midwestern specialty that customers love!
Jordan Summers-Marcouillier
Jordan Summers-Marcouillier was born and raised in San Jose, California and now works as a writer in New York, NY. Read more about Jordan