Key events
A sobering stat: Arsenal haven't come from behind to win a Champions League game since beating Glasgow City 3-2 in November 2013.
As it stands, Arsenal will have to come from behind if they are to avoid a fourth quarter-final defeat in as many seasons. The Round of Arsenal is in danger of striking once again!
Arsenal did everything but score. After a mixed first half, they hit the post and had two efforts cleared off the line in the second half. They can also consider themselves unlucky not to have an indirect free kick on Bayern's six-yard box after Viggósdóttir touch back to Grohs in goal.
Bayern rode their luck but could have added a second late on through Rall. What a cruel blow that would have been for Arsenal.
Full-time in the first leg: Bayern Munich 1-0 Arsenal
Advantage to the German side.
90+2 min: Arsenal pour forward but Foord is crowded out. It looks like they will have to do it all at the Emirates.
90+1 min: Another change for Bayern, as they try to pass the time. Turns out Stanway won't play until the final whistle, she is replaced by Emilie Bragstad. A busy, industrious performance by the England international.
90 min: Three minutes added on.
89 min: Bayern holding on a bit. Stanway is limping and grimacing but looks as though she is going to carry on.
87 min: Arsenal break quickly, and Maanum sprints through from midfeld, but can only fire her shot into the side netting. She rushed it!
85 min: Big chance for Rall, who rampages forward from right back. Damnjanovic plays a clever ball inside and Rall controls it neatly before firing straight at Zinsberger. The ball deflects back off Rall's shoulder and lands safely the hands of the Arsenal keeper! Bayern's best chance of the half. After all that pressure, they could have easily made it 2-0!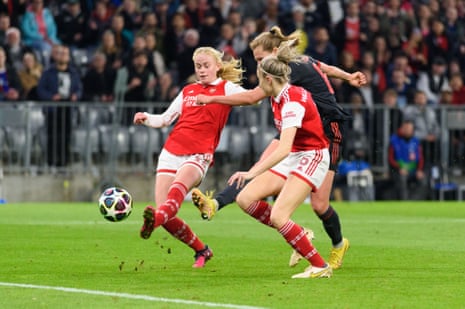 83 min: That's two big players coming off for Bayern: they have a crucial league clash with Wolfsburg coming up this weekend at the top of the Frauen-Bundesliga, and obviously the second leg of this tie next week.
80 min: Some subs to keep you updated.
Bayern make two changes: Jovana Damnjanovic is on for a limping Schüller, while Lina Magull comes off for Franzi Kett.
Arsenal: Kathrine Kühl is on for Blackstenius. That's a Champions League debut for the Danish teenager. It looks like she will play off the left, and Foord will move up top.
77 min: Brilliant block from Rall! Foord finds some space in the box and spins to shoot with her back to goal but the Bayern right back sticks out a leg and gets a crucial block in.
75 min: Some heavy tackles coming in now. Blackstenius puts Stanway on her behind, and McCabe goes down under a strong tackle from Magull.
72 min: Remember, that's not a decision that can be reviewed via VAR, as it would have resulted in an indirect free-kick. Only offside, penalties, mistaken identity and red cards can be reviewed by VAR. Them's the rules!
Bayern clear the ball of their line once more!
70 min: How have Arsenal not scored?! McCabe's corner is hoisted high towards the back post: a header back across goal results in some textbook pinballing around the six-yard box. The ball falls to Williamson, who clumsily stabs it at goal, with Schüller able to hack it clear off the line. But the ball remains in play, and as Arsenal desperately try to force it home, the ball breaks off Viggósdóttir's foot into the grateful arms of Grohs. Bayern survive, although Arsenal appeal furiously for a back-pass. Replays show Viggósdóttir may well have guided it back to her goalkeeper, but the referee waves play on!
67 min: Bayern seem happy to sit in and break on the counter-attack. I wonder how adventurous Eidevall will be.
65 min: In all that excitement, I forgot to tell you about an Arsenal substitution: Wienroither is replaced by Victoria Pelova.
63 min: Arsenal really cranking up the pressure now. Foord flashes another searching cross across goal, but nobody was following in at the back post.
Arsenal have an effort cleared off the line!
60 min: Brilliant clearance from Kumagai, who slides backwards to deny a certain goal! Blackstenius had risen highest after a scramble in the box, but Kumagai was there to boot the ball off the line, showing the defensive quality that made her a five-time Champions League winner with Lyon earlier in her career.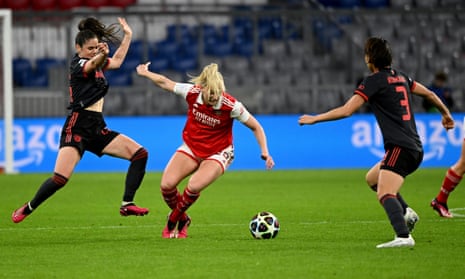 58 min: An email, from Jake Powell. "Any idea why Bayern are in their away shirt and Arsenal are in their home?"
I'm not entirely sure why, although it might have something to do with #InternationalDayAgainstRacism. However, with the tagline being 'Reds Against Racism', it's not clear why Bayern are not wearing their normal red kit.
55 min: Foord goes close again! Everything good for Arsenal is going through the 28-year-old, who turns neatly away from Zadrazil, and bends another effort towards that far post. This time, though, it's too close to Grohs, who dives to her left and gathers at the second attempt.
53 min: Foord has a real swagger, almost a rhythm, when she's taking on an opponent. She's got a natural balance, and the physical frame to beat almost any marker, when she's on song.
51 min: Another outstanding run from Arsenal's left winger, and Foord cuts inside on her right foot before curling a near-perfect shot against the foot of the far post, with the ball spinning out for a goal kick. An R2 finish, for all you Pro-Evo heads. That's the closest the visitors have come.
49 min: Stanway gets the better of Foord, and the frustrated Australian tries to win the ball back with a horrible tackle on Lohmann. Eeeesh, that's a tough watch, and the Arsenal winger is lucky to just get a yellow card. Bayern's players protest to the referee, but it remains just a caution.
47 min: Remember, no away goals in this season's competition, but 1-1 would certainly be a handy scoreline to take back to north London. The second leg is next Wednesday at the Emirates, in case you don't get have it in your diaries.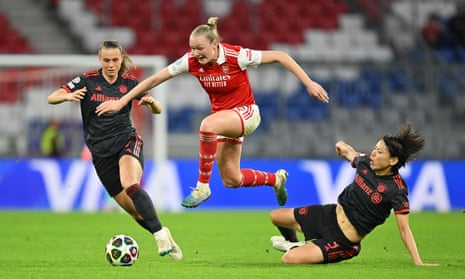 Peeeeeeep! And we're underway again in Germany.
Arsenal's players are crowded round in a huddle after coming back out at the Allianz. Interestingly it's Williamson, not captain Little, that is barking instructions to the group.
Schüller, Bayern's goalscorer, is interviewed at half-time, which is quite fun. She thinks Bayern have played well, but is disappointed she didn't score more than one.
Half-time: Bayern Munich 1-0 Arsenal
Arsenal have been bright in phases, but could also be two or three goals down.
44 min: Ohhhhh, it should be 2-0! Schüller goes clear once again, but can only poke her effort wide. I say wide, it was a couple of inches of the target, and Arsenal's defence breathe a collective sigh of relief.
42 min: Arsenal need to re-group. They need half-time.
40 min: That's been coming! Both sides have had chances, but Bayern have finished this half the stronger, and probably deserve their lead. Schüller's 14th goal of the season – she has really stepped up with Dallmann out through injury.
GOAL! Bayern Munich 1-0 Arsenal (Schüller 38)
What a header this is! Schüller feeds Rall on the right wing, the full-back crosses high into the box, and Schüller climbs over Wienroither to head into the top corner! Zinsberger didn't have a chance on her return to Bayern! The home side lead!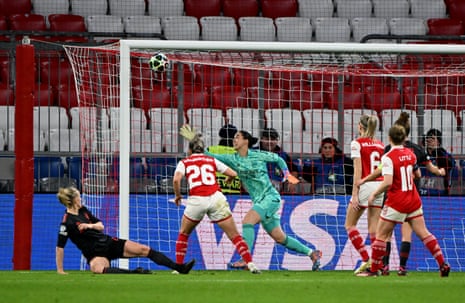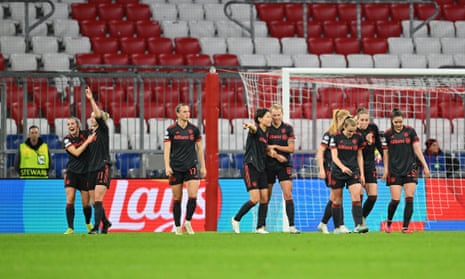 35 min: Our first lull in the game! It's been a breathless first 35 minutes, and either side could have had the lead.
32 min: Foord has switched to the right, as Arsenal try to overwhelm Hansen on her Champions League debut for Bayern. Foord is far and away Arsenal's most creative player so far, but hasn't quite been on the same wavelength as Blackstenius.
30 min: This is a good spell for Bayern. Captain Magull is asserting herself in midfield.
27 min: More Arsenal sloppiness, as Rafaelle lets a pass through to Schüller. This time the Bayern striker has more time to steady herself as she dribbles into the Arsenal box, but can only fire straight at Zinsberger, who protects her near post well.
25 min: Arsenal are getting a little sloppy, both with and without the ball. Schüller releases Hansen to the Arsenal byline but the full-backs cross is poor. Maanum can't keep the ball on a promising Arsenal attack. Foord gets a little lucky in failing to clear a Bayern free kick into the box, with it running through for a goal kick.
22 min: Bayern break and Schüller has a chance! The striker latches onto a lofted through ball, and chooses to take the shot early, with Williamson coming across to cover. Her effort curls wide, with Zinsberger untroubled. Might Schüller have tried to take on Williamson, rather than shoot from 25 yards?
19 min: Great save from Grohs! Arsenal break with Blackstenius down the right. The striker pulls it back towards Maanum but Bayern's keeper falls bravely at the feet of the Norwegian, and collects the second ball with Little lurking. Arsenal are getting closer.
16 min: Maritz and Wienroither are playing very high as Arsenal's full-backs, almost as wingers, and Bayern's midfield are pinned back. Eidevall certainly seems to be winning the tactical battle so far.
14 min: Nervy moments for Bayern, with Viggósdóttir seemingly the only player who is keeping her cool. Foord, McCabe and Maanum are really putting the hosts under pressure.
12 min: Will be interesting to see if Blackstenius will remain as Arsenal's main striker now that Jodie Taylor has joined. Certainly the Swede will continue lead the line in the Champions League. She's no Miedema, but then who is?
10 min: Chance for Blackstenius! Foord is once again Arsenal's chief threat, and whips a great ball across goal. Blackstenius can only direct her header well over the bar. But that was a great chance. Arsenal are slowly becoming the dominant side here. Jonas Eidevall will be delighted.
8 min: Penalty shout for Arsenal! Foord darts in from the left flank and unleashes a fierce drive towards goal. Viggósdóttir makes the block with her arm and Arsenal's players appeal for a penalty, but the Icelandic defender is judged to have her arm in a natural position. I've seen them given! Remember we do have VAR in this game.
6 min: Arsenal have survived the early onslaught and finally begun to string together a few passes. Little showing a bit of experience to put her foot on the ball and take the sting out of the game.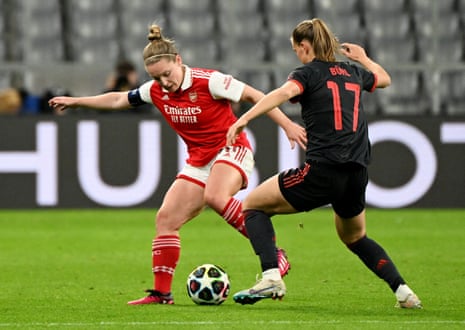 3 min: What a start from the hosts. Arsenal haven't had a kick in the opening minutes. Frenetic and frantic stuff, and Martiz concedes a free kick after a clumsy challenge on Schüller.
1 min: Bayern so nearly scored twice in the opening minute. Williamson makes two outstanding blocks to stop two separate attacks, the latter set up by a crunching tackle by Stanway on Wälti in midfield. The Bayern midfielder found Lohmann but the winger couldn't find a way past Williamson, who got a crucial block in on her own six-yard line.
Peeeeeeeep! We're off!
Here come the teams! Bayern are donning their black kit, while Arsenal are wearing their home strip, red shirt, white shorts, red socks.
The Allianz Stadium is not quite full, but a great atmosphere in Munich, with England manager Sarina Wiegman among those watching on.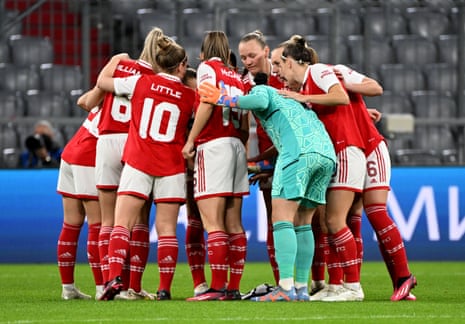 Roma v Barcelona is tonight's other Champions League's quarter-final first leg, with Lyon v Chelsea and PSG v Wolfsburg taking place tomorrow.
Just over 10 minutes to go until kick-off. Give the Women's Football Weekly podcast a listen, if you fancy, particularly the Champions League bit about 30 minutes in.
The first knockout stage of the Champions League used be known as 'The Round of Arsenal', with the men's team famous for their last-16 exits. The women's side have fallen at the quarter-finals in their last three campaigns, while Bayern reached the last four in 2020-21, beaten by Chelsea 5-3 on aggregate.
The homes side's form is scary: 12 straight wins in all competitions, but have German internationals Giulia Gwinn and Linda Dallmann absent through injuries.
If you haven't already read Jonathan Liew's interview with Georgia Stanway, you can do so here.
Let's unpack the teams a little. Lea Schüller will lead the line for Bayern, but will be ably supported by Stanway, who is joined in midfield by Sarah Zadrazil and captain Lina Magull.
Arsenal haven't played a game since a 4-0 win over Reading on 12 March, so are well rested. Leah Williamson played in midfield that day, even bagging herself a goal, but falls back into her more familiar role of centre-back, with Lotte Wubben-Moy dropping to the bench.
Former England striker Jodie Taylor, who signed for Arsenal just four days ago, wasn't included in the Gunners' Champions League squad, so isn't involved.
Oh my. What a first leg we have for you. Two of the world's finest teams go toe-to-toe at the Allianz Stadium in the Champions League quarter-finals. The first time these two teams have ever met competitively, and there is A LOT at stake.
Arsenal, of course, are the only English side to win the Champions League, waaaaaaaaay back in 2007, but have not reached the last four of the competition in 10 years. But even with the considerable injuries in the squad, namely to Vivianne Miedema (formerly of Bayern) and Beth Mead, they are a formidable team and despite a downturn in league form, comfortably beat WSL leaders Chelsea in the Continental Cup final earlier this month.
Bayern remain one of Europe's elite, having reached the Champions League quarter-finals six times in the past seven years. Yikes. Summer additions Georgia Stanway and head coach Alexander Straus have bedded in well. Stanway is Bayern's leading assists maker in the Champions League this season, and the team finished level on points with Barcelona in the group stage, and beat Alexia Putellas and co in December at the Allianz. In fact, the German side are unbeaten in all competitions since November. Eeeesh.
So, quite the match we have. This one could feasibly go either way. One suspects the Gunners would be pleased to just avoid defeat, with the intention of winning the tie in the second leg at the Emirates. But Bayern will be wary of Arsenal, knowing they thrashed last season's winners, Lyon, 5-1 in the group stage.
Make no mistake, it is ON.
Kick off: 5.45pm (GMT) or 6.45pm in Munich.