Key events
8 min: France form a maul from a line-out and Ireland give away an advantage in their defence. They force France to run the ball and they will have to create something from deep. The French are gaining metres well but they drop it. We come back for the advantage and Arbez kicks to the corner.
6 min: The French line-out works well and win a subsequent breakdown penalty. The visitors can relieve some pressure but this is a thoroughly good start from the hosts.
5 min: Ireland keep battering the French defence, which is one of the best in the tournament. They are slowly gaining metres but O'Brien opted to boot it through and it goes out close to the line! France will have the line-out but the kick was the right option.
4 min: The line-out doesn't function and France come away with it, a missed opportunity there. Ireland turn it over at the breakdown once more though! Djougang rips the ball in the tackle to set her team off on the attack.
2 min: Bourgeois has her first taste of international rugby and Ireland almost turn it over at the breakdown but France come away with it. They go through the phases but Dalton wins a breakdown penalty! O'Brien kicks to the corner, a good start for Ireland.
Kick-off! Ireland 0-0 France
Here we go then, round two is underway! Can Ireland cause an upset or will France romp to victory? We will find out shortly.
There is a good crowd at Cork and they will be cheering Ireland on for a win. The anthems are in full flow, just minutes from kick-off now.
Players will be out shortly for the anthems ahead of this clash! Who do you think win this? I'm predicting a 52-10 French win.
A fun fact for you:
A little preview for the match tomorrow between England and Italy. The Red Roses are looking for their second win after beating Scotland last week but Simon Middleton's team have been dealt a few injuries, read about it:
Some interesting stats ahead of the match:
If you want to catch up with who is who or any fun facts about teams, check out our team-by-team guide for the tournament:
Do you have a day in front of the TV scheduled to watch both Women's Six Nations matches today? Ireland v France will be followed by a tasty clash between Scotland and Wales, the perfect Saturday if you ask me! You can contact me to let me know what you're up to via Twitter or email.
France are favourites to win the match and it is clear to see why in recent games between the two nations. France have scored more than 40 points against Ireland in their last three meetings. It would be a big upset if Ireland can get the victory today.
Ireland head coach Greg McWilliams has spoken about what went wrong against Wales. He said: "It wasn't the fitness that was the issue [in Cardiff]. It was the ability to cope with the physicality and there are ways that we can do that. We can get lower. We can bring more energy. We can work on working in great numbers to counteract physicality. It's not just about size. It's about our ability to learn from experiencing a level of physicality that the players wouldn't have had before."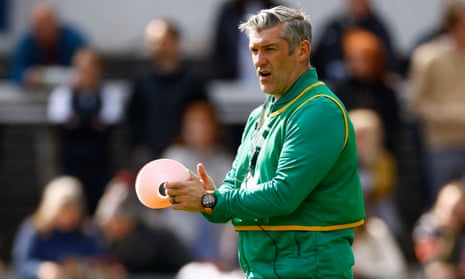 Emma Swords coming onto the Ireland bench was a late change for the hosts. Swords has been in England and Wales camps but has never won a cap, today could be the day!
The team news is here. Ireland have made four changes to their starting line-up. Dannah O'Brien comes in a fly-half and Vicky Irwin starts in the centres. In the forwards, Christy Haney comes in at prop and Grace Moore starts at flanker.
Ireland: Deely; Doyle, Dalton, Irwin, Behan; O'Brien, Scuffil-McCabe; Djougang, Jones, Haney, Fryday (c), Monaghan, Wall, Moore, Nic a Bháird
Replacements: Nielson, McGrath, Buggy, O'Connor, Hogan, Swords, McGann, Delany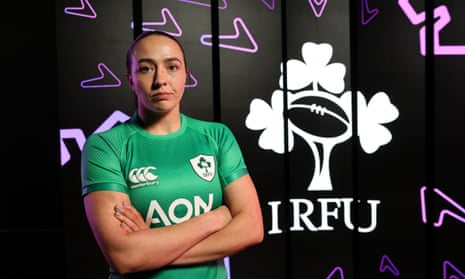 France have made two changes to their starting XV. Mourgane Bourgeois wins her first cap for France at full-back and is the only change in the backs. In the forwards, Clara Joyeux is in at prop.
France: Bourgeois; Banet, Ménager, Vernier, Boujard; Arbez, Bourdon; Deshaye, Sochat, Joyeux, Feleu, Forlani (c), Berthoumieu, Gros, Escudero.
Replacements: Riffonneau, Lindelauf, Khalfaoui, Picut, Hermet, Chambon, Trémoulière, Dupouy.
Hello and welcome to Ireland's Women's Six Nations clash against France! The hosts are looking for their first win in the tournament after losing to Wales in round one. France, meanwhile, are seeking to extend their wins after defeating Italy.
Ireland put out a disappointing performance last weekend, only scoring one try and they were well beaten across the pitch by Wales. They will want a stronger outing against the French but their opponents will be the strong favourites to come away with the win.
France are hoping to banish their bad luck in the tournament this year and take the trophy from England, who continue to reign supreme. A win this afternoon will be another step towards the allusive Grand Slam.
The team news was announced this week and I will bring you all the headlines from that shortly. Stay tuned ahead of kick-off at 3.15pm BST.