Key events
6 min: A couple of promising breaks for Poland. Bielik has a shot blocked from the edge of the box, before Frankowski floats a dangerous ball towards Lewandowski on the counter attack.
4 min: This is like an away game for Poland. The vast majority of fans inside Stadium 974 are decked out in blue and white.
2 min: Positive start for Argentina! A corner from Messi fails to beat the first man but a cross comes in at the second attempt, where Otamendi beats Bereszynski at the back post, but can only glance his attempt (well) wide.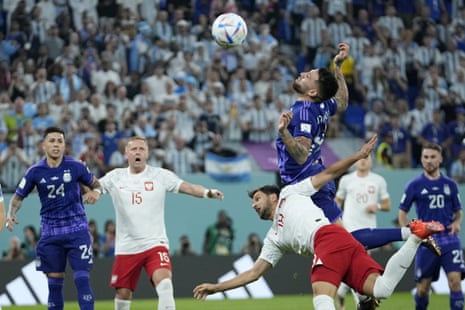 Peeeeeep! And we're off. Poland get us underway. Remember the winners of this group will play Australia in the last 16. Quite the incentive.
Ingo Herzke emails to give us the latest on Lehmann: "A friend of mine is mayor in the small town on Lake Starnberg where he resides, and she told me he's "completely off the rails". Has been pestering all the neighbour for years. Why does that not surprise me? He was a great keeper, though. Better than Kahn in my opinion."
The teams are out! Poland wearing their white kit and Argentina are in their changed purple (!) strip. The anthems come and go, with many shots of Argentinians close to tears. Of course.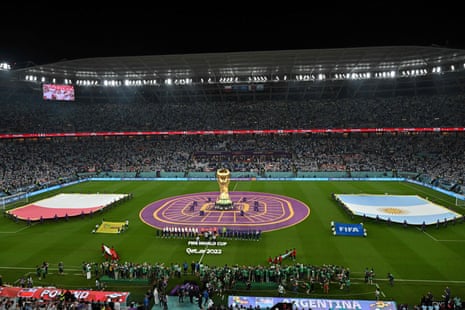 Speaking of former Arsenal players, let's talk about Krystian Bielik. He's been on quite the journey since leaving the Emirates and after two ACL injuries, is currently on loan at Birmingham City from Derby County.
Sergei Nirenburg has emailed to suggest that "Bielik is in the Poland team to shadow Messi everywhere". He was excellent after being brought into the team in the last match against Saudi Arabia and certainly has the engine to be a man marker. It's quite the gulf in class, though, between the Pole and, erm, Messi.
That said, man marking is not the worst idea. Argentina looked uninspired against Mexico until a lapse in concentration gave too much room to Messi on the edge of the Mexico box. The rest was history. But keep Messi quiet and Poland will be confident they can get at least the draw they need.
Our first email, from Ric Arthur.
"I can't keep up with all the (ex-)Arsenal goalies in this World Cup: we are about to get Szczesny v Martínez, we've just seen Mat Ryan and Matt Turner, although Ospina's Columbia did not make the cut and Fulham's Leno did not make it to the German team, nor West Ham's Fabianski to the Polish one. But why didn't Southgate give Ramsdale a spin against Wales? Is he waiting for Pickford to be sent off?"
Of course, this has led me to Google what Jens Lehmann is up to …
Jens Lehmann has been accused of attacking his neighbour's house with a chainsaw, according to reports in Germany.

The former Arsenal goalkeeper is engaged in a long-running dispute over his view of Lake Starnberg, a popular summer spot near Munich. He is thought to have complained to local authorities about the neighbour's new garage encroaching on his land.

Lehmann launched the attack on the luxury villa in an effort to saw off several roof beams, reports Bild. The 52-year-old was caught on CCTV and police are now investigating the incident, as well as three previous cases of vandalism which caused around £9,000 of damage.

The former German international bought the property 15 years ago for £4m while playing for Arsenal. He is yet to comment on the report.
There are some other (substantial!) selections to digest. Poland make one change from the win over Saudi Arabia. Interesting that Karol Świderski, who plays in the MLS with Charlotte is preferred to Juventus loanee Arkadiusz Milik, up top. Heartening, too, that Poland are sticking with two strikers, despite the fact that they need just a draw to qualify.
Argentina also make a change up top: Manchester City's Julián Álvarez comes in for Lautaro Martínez, who was so important for Scaloni on that 36-game unbeaten run. They are not too dissimilar in style so perhaps Álvarez has edged it in training.
Molina comes in for Montiel at right back, while Enzo Fernandez, who scored that fine curling effort against Saudi Arabia, replaces Guido Rodriguez in central midfield. I think that Argentina will still line up in a 4-2-3-1, though.
The teams! Lisandro Martínez is dropped!
Poland: Szczesny, Cash, Glik, Kiwior, Bereszynski, Zielinski, Bielik, Krychowiak, Frankowski, Swiderski, Lewandowski.
Subs: Jedrzejczyk, Wieteska, Bednarek, Milik, Damian Szymanski, Grosicki, Skorupski, Kaminski, Zurkowski, Sebastian Szymanski, Zalewski, Grabara, Piatek, Gumny, Skoras.
Argentina: Emiliano Martinez, Molina, Romero, Otamendi, Acuna, De Paul, Fernandez, Di Maria, Messi, Mac Allister, Alvarez.
Subs: Armani, Foyth, Tagliafico, Montiel, Paredes, Pezzella, Rulli, Palacios, Correa, Almada, Gomez, Rodriguez, Dybala, Lautaro Martinez, Lisandro Martinez.
It's being reported that Lisandro Martínez has been dropped by Argentina head coach Lionel Scaloni, who has instead opted for Nicolás Otamendi, 34, and Cristian Romero at the centre of his defence. Quite the decision, particularly as Martínez was excellent in the win over Mexico (and has been very decent for Manchester United all season). I'm not going to speculate if the decision is over height, but all I will say is that Lewandowski is good at heading a football. We'll get confirmation in the next few minutes.
While we wait for the teams, have a read of Louise Taylor's preview.
The other half of this group meet in another seismic clash. You can follow everything Saudi Arabia-Mexico in our liveblog right here.
Now, then. Now, then. What a game we have here. A top-of-the-table clash in Group C, with two proud footballing nations fighting it out to make the knockout stages. The wider context, and particularly important for anyone that has ever written 'Penaldo' in the comments section, is that this could be Lionel Messi's final ever World Cup match, in what would be an almost singular disappointment in one of the greatest careers this sport has ever seen. The GOAT will, no doubt, rage on.
Anyway, back to Group C. As things stand, all four countries can make it. Messi was instrumental in Argentina recovering from their shock defeat to Saudi Arabia to beat Mexico, scoring one of the great World Cup goals.
Poland will qualify with a draw or a win, and what a huge achievement that would be for Robert Lewandowski and co, who have flickered and stuttered their way to four points thus far.
Kick off: 7pm GMT, 10pm in Qatar.
Here's the table, and we'll have the team news and reaction shortly.