Key events
The referee tonight is German Daniel Siebert. He took charge of the 2021 Arab Cup final that Tunisia lost to Algeria 0-2 after extra time.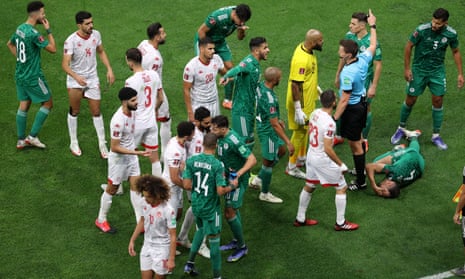 Tunisia may have the upper hand already simply by the selection of kits. The North Africans will run out in their home kit of all-white with red trim, Australia are in their change uniform of dark blue with teal accents.
I tried to find a definitive Guardian link to demonstrate how lighter colours are more cooling in hot environments, but this is the best I could muster.
Apropos of nothing in particular, Australia doesn't have an embassy in Tunisia, instead piggybacking on Canada's diplomatic presence, with the Australian High Commission in Malta on standby.
As Emma Kemp reported, Tunisia's fans are visible and vocal in Qatar.
Thanks to Emma Kemp in Doha there is lots of excellent Socceroo-related content to enjoy. Try these on for size.
Clearly they should have gone for this, in full.
Australia's choice is the ubiquitous Down Under by Men at Work. I just think it's a shame they didn't opt for one of theses versions.
This is the song that will be played on the Al Janoub PA system should Tunisia score.
In and around the surfeit of soccer I hope you've all had time to enjoy the sounds of the World Cup in Qatar. It has proven a major distraction for me in the past few days thanks to these features.
Graham Arnold has spoken to SBS TV in Australia. He began by answering what he hopes to improve on tonight.
To get rid of the technical mistakes. When you play against top opposition it is a game of millimetres. If you make a small mistake it turns into a big mistake. That is down to the quality of opposition. But overall, we focus more on what we did well. That was obviously the first 30 minutes. We have got to do that for 90.

When you look at it, the first 30 minutes we did exceptionally well. 27, 28, whatever people want to say. But it was not through their good play that opened us up. If you look back at the game, their first real chance that they built up was in the 43rd minute. They put the ball over the crossbar. The other times it was our mistakes. Sloppy mistakes. It is about getting rid of them and we can control that. If we are sitting here today and saying we were completely outplayed, dominated, that is something maybe we cannot fix, but we made some mistakes and we have got to fix it.
He moved onto the mood in the camp after the France defeat?
We had an honest conversation, that is the most important thing. After we got back here, I grabbed the boys straightaway. Of course they were down because we build their belief up so high, we give them the belief that we are going to give this a shot, but the most important thing is honesty. Afterwards, I said, lads, put our hands up, are we better players? It was 100% honest, all the players know. Did you give me everything you have got? 100%, yes. OK, let's get on with it then.
Then there's an unexpected detour into Gordon Strachan territory.
The size of the players at the tournament has been something that is surprising. I'm not saying surprising me, but it is probably surprising to a lot of other people. A player of Harry Souttar's size, we have only got one of them. The other nations have got six or seven. That is just through athleticism. But we have got to make sure that we keep them out of our penalty box more and we can deal with that.
Conditions: The unremitting Middle Eastern sun penetrates the yonic aperture of Al Janoub Stadium casting shadows on the verdant oblong oasis. Hot innit.
It might be winter in Qatar but it's still 30C just after midday and far from optimal conditions for a high-tempo football match.
Surprisingly, just the one change to Australia's starting XI with Fran Karačić replacing Nathaniel Atkinson at right-back. Socceroos supporters will hope playmaker Ajdin Hrustic is fit enough to make a cameo off the bench.
Just the one change from Jalel Kadri with Naïm Sliti ling up in attack in place of Anis Ben Slimane.
Emma Kemp sets the scene for us from Doha, where Tunisian fans are out in force.
Emma's report also contains some prematch troop-rousing from Arnold, with the Socceroos coach demanding his side is ready for a war.
Anytime an Australian reaches for such a word it is my responsibility to send you here:
Preamble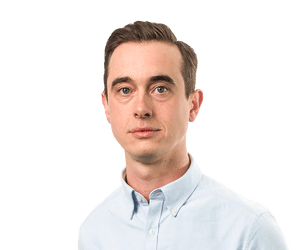 Jonathan Howcroft
Hello everybody and welcome to live coverage of Tunisia v Australia from Al Janoub Stadium in Al Wakrah. Kick-off in this group D clash is 1pm local time (9pm AEDT/10am GMT).
Neutrals, I'm not in the business of hoodwinking anyone, this is not a premium World Cup fixture.
Between them, in their 33 matches on the game's greatest stage, these nations have won only four times. They each average less than a goal a game. This is the stale grissini at the start of a banquet.
Mow the lawn. Play with your kids. Ring your mum. Knock up a massive batch of ragu and let it blib away on the stove all day so that when France v Denmark and Argentina v Mexico come around you can watch in comfort.
Fans of Australia and Tunisia, THIS IS THE BIG ONE! You may never get a better opportunity on the game's greatest stage! A win tonight puts you tantalisingly close to the knockout phase! What a time to be alive!?
Tunisia will begin the more optimistic of the pair. The Eagles of Carthage held their own against Denmark a few days ago and arrived in Qatar with recent victories over Iran, Chile, and Japan. They are also one of the best supported sides at the tournament with many locals and neutrals getting behind an Arab contender.
Australia did not enter the World Cup with grand ambitions and those expectations were not revised upwards after a chastening defeat to France. Simply, this is a limited squad, and it showed against such formidable opposition.
But Australia's World Cup campaign was always going to come down to this contest. If they avoid defeat to a nation ranked only eight places above them on FIFA's rankings their tournament remains a going concern heading into a do-or-die clash with Denmark. A win today turns that fixture into a belter.
Graham Arnold has told his troops to treat the France defeat like a friendly and consider their group phase a two-match affair. Changes to his starting XI are expected, especially at right fullback, with Nathaniel Atkinson set to be replaced after Kylian Mbappé cremated the Tasmanian's joie de vivre. "It's a great lesson for the kid, he'll move on from it," deadpanned Arnold afterwards.
There's bags of time before kick-off so feel free to send me an email, or, if you haven't yet abandoned the platform as it prepares to let slip the trolls of war, tweet me @JPHowcroft.