Share and Follow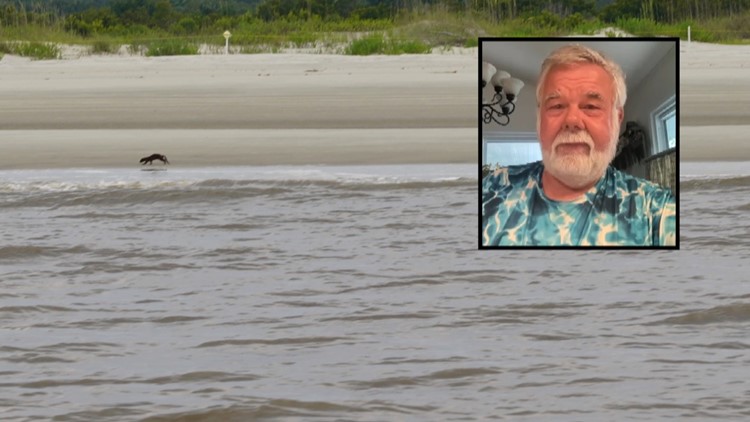 Capt. Andy Jones credits 'divine intervention' after rare mink sighting led him to spot the missing 16-year-old after hours of searching.
JEKYLL ISLAND, Ga. — The video attached to this story is from a previous, related report.
The man who located the body of a missing teen off Jekyll Island Tuesday afternoon had been searching for more than three hours when he spotted something strange.
Capt. Andy Jones was part of a search party of nearly a dozen boats, including Georgia DNR, the U.S. Coast Guard and Georgia State Patrol. He was piloting past a spot he'd already passed about eight times when he saw the mink.
"It's a very unique situation," said Jones, a former volunteer firefighter and eighth generation St. Simons Island native. "I've never seen a mink cross the beach, cross the white sand and everything. You might see those around the creeks or the docks or something like that, but never one out at the beach. And I was looking at that mink, and within five seconds of seeing that mink, I spotted Connor, in the surf."
Jones spotted the teen at around 1:15 p.m., and summoned DNR, whose boat arrived "probably in less than a minute." He says the ranger pulled his boat on shore, "saw the situation, threw an anchor out, took off his service belt and his radio, and sailed off the boat [into the water] to get to him. I was impressed with the response from the Georgia DNR today."
Connor Mathis, 16, was reported missing Monday around 6 p.m. when he did not report for a scheduled activity with his church camp. He was a student at Glynn Academy, where Jones volunteers. He did not know the teen. 
Officials have not released a cause of death, but Jones says he is gratified to have helped locate his body.
"It was a very large community turnout that showed up to help locate him, and I was just a little little part of it, and just happened to be in the right place," Jones said.
"I'm really thankful that, for the family, that they were able to make recovery," he continued. "It's very rare that when we have a drowning off the beach, in the open area of the beach, to make a recovery. And I'm thankful that they're able to have some closure."
The dark, silty waters of coastal Georgia make it difficult to see things in and under water. Jones says had it not been for the mink, he would have missed Connor entirely. The mink sighting was so strange, Jones took a single picture of it with a wide lens. He was reaching for a different lens when he caught sight of the teen's body.
"I gotta tell you that I feel there were some divine intervention there," Jones said. "The oddity of having a mink running down the beach, it drawing my attention for that little frame of time where I was able to catch a glimpse of him in the surf. … it was, I gotta think there were some divine intervention today."
Share and Follow