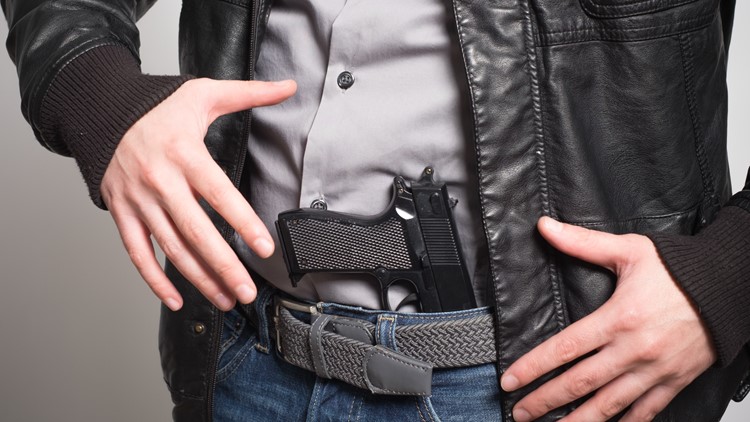 Permitless carry is something Gov. Ron DeSantis says he's "always supported."
TALLAHASSEE, Fla. — A group of Republican lawmakers introduced a bill that would allow Floridians to carry a concealed gun without a license.
Rep. Robert "Chuck" Brannan, R-Macclenny, and Tampa Bay-area state Sen. Jay Collins, R-Tampa, filed House Bill 543 on Monday with the support of members from the Florida Sheriffs Association and the National Rifle Association.
Current Florida law requires a concealed carry permit, which someone can only get after completing an instructional firearm safety course and additional background checks.
This bill would eliminate that requirement entirely, allowing anyone who is legally able to own a firearm to carry it without a permit — a practice sometimes referred to as constitutional carry or permitless carry.
Permitless carry is something Gov. Ron DeSantis says he's "always supported." Back in December, the governor said he hopes to get a bill passed in the upcoming legislative session in March.
"Half of the country currently recognizes the fundamental right of law-abiding gun owners to carry a firearm for self-defense as enshrined in our Constitution," Art Thomm, the NRA Florida state director, said in a statement. 
Florida Democrats, on the other hand, called the bill "dangerous" and a step "backwards on common sense gun safety."
"Permitless carry is dangerous for Floridians. Responsible gun ownership means knowing how to operate and store your firearm for your own safety and for the safety of those around you," Florida House Minority Leader Fentrice Driskell, D-Tampa.
Rep. Dan Daley, D-Coral Springs, called the bill "deeply troubling" as we approach the fifth anniversary of the 2018 massacre at Marjory Stoneman Douglas High School that left 17 people dead and 17 others injured. 
Jim Diamond, a former senior sergeant with Tampa Police Department, expressed concern back in December about the safety repercussions of a bill like this.
"It doesn't do us any good as a society to give a firearm to somebody who's never used one before and let them go out and use it," Diamond said.