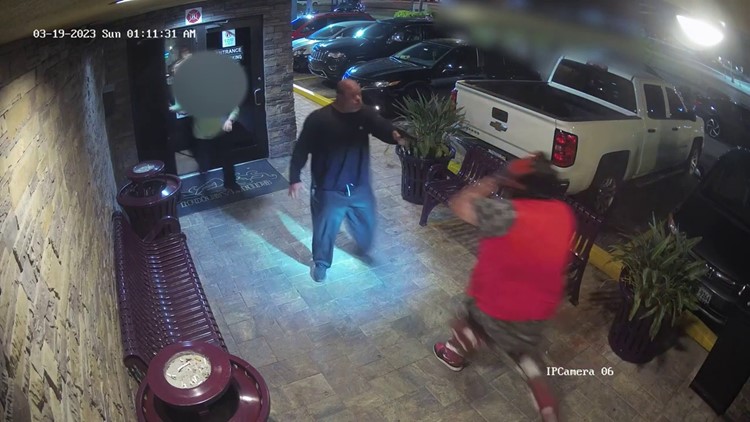 Michael Rudman reportedly walked toward the entrance of Mons Venus with a gun in one hand and a flashlight in the other.
TAMPA, Fla. — Three security guards who work at a Tampa club performed a heroic act early Sunday morning after they took down an armed man before he entered the building.
At around 1:15 a.m., Michael Rudman, 44, arrived at Mons Venus on North Dale Mabry Highway in a silver pickup truck and got out of his truck wearing a red and black devil mask, the Tampa Police Department said in a news release. He also had the words "kill" and "darkk one" on his arms.
Rudman reportedly walked toward the entrance of the club with a gun in one hand and a flashlight in the other. Before he could get inside, security guard Manuel Resto, who was standing by the entrance door, knocked the gun out of Rudman's hands when he got closer to the venue.
Speaking during a news conference Monday afternoon at the Tampa Convention Center, Resto said that his prior experience as a professional wrestler helped him take down the armed man. 
"I knew I was in the fight for my life," he said. "We tussled and tumble and I got him on the floor and got the gun again. We were all concerned with keeping him down on the ground. 
"A bigger man like him, you can't let him get up, you have to keep him down."
Police say that as Resto was fighting off the 44-year-old, the gun fired and struck the front door of the club, but no one inside the club was hurt. 
A video posted by the police department shows two other security guards making their way outside of the club to help take down Rudman and keep the gun away from him. When the gun was out of Rudman's and out of his reach, all three security guards kept him on the ground and stayed on top of him until authorities arrived. 
Bercaw said at the news conference that the 44-year-old was very incoherent and could not cooperate with authorities. He also made constant mention of the security guards' actions. 
"We have heroes who stood up in the face of danger," he said. "This community policing at its best and prevented a violent act and that's what we should be grateful for."
Police say that they found more ammunition, knives and firearm accessories in Rudman's truck. He also had two fully loaded magazines in his pocket.
Rudmann was charged with aggravated assault with a deadly weapon, battery, aggravated battery with a deadly weapon and purchasing, possession or receiving a firearm while under a risk protection order. 
Law enforcement says they have yet to determine the motive for the 44-year-old's actions but have confirmed that he was at the club the night before the incident. The investigation remains ongoing.