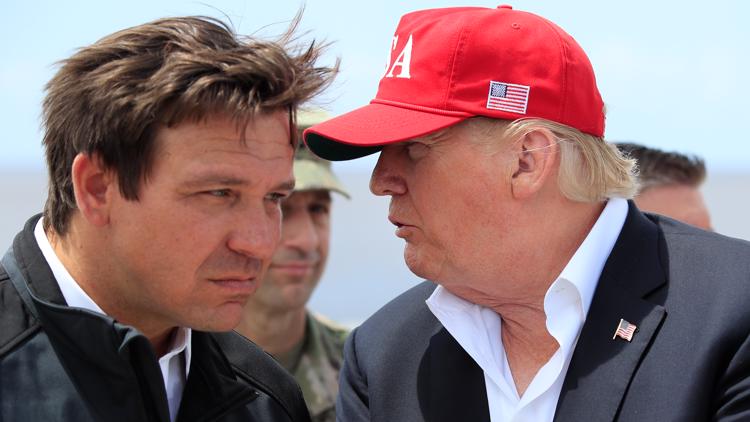 Florida's leaders weighed in on Twitter shortly after Donald Trump's indictment, including Gov. Ron DeSantis.
FLORIDA, USA — A Manhattan grand jury has voted to indict Donald Trump on charges involving payments made during the 2016 presidential campaign to silence claims of an extramarital sexual encounter, his lawyers confirmed to the AP Thursday.
It marks the first criminal case against a former U.S. president and perhaps a wrench in the wheel in his campaign to retake the White House.
Florida's leaders weighed in on Twitter shortly after his arrest, including Gov. DeSantis, who claimed that state agencies would not be participating in any extradition requests.
"The weaponization of the legal system to advance a political agenda turns the rule of law on its head," tweeted Governor Ron DeSantis.  
He continued, "It is un-American. The Soros-backed Manhattan District Attorney has consistently bent the law to downgrade felonies and to excuse criminal misconduct. Yet, now he is stretching the law to target a political opponent.  Florida will not assist in an extradition request given the questionable circumstances at issue with this Soros-backed Manhattan prosecutor and his political agenda."
Other leaders echoed DeSantis' sentiments.
"NEW YORK IS A BANANA REPUBLIC!," tweeted Jimmy Patronis, Florida's Chief Financial Officer & State Fire Marshal.
"Corrupt NY Attorneys are following through on their political vendetta against President Trump. They are choosing to waste time attacking a conservative when America has bigger problems to fix. Inflation, Open border, High crime Fentanyl crisis, Just to name a few," tweeted Florida Senator Rick Scott.
Trump, who has denied any wrongdoing and has repeatedly attacked the investigation, called the indictment "political persecution" and predicted it would damage Democrats in 2024.
In a statement, his lawyers, Susan Necheles and Joseph Tacopina, said: "He did not commit any crime. We will vigorously fight this political prosecution in court."
The district attorney's investigation centered on money paid to porn actor Stormy Daniels and former Playboy model Karen McDougal, whom he feared would go public with claims that they had extramarital sexual encounters with him.
Trump was expected to surrender to authorities next week, though the details were still being worked out, according to a person familiar with the matter who was not authorized to discuss a matter that remained under seal.
This report was prepared in partnership with the Associated Press.